Published on:
18:08PM Apr 27, 2010
If you have trouble viewing this page please visit the market commentary section of www.leanhog.net
___________________________________________________

Corn – is having trouble getting any legs under it because the U.S. producers are planting at a blinding pace.  The intra-day charts suggest an early low today, which we got but we didn't do much rallying from there.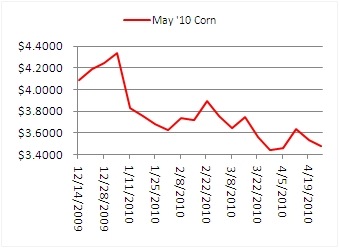 We are at a critical point in the Jul '10 contract as we closed below the previous reaction low of $3.55.  If the Jul '10 contract closes below $3.55 again tomorrow I think we could be looking at another leg lower in this market.  $3.55 is also a buy stop signal for tomorrow and in order for that signal to be good the July '10 would need to close above $3.55.  I wouldn't bet the farm on it.
Corn is at a price that allows hog producers to be profitable so if you are locking in profits you should be locking in corn as well.  I still recommend buying a call option in the month you need the corn and buy cash corn hand to mouth. 
Bottom line – The intraday charts suggest corn makes an early low tomorrow.  Now is a good time to buy call options on corn and buy cash hand to mouth until fundamentals change.
___________________________________________________

Meal – I said yesterday that it looked like the May '10 contract was nearing a top and it proceeded to sell off today.  As mentioned yesterday I do have a cycle high that was projected for today and has the meal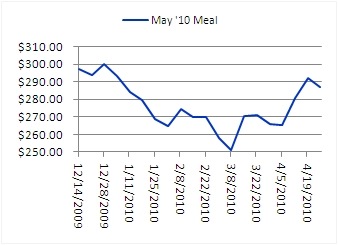 market moving lower into the middle of May.  Meal, like corn, still allows profits to be locked in on hog production.  Does it make sense to speculate on meal prices moving lower especially after the last couple of years?  I don't think it is wise, I say buy call options just like I said in corn and buy meal hand to mouth OR if you are worried about basis levels narrowing then buy the cash product and purchase puts.
Bottom line – The intraday charts suggest meal makes an early low tomorrow.
_____________________________________________________________

Hogs – I think the steam engine that was the hog rally is beginning to slow.  The cutout was down $.88 today on good volume yet the cash was up strong as well therefore cutting into the packers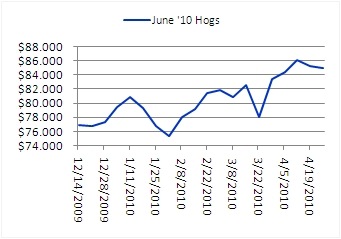 lucrative margins.  The Jun '10 contract was strong most of the morning until the noon USDA cash report was released showing cash hogs significantly higher.  The market rallied slightly and then almost crashed showing Jun '10 only $.05 higher at one point. 
The Dow Jones took a kick to the head today closing down 213 points and the U.S. Dollar Index responded with a rather violent move higher.  The dollar index is getting into an area now where if we begin to close above 81.92 for a couple of weeks then we could see a test of 83.73 and then 86.00 and ultimately 89.62.  If the dollar does rally like the longer-term monthly charts suggest it could, then we could slow some of our export demand.  The dollar still needs to get some good weekly closes before we need to worry about that though.
The monthly Jun '10 hog chart is looking pretty ugly right now and would not give any warm fuzzy feelings going into May assuming we close at or below current levels by Friday, the end of April.  The Jun '10 contract needs to close above $83.75 on Friday or that will do major technical damage to the charts and would open up downside targets of $81.02 and $79.775. 
I've said my gut feeling was negative toward the Jun '10 contract and I'm still in that camp.  I would suggest having a contingency plan to sell if the market takes a nasty turn and keeps going.  If you don't want to sell then at MINIMUM buy some put options or a known risk strategy should be used to protect profits as well as protect against any events that have the possibility of popping up like H1N1 proved to us last year.
Bottom line – The intraday charts suggest hogs make an early high tomorrow. 
_____________________________________________________________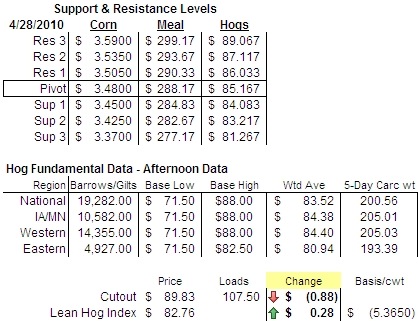 Hurley & Associates believes positions are unique to each person's risk bearing ability; marketing strategy; and crop conditions, therefore we give no blanket recommendations. The risk of loss in trading commodities can be substantial, therefore, carefully consider whether such trading is suitable for you in light of your financial condition. NFA Rules require us to advise you that past performance is not indicative of future results, and there is no guarantee that your trading experience will be similar to the past performance.