Published on:
10:38AM Apr 29, 2010
If you have trouble viewing this page please visit the market commentary section of www.leanhog.net
___________________________________________________
Corn – got a shot in the arm this morning when it was announced that China bought two cargos of U.S. corn.  There was excellent volume in the Globex July '10 contract today with around 188,000 contracts traded.   I said yesterday that there was a buy stop signal at $3.55 in the July '10 contract and I guess it was good after all, my assumption is that it wasn't going to be.  If this signal follows its normal characteristics then we should see a volatile move higher and today would have been the first day of that move.  I still believe that any "good" rallies in the corn market will and should be met with producer hedging until we see something that changes the fundamental aspect of the market. 
The Chinese purchase may lead to other purchases down the road so we could build some enthusiasm around that but over all I'm still bearish the corn market longer-term and would look to sell rallies if I'm a corn producer and if I'm buying feed then I would purchase call options and buy corn hand to mouth until we get a game changer. 
Bottom line – The intraday charts suggest corn makes an early high tomorrow.  Now is a good time to buy call options on corn and buy cash hand to mouth until fundamentals change.
___________________________________________________

Meal – gained back some of the losses we had yesterday but nothing to make me think yesterday was a fluke.  I am of the opinion that meal is making a short-term top for the next 30 days or so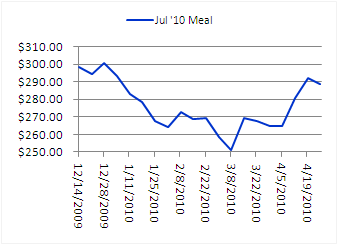 and then we can look for more direction.  Meal, like corn, still allows profits to be locked in on hog production.  Now is a great ti me to buy call options just like I said in corn and buy meal hand to mouth OR if you are worried about basis levels narrowing then buy the cash product and purchase puts.  Hogs are on slippery ground technically and could experience a sell off and if that happens the producer margins will shrink if corn and meal move higher.  Make business decisions.
Bottom line – The intraday charts suggest meal makes an early low tomorrow.
_____________________________________________________________

Hogs – The June '10 contract tried to rally early this morning as it make the session high during the first hour of trade and then fell to pieces for awhile until some buying surfaced.  According to a source on the floor the June '10 contract sold off with ease because of the lack of buyers and some fund selling before some of the buying came back into the market around $1.05 lower.  I said yesterday that the June '10 contract needs to stay above $83.75 for the week otherwise it could trigger some big selling below the market.
If $83.75 holds as support then we could make a run higher towards the contract highs again but for now the test of $83.75 is in progress and if the market does get a weekly close below this number we could see some big technical selling surface.  I've been saying it for a long time, protect the profits that you can with either a mixture of hedges and options strategies or at minimum an option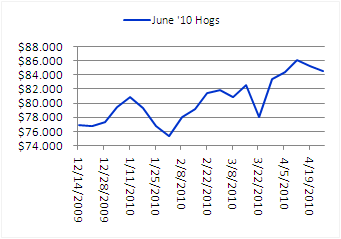 strategy to give you a floor.  The U.S. Dollar closed higher again today but the trade action was less than impressive after yesterday's move.  The Dollar needs to close above at least 81.92 but preferably 82.24 on Friday in my opinion for us to see more upside in this market.
The cutout was lower by $.70 again today which is really nothing in comparison to how fast we moved higher but it is still lower and gives the idea that product could be backing off some over the near-term.   The futures market this evening is trading lower with reasonable volume as a result of the lower cutout number today.
The monthly Jun '10 hog chart is looking pretty ugly right now and would not give any warm fuzzy feelings going into May assuming we close at or below current levels by Friday, the end of April.  The Jun '10 contract needs to close above $83.75 on Friday or that will do major technical damage to the charts and would open up downside targets of $81.02 and $79.775. 
I've said my gut feeling was negative toward the Jun '10 contract and I'm still in that camp.  I would suggest having a contingency plan to sell if the market takes a nasty turn and keeps going.  If you don't want to sell then at MINIMUM buy some put options or a known risk strategy should be used to protect profits as well as protect against any events that have the possibility of popping up like H1N1 proved to us last year.
Bottom line – The intraday charts suggest hogs make an early high tomorrow. 
_____________________________________________________________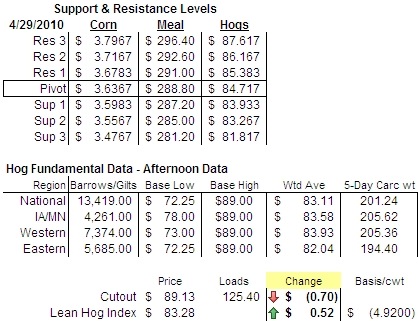 Hurley & Associates believes positions are unique to each person's risk bearing ability; marketing strategy; and crop conditions, therefore we give no blanket recommendations. The risk of loss in trading commodities can be substantial, therefore, carefully consider whether such trading is suitable for you in light of your financial condition. NFA Rules require us to advise you that past performance is not indicative of future results, and there is no guarantee that your trading experience will be similar to the past performance.