Published on:
17:58PM May 06, 2010
If you have trouble viewing this page please visit the market commentary section of www.leanhog.net
___________________________________________________

Corn – is just having a tough time making it through the $3.76 3/4 resistance area over the past six trading days.  Today's close doesn't leave a good taste in my mouth to think we could move higher.  It looks like we are failing here and could begin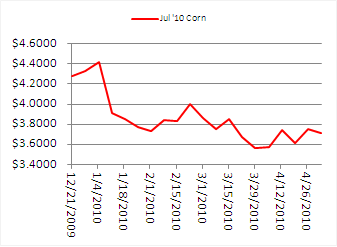 to move lower again over the coming days.  I've said before that I'm not a long-term bull on corn but and I stand by that assessment, I think we could see prices move lower through time.  It is amazing what can happen in a couple of days since my last post.  The Dollar index was below 81.90 and it is now 84.85 as I write this. 
This rally will not help the export market and the way it is going the rally could trigger more buying as we get through some resistance.  The next target I see for the Dollar is 89.62 then 92.63 and anything above 92.63 we should hang on to our hat because we could send the market into bullish mode.
Corn is going in at a record pace, the dollar is screaming higher and we have financial uncertainty developing overseas.  I think it will be tough for corn to get anything major going unless we have a bullish event that changes the fundamental picture and I don't know what that would be at this point. 
Bottom line – The intraday charts suggest corn makes an early low tomorrow.  Now is a good time to buy call options on corn and buy cash hand to mouth until fundamentals change.
___________________________________________________

Meal – The meal market just fell apart during the last hour of trade today.  I'm still in the camp that we could see lower prices from now into the end of May.  The market dipped below our support level of $278.30 but managed to close JUST above it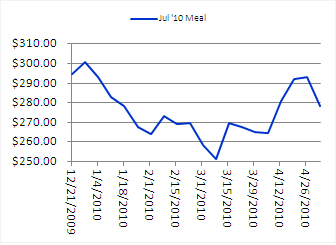 at $278.40.  The July '10 meal will need to do the same tomorrow if it has any chance of making a move higher next week.  If we close below $278.30 tomorrow then the next target is $273.90, $266.90 and then all the way down to $259.70. 
Meal, like corn, still allows profits to be locked in on hog production.  Now is a great time to buy call options just like I said in corn and buy meal hand to mouth OR if you are worried about basis levels narrowing then buy the cash product and purchase puts.  Hogs are on slippery ground technically and could experience a sell off and if that happens the producer margins will shrink if corn and meal move higher.  Make business decisions.
Bottom line – The intraday charts suggest meal makes an early low tomorrow.
_____________________________________________________________

Hogs – June '10 hogs have gotten beaten up over the past couple of days and as I mentioned in my last post, a test of $83.70 would likely make new lows and that's what happened today.  I have to say I expected the market to be just as ugly as yesterday's trade when the dollar was rallying again and the Dow Jones was slowly moving lower.  June '10 did trade over a dollar lower at one point this morning but then came roaring back to trade above $1.50 higher on its high for the session and then close down $.375.  It makes sense, I know.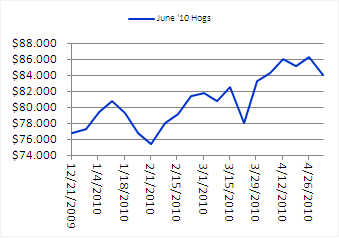 If June '10 hogs settle below $83.65 tomorrow then there will have been a key reversal on the weekly June '10 hog chart.  This should trigger more selling next week if indeed the close below $83.65 happens.  There was BIG volume today as we had over 2,000 contracts traded in the June '10 contract month prior to the pit opening this morning at 9:05 a.m. and we ended the day with just over 17,600 contracts in the June '10 Globex contract.  That's pretty good!  June '10 hogs need to close above $83.65 tomorrow if they want any chance at moving higher next week and the way this thing has been trading who in the world knows! 
By the way the Dow Jones was down 998 points at one point during the trading session, however, it has been blamed on someone entering a sell order as a Billion and not a Million so needless to say that individual is probably out of a job tonight.  The Dow made a nice recovery and actually saved face from a technical standpoint and I would expect a higher market tomorrow based on the way we came off of the lows today.  Here is a link to the story on CNBC Stock Selloff May Have Been Triggered by a Trader Error.
I would suggest having a contingency plan to sell if the market takes a nasty turn and keeps going.  If you don't want to sell then at MINIMUM buy some put options or a known risk strategy should be used to protect profits as well as protect against any events that have the possibility of popping up like H1N1 proved to us last year.
Bottom line – The intraday charts suggest hogs make an early high tomorrow. 
_____________________________________________________________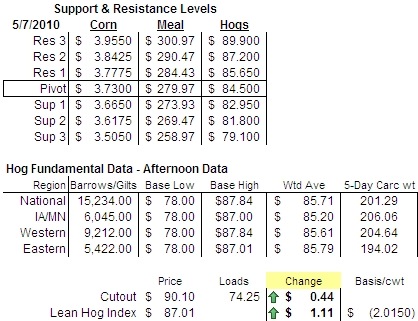 Hurley & Associates believes positions are unique to each person's risk bearing ability; marketing strategy; and crop conditions, therefore we give no blanket recommendations. The risk of loss in trading commodities can be substantial, therefore, carefully consider whether such trading is suitable for you in light of your financial condition. NFA Rules require us to advise you that past performance is not indicative of future results, and there is no guarantee that your trading experience will be similar to the past performance.