If you have trouble viewing this page please visit the market commentary section of www.leanhog.net
___________________________________________________
Corn – had a nice rally today as we continue to trade within a $3.62 to $3.80 range in the July '10 contract over the past couple of weeks.  The market should "pop" in one direction or the other once the $3.62 low or $3.80 high is breached.  The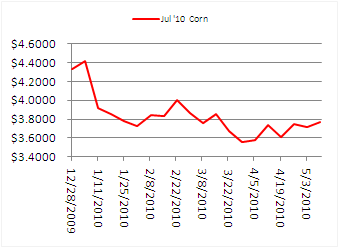 cycles suggest corn moved marginally higher for the next couple of weeks but it isn't anything to write home about.  The intraday chart says we should experience an early high tomorrow and fade slightly.  We could see some minor fireworks if we break through $3.80 and then can hold that area as support but if not then I think we stick to what the intraday charts say.
If we see any type of significant rally I would be surprised if it isn't met with excellent selling as the crop is nearly planted for the 2010 growing season, much ahead of last year and the five year average.  With corn going in at a record pace, the dollar screaming higher and financial uncertainty developing overseas; I think it will be tough for corn to get anything major going unless we have a bullish event that changes the fundamental picture. 
Bottom line – The intraday charts suggest corn makes an early high tomorrow.  Now is a good time to buy call options on corn and buy cash hand to mouth until fundamentals change.
___________________________________________________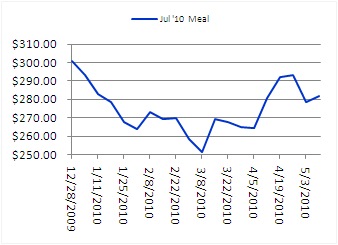 Meal – The meal market finally showed us some pep today as it rallied to near its high of the session as the market came to a close.  It looks like we could try to make a run for $286.00 in the July '10 contract, however, I still feel we have more downside to go in the market.  The intraday chart suggests we have an early high tomorrow and then weaken as the day progresses.  If we close above $278.30 tomorrow it will be a positive close and could give the market another little shot in the arm to move higher but I think these rallies will be short lived for now.
Meal, like corn, still allows profits to be locked in on hog production.  Now is a great time to buy call options just like I said in corn and buy meal hand to mouth OR if you are worried about basis levels narrowing then buy the cash product and purchase puts.  Hogs are on slippery ground technically and could experience a sell off and if that happens the producer margins will shrink if corn and meal move higher.  Make business decisions.
Bottom line – The intraday charts suggest meal makes an early high tomorrow.
_____________________________________________________________

Hogs – June '10 hogs did very little in the way of positive or a negative influence to the charts today.  My opinion hasn't changed much, I still think we are over done to the upside and the market needs to take a breath and get back to reality.  The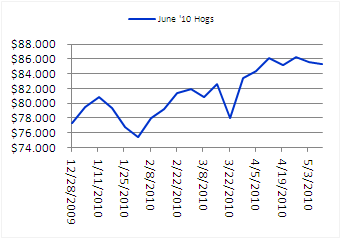 U.S. Dollar Index continues to rally for the time being which should add pressure to the export markets for commodities as a whole.  I don't think Wall Street knows which way to turn judging by the trade action in the Dow Jones over the past several days, up and down and down and up seems to be the theme in that market.  The Dow has recovered nicely but with less volume than the sell off, I guess we can attribute that to the "fat finger" last Thursday.
Below is a chart of the nearby lean hog front month continuation chart times the dollar index divided by 100.  The chart starts in 1969 on the left hand side of the screen and ends up with the most recent close as of today.  This is a monthly chart to give a longer-range view of this relationship.  This lends support to the thought of exports possibly slowing down as we move forward.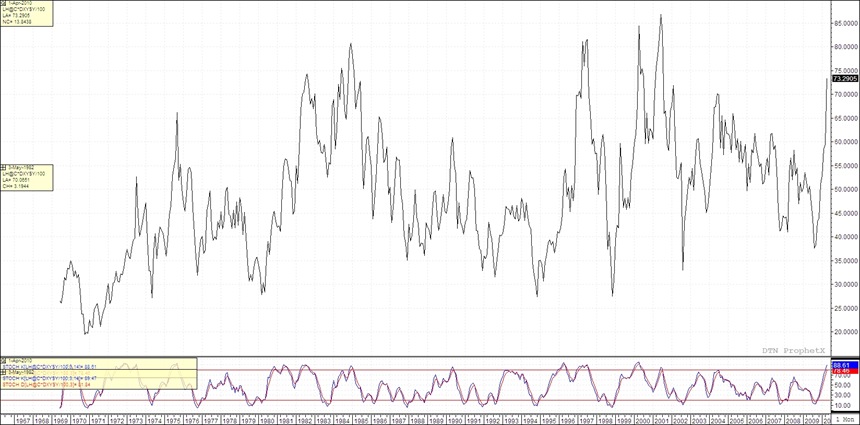 We have continued to flirt with the $83.70 level in the June '10 contract but have yet to close below it.  The daily chart suggests we should get a close below the $83.70 support level in the coming days but for tomorrow I think we should see and early low and rather quiet trade.
I would suggest having a contingency plan to sell if the market takes a nasty turn and keeps going.  If you don't want to sell then at MINIMUM buy some put options or a known risk strategy should be used to protect profits as well as protect against any events that have the possibility of popping up like H1N1 proved to us last year.
Bottom line – The intraday charts suggest hogs make an early low tomorrow. 
_____________________________________________________________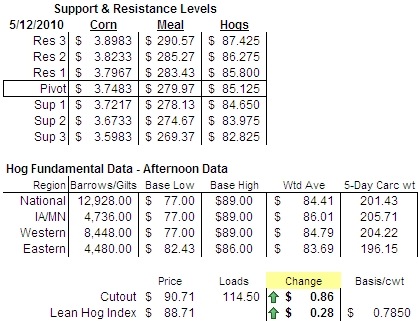 Hurley & Associates believes positions are unique to each person's risk bearing ability; marketing strategy; and crop conditions, therefore we give no blanket recommendations. The risk of loss in trading commodities can be substantial, therefore, carefully consider whether such trading is suitable for you in light of your financial condition. NFA Rules require us to advise you that past performance is not indicative of future results, and there is no guarantee that your trading experience will be similar to the past performance.