Published on:
18:38PM May 17, 2010
If you have trouble viewing this page please visit the market commentary section of www.leanhog.net
___________________________________________________
Corn – hasn't changed much since I last posted.  We are trading lower but the thought is the same, lower as we go for the longer term unless something big happens and changes that mindset.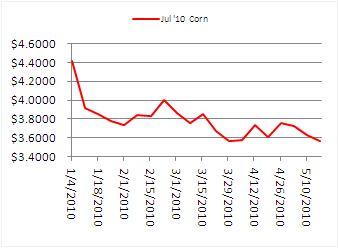 As of now I don't see what that would be considering the dollar has still been moving higher with the exception of the trade action of today.  Today COULD be a short-term top in the U.S. Dollar index as it managed to make a nice rally but fell apart and was unable to hold the rally.  I do have the dollar moving lower into June 1st 2010, the longer-term monthly charts suggest higher movement into November of 2010.  
If today truly is a short-term top for the dollar then we could see corn find some support as the Dow Jones also looks like it is searching for a short-term bottom between now and the first of June.  My opinion hasn't changed on corn, I still say buy some out of the money calls to make sure you are protected for an unforeseen event that would create higher prices but that is about as aggressive as I want to get for now.  Buy corn hand to mouth and let it continue to drop, that is my opinion. 
This years corn crop is 87% planted and that is about good enough in my book.  Now it is time to focus on growing weather and any other "events" that could spur a rally.
Bottom line – The intraday charts suggest corn makes an early high tomorrow.  Now is a good time to buy call options on corn and buy cash hand to mouth until fundamentals change.
___________________________________________________
Meal – looks like we could nearing a short-term low for the meal market.  I have a cycle low projected for the July contract around May 21st and then it projects the July meal moving higher into expiration.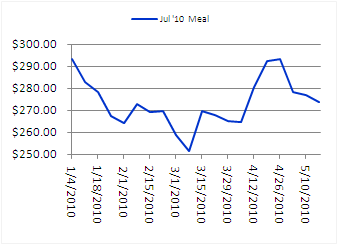 I would say now is the time to start checking over your market plan to calculate how much meal you will need moving forward and get ready to "pounce" on some meal if the market does decide to turn higher.  I am basing my comments strictly on the July '10 contract and as always talk with someone you trust to discuss the idea of a meal purchase to make sure it is right for your operation.
If we make a new low below $272.90 tomorrow and then close above that tomorrow and Wednesday then we have a buy signal in the meal.  I would agree with the signal that we could move higher but I don't think we will be taking and rockets higher, probably more of a model airplane approach.
Bottom line – The intraday charts suggest meal makes an early high tomorrow.
_____________________________________________________________
Hogs – On Friday the June hogs closed at $83.55 which was just below the $83.70 level I've been talking about over the past few weeks.  The sell off that we got today was rather violent in nature with BIG volume which makes me think we could be in for more downside activity over the coming weeks and ultimately into expiration of the June '10 contract.  We are very close to the second gap of $81.015 that we left after the quarterly hog & pig report, the first gap is at $79.775 which will also become a likely target over the weeks to come.
The cutout was down $1.57 today which explains some of the big sell off but the cash was up slightly per cwt but the live cash prices were considerably lower but with light volume.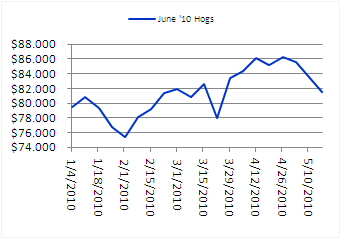 Things could get ugly if we don't rebound some tomorrow which looks likely based on the intraday charts, I'm expecting an early low and then firmness as we move throughout the day.  This should have been the case today but it failed to follow that path.
The deferred Oct, Dec, Feb and Apr contracts all seem to be reaching a cycle low for the time being and show strength over the coming weeks into the beginning of June.  This is NOT the case for the June, July and September contracts.
I would suggest having a contingency plan to sell if the market takes a nasty turn and keeps going.  If you don't want to sell then at MINIMUM buy some put options or a known risk strategy should be used to protect profits as well as protect against any events that have the possibility of popping up like H1N1 proved to us last year.
Bottom line – The intraday charts suggest hogs make an early low tomorrow. 
_____________________________________________________________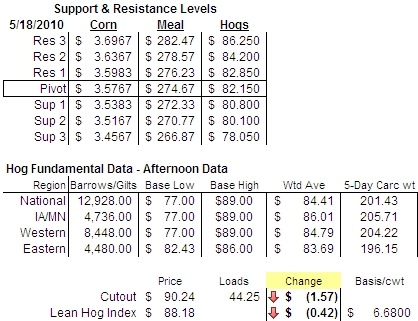 Hurley & Associates believes positions are unique to each person's risk bearing ability; marketing strategy; and crop conditions, therefore we give no blanket recommendations. The risk of loss in trading commodities can be substantial, therefore, carefully consider whether such trading is suitable for you in light of your financial condition. NFA Rules require us to advise you that past performance is not indicative of future results, and there is no guarantee that your trading experience will be similar to the past performance.