Published on:
20:24PM May 20, 2010
If you have trouble viewing this page please visit the market commentary section of www.leanhog.net
We have recently given Lean Hog Perspective an overhaul and will continue to add more useful information in our registered user areas like projected slaughter schedules, cutout charts and we will soon be adding projected profit/loss figures that update daily with the market and provide a general feel for where the industry resides in the profitability cycle.  We will continue to add more Lean Hog Perspective specific research for our registered users and customers over time.  If you would like to check it out click here to register or login to Lean Hog Perspective.
___________________________________________________

Corn – today was a day of confusion for the corn market.  The market actually did quite well considering the Dow Jones was off nearly 400 points today.  Even though the market rejected lower prices today, it still feels like we should test the $3.51 1/4 area again before long.  The Dollar index was lower today along with crude oil, and the Dow so it was a bad day in the markets overall.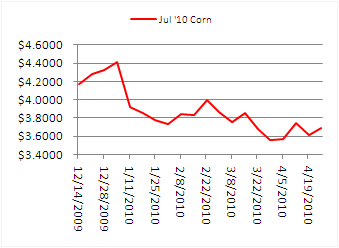 I'm still negative corn and will continue to be until there is something significant that changes my mind.  Not much to do here other than let the market fall to you but don't lose sight of the big picture and risk management, protect yourself.
Bottom line – The intraday charts suggest corn makes an early low tomorrow.  Now is a good time to buy call options on corn and buy cash hand to mouth until fundamentals change.
___________________________________________________

Meal – actually today was a rather good day in meal as we closed higher for the session.  I've been saying the last few days that I think we are at a short-term bottom for meal and any needs for the next 30 days should be protected in some way or another.  Good corn planting progress lends reason to believe we may have more corn acres in the June 30th acreage report vs the March 30th intentions report.  I'm not a long-term bull but for now I want upside coverage nailed down.
Meal, like corn, still allows profits to be locked in on hog production.  Now is a great time to buy call options just like I said in corn and buy meal hand to mouth OR if you are worried about basis levels narrowing then buy the cash product and purchase puts.  Hogs are on slippery ground technically and could experience a sell off and if that happens the producer margins will shrink if corn and meal move higher.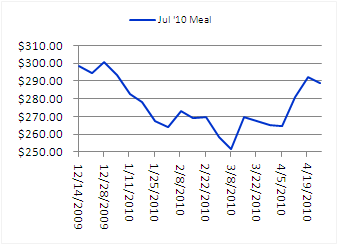 Make business decisions. 
Bottom line – The intraday charts suggest meal makes an early low tomorrow.
_____________________________________________________________

Hogs – Ouch.  We were close to filling the first gap from the quarterly hog and pig report at $79.775 but we missed it by $.20.  I expect we will touch this area and then look for direction in the market.  I'm not a fan of the June '10 contract and if you have been following my comments you probably already know that.  I'm not as bearish to the Oct-Apr contracts right now but profits speak louder than market guesses so if profits are there look for ways to protect it while still allowing some flexibility to the upside.  I believe one of the biggest profit opportunities is going to come from lower feed prices versus any magnificent rallies in the hog market. 
I don't think its over for the deferred contract months but June looks like it is toast and July is running a close second in the line for the toaster.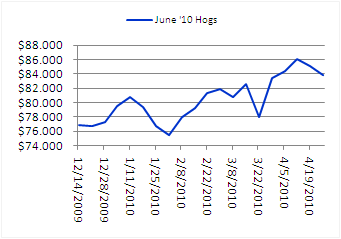 I think August has too much time left to project its demise so I still have some optimism for the August contract.  Now is a good time to look at where your hedges are at above the market and look for ways to give yourself upside by purchasing some call strategies near your short futures levels.  Food for thought.
I would suggest having a contingency plan to sell if the market takes a nasty turn and keeps going.  If you don't want to sell then at MINIMUM buy some put options or a known risk strategy should be used to protect profits as well as protect against any events that have the possibility of popping up like H1N1 proved to us last year.
Bottom line – The intraday charts suggest hogs make an early low tomorrow. 
_____________________________________________________________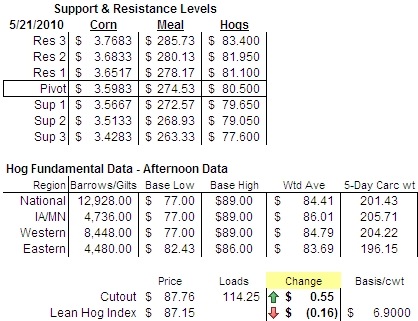 Hurley & Associates believes positions are unique to each person's risk bearing ability; marketing strategy; and crop conditions, therefore we give no blanket recommendations. The risk of loss in trading commodities can be substantial, therefore, carefully consider whether such trading is suitable for you in light of your financial condition. NFA Rules require us to advise you that past performance is not indicative of future results, and there is no guarantee that your trading experience will be similar to the past performance.