Published on:
17:15PM Jun 02, 2010
If you have trouble viewing this page please visit the market commentary section of www.leanhog.net
___________________________________________________

Corn – Not a great day in the corn market as we close at new lows for 2010.  Today's weakness should bring the bears out in force to try and keep the market below the previous 2010 low of $3.51 1/2.  The intra-day charts suggest that we trade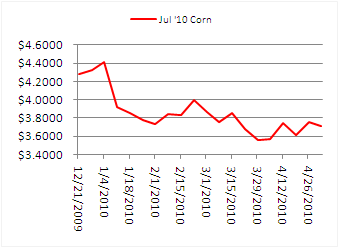 lower tonight and then have an early low tomorrow and slowly work our way higher.  The daily chart had a cycle low on Friday but has failed to show up in the trade.  The cycle low is a short-term two week cycle and nothing I would get concerned about at this point.  The longer-term weekly cycles still point lower the end on June which is what I believe should happen.
My thoughts haven't changed much; if you have profit in your pigs it doesn't matter where corn is going just make sure you have protection in place to keep as much of the unrealized crush equity that you can.  The US Dollar index is at a crucial level as well, I said I thought the market was topping a couple of weeks ago and the next day it made new highs.  Well, it looks like I may not have been wrong after all, which brings up the point never make a judgment call on an longer-term opinion the very next day!  87.45 is a significant area of resistance at this point and the market needs to break through to the upside soon if it wants to keep moving higher otherwise I look for a decline in the Dollar index once again.
I'm of the opinion that the Dollar is in the process of putting in a high for the summer and that we should see weakness in the Dollar for weeks to come. 
Bottom line – The intraday charts suggest corn makes an early low tomorrow.  Now is a good time to buy call options on corn and buy cash hand to mouth until fundamentals change.
___________________________________________________

Meal – Meal is searching for a short-term bottom in my opinion.  The last few weeks have had very small ranges between the weekly open and close which suggests it is losing its momentum to move lower.  I am not long-term bullish at this point, however, I'm looking for the meal market to stabilize and firm up over the coming weeks.  I said this last month and I will say it again, now is a great time to be securing some short-term 30 day coverage if you don't already have it.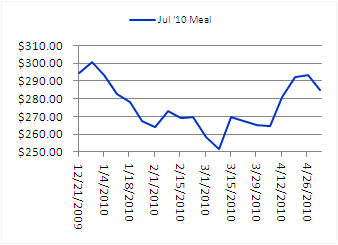 Make sure you speak with your risk manager to be certain this is the right move for you.
Meal, like corn, still allows profits to be locked in on hog production.  Now is a great time to buy call options just like I said in corn and buy meal hand to mouth OR if you are worried about basis levels narrowing then buy the cash product and purchase puts.  Hogs are on slippery ground technically and could experience a sell off and if that happens the producer margins will shrink if corn and meal move higher.  Make business decisions.
Bottom line – The intraday charts suggest meal trades sideways tomorrow.
_____________________________________________________________

Hogs – June '10 hogs have completed the cycle low as of last Thursday and now shows sideways movement into expiration.  I agree with this assumption of a sideways market moving into expiration.  The cash hog market was up considerably today on good volume, however, the cutout market was lower by $1.31 so packer margins took it on the chin today.  July '10 hogs are in the process of looking for a short-term bottom as we tested $80.65 a couple of weeks ago and have been able to hold that support level.  The $80.65 support level is a 50% retracement of the February $73.30 low. 
It looks like a short-term bottom is in progress for the July '10 contract but I'm not giving the market good odds of making new contract highs either.  I suspect the July '10 contract should gravitate toward the $84.25 to $85.10 area.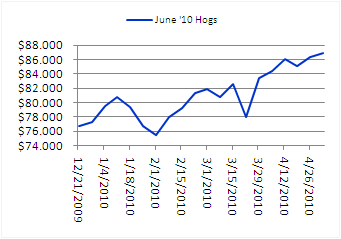 These resistance levels should find some good selling.  It will be important to see how the market reacts against the $84.25 to $85.10 area, if we manage to trade and close above these levels for a couple of consecutive days then we could see a test of the contract high.
The only way in my opinion that we could see a test of the July '10 contract high of $87.95 is if the US Dollar Index does indeed turn south again.  We will monitor the hogs if or when they approach these levels. 
We have continued to flirt with the $83.70 level in the June '10 contract but have yet to close below it.  The daily chart suggests we should get a close below the $83.70 support level in the coming days but for tomorrow I think we should see and early low and rather quiet trade.
Bottom line – The intraday charts suggest hogs make an early high tomorrow. 
_____________________________________________________________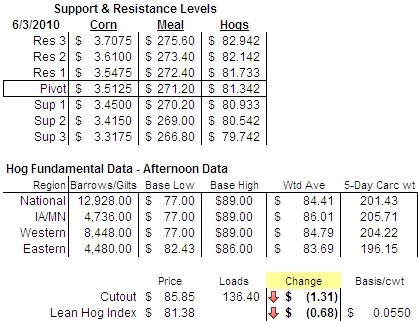 Hurley & Associates believes positions are unique to each person's risk bearing ability; marketing strategy; and crop conditions, therefore we give no blanket recommendations. The risk of loss in trading commodities can be substantial, therefore, carefully consider whether such trading is suitable for you in light of your financial condition. NFA Rules require us to advise you that past performance is not indicative of future results, and there is no guarantee that your trading experience will be similar to the past performance.