If you have trouble viewing this page please visit the market commentary section of www.leanhog.net
___________________________________________________

Corn – July '10 corn continued lower today as we approach the contract low of $3.33 1/2.  The market should test the contract low either tonight or tomorrow being it is this close.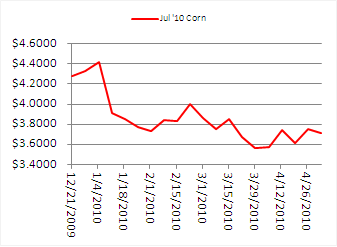 I don't have much to add to the corn market, I'm still a longer-term bear until we see something significant change in the market place.  Fundamentals are too bearish to have any extreme optimism.  If you have profit in pigs then you should be looking to protect your prices and your equity.  Talk with your risk manager about what can be done to provide you price coverage.
The U.S. Dollar Index is still making me look like an idiot as it made a new high last week for this most recent move.  With the dollar continuing to climb it will be tough for grains to get any bullish momentum until we have a game changer in the fundamentals. 
Bottom line – The intraday charts suggest corn makes an early low tomorrow.  Now is a good time to buy call options on corn and buy cash hand to mouth until fundamentals change.
___________________________________________________

Meal – It still feels like meal is trying to rally but I don't know that it is much to be concerned about.  It doesn't mean you shouldn't make a business decision to protect profits if they are available, I simply mean I don't thing extremely aggressive strategies need to be in place right now.  Do what is right for your business based on profits not on expected market direction.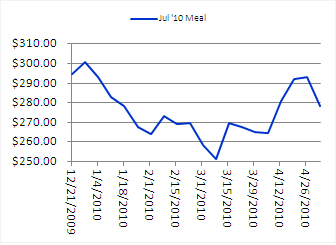 The market looks like we could trade sideways to higher into July unless some event should change that.
Bottom line – The intraday charts suggest meal trades sideways to lower tomorrow.
_____________________________________________________________

Hogs – July '10 hogs closed below $78.30 today which isn't a good sign if you want the market to move higher.  The July contract needs to get back above $78.30 by tomorrow's close otherwise we could be in for another leg lower and target $73.30 or so.  If you do have hedges in place now would be a good time to start looking at re-ownership strategies to protect hedge equity that you've gained.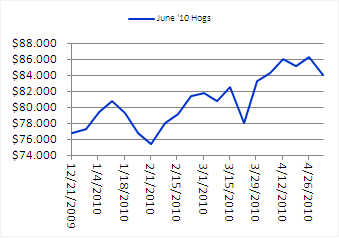 I don't mean lift hedges just be prepared to purchase a known risk strategy for when the time comes to incorporate that type of strategy.
If we get back above $78.30 tomorrow then we may be looking for a bottom in here but things don't look very pretty right now.  It is the World Pork Expo this week and it will be interesting to see the producer moral and level of optimism and confidence.  The sad part is that there seems to be less and less active producers attending the event as each year passes.  I'm not a huge fan of making panic sales so I'm in the camp of holding out to see what develops over the next few days being we are at a critical level in the market.
Bottom line – The intraday charts suggest hogs make an early low tomorrow. 
_____________________________________________________________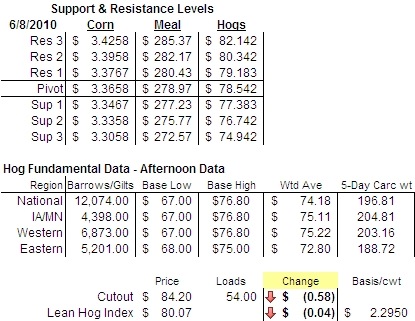 Hurley & Associates believes positions are unique to each person's risk bearing ability; marketing strategy; and crop conditions, therefore we give no blanket recommendations. The risk of loss in trading commodities can be substantial, therefore, carefully consider whether such trading is suitable for you in light of your financial condition. NFA Rules require us to advise you that past performance is not indicative of future results, and there is no guarantee that your trading experience will be similar to the past performance.