If you have trouble viewing this page please visit the market commentary section of www.leanhog.net
___________________________________________________

Corn – The USDA released its monthly crop production report last Thursday and decided that they hadn't factored in enough ethanol demand for both old and new crop corn.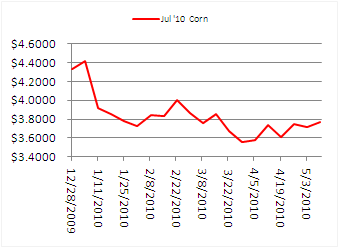 They reduced the '09/10 carryout by 121 million bushels to 1.603 billion bushels.  The reduction in the '10/11 carryout was 258 million bushels which brings the projected carryout to 1.573 from a trade expected 1.831 billion bushels.  With all of this being said I have been in the camp of buying calls and purchasing corn hand to mouth until we saw something change fundamentally.  This is a solid fundamental change.  The market hasn't rallied as much as you would think given the amount of carryout reduction that we had compared to trade expectation and part of that is due to the trade thinking we will have more corn acres in the June 30th report versus what the March 30th intentions report listed.
If the corn acreage is the same or lower then we could really start a nice move higher in the corn market.  Most contract months are in the process of or have put in a double bottom on the weekly charts.  This is something that we want to respect and pay attention to.  If you have profits in your hog crush with corn at current levels make sure you talk with your risk manager about getting upside protection before the June 30th report.  I wouldn't flat out buy a years worth of corn but I want to protect the next six months with some type of know risk strategy mixed in with minimal purchases assuming there is profit in your crush.
I last couple of weeks I've been mentioning the US Dollar Index and it looks to be nearing a top.  Now, every time I've said this over the past couple of weeks the Dollar has skyrocketed the very next day.  : ) If the Dollar truly is topping out then we could see more optimism in the commodities in general.
Bottom line – The intraday charts suggest corn makes an early high tomorrow.  Now is a good time to consider covering some feed needs with a strategy that fits your operation.
___________________________________________________

Meal – The July '10 meal contract looks like it has nearly run its course to the upside for the time being.  Today was an ugly close if you are bullish July '10 soybean meal.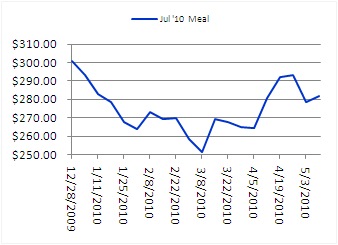 Tomorrow I expect sell stops to be triggered under today's low of $288.40 which would also coincide with the cycle high I have for the July '10 contract tomorrow.  On the flip side we've had two consecutive closes above $288.50 which would suggest $296.70 could be a likely target over the coming days.  I think the trade action we had today speaks louder than the closes above $288.50 therefore I'm in the camp of the market taking a breather here and backing off some.
There were no major surprises for Soybeans in last weeks USDA monthly crop production report. 
Bottom line – The intraday charts suggest meal makes an early high tomorrow.
_____________________________________________________________

Hogs – In my last post on June 7th I stated hogs were at a pivotal area and suggested that we needed to get back above $78.30.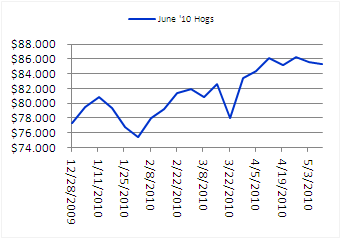 It took longer than I would have liked for the market to get back above $78.30 but non-the-less it has.  I also mentioned that now would be a good time to begin looking for ways to protect the equity in any hedges that are above the market or buy some strategies to open up the topside of the market on lower sales.
I'm still of this camp and as of Friday we did implement some re-ownership strategies on sales that are above the current market.  The cutout value was lower by $1.29 today but the market seems to be hanging in there in the afternoon session.  We had excellent technical closes In the July '10 through Dec '10 contracts last Friday.  The type of action we saw last week would suggest the market is looking for a bottom in this area for the aforementioned months.  The Aug-Dec look better than the July but they all look good. 
I would be in talks with my risk manager to develop a sales plan if you don't already have one to take advantage of any market rallies we may encounter.  I'm of the camp that the July '10 hog contract should trade sideways to better into expiration next month.  Keep making business decisions and protect profits where you can. 
Bottom line – The intraday charts suggest hogs make an early high tomorrow. 
_____________________________________________________________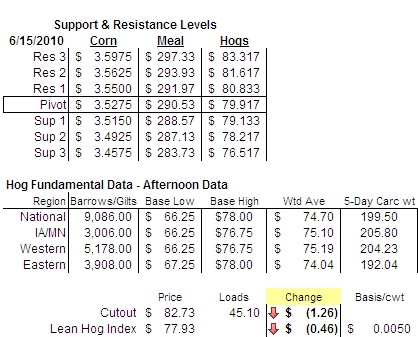 Hurley & Associates believes positions are unique to each person's risk bearing ability; marketing strategy; and crop conditions, therefore we give no blanket recommendations. The risk of loss in trading commodities can be substantial, therefore, carefully consider whether such trading is suitable for you in light of your financial condition. NFA Rules require us to advise you that past performance is not indicative of future results, and there is no guarantee that your trading experience will be similar to the past performance.