Published on:
16:51PM Jun 28, 2010
If you have trouble viewing this page please visit the market commentary section of www.leanhog.net
___________________________________________________

Corn – The Sep '10 corn contract made a new contract low of $3.40 3/4 but settled just above this level.  If we have another close below $3.44 tomorrow then we could open the gates to some lower prices.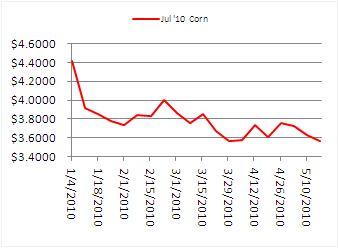 We do however have the annual Planted Acreage report coming out on Wednesday morning which could give direction to the market in either direction.  The weekly chart is setting up for a strong CONDITIONAL buy signal in the Sep '10 chart.  If we close above $3.45 on Friday July 9th, we could be in for some buying and POSSIBLY the low being set for the Sep '10 contract.
I am not calling a bottom just yet because a lot of things need to happen first but I'm watching the interesting setup that is taking place.  As always now is an excellent time to cover some of your feed needs with a know risk strategy assuming your hog crush is profitable.  The U.S. Dollar Index is still showing signs of longer-term weakness and is in the process of starting the right shoulder of a bearish head and shoulders pattern.  There is a lot that needs to happen for this to be confirmed, I'm just pointing out that fact that it is setting up this way.
Bottom line – The intraday charts suggest corn makes an early low tomorrow.  Now is a good time to consider covering some feed needs with a strategy that fits your operation.
___________________________________________________

Meal – The Aug '10 meal contract provided a nice little rally near the end of the day today.  I don't have much to add to the meal comments other than the charts still look good to me with the exception of last week's trade.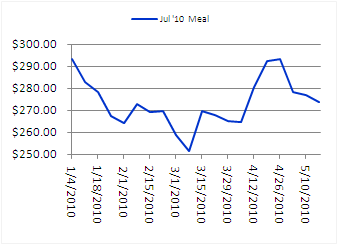 The trade action today negates some but not all of last weeks negativity, the market will need to close at $283.30 or higher this week in order for me to feel like we could see some movement toward $300.00 again.
Now is a good time to look at protecting any profits you have in your crush margin.  You never know what can happen in these USDA reports or with weather or whatever the case may be.  I still prefer a known risk strategy with some purchases to mix up the coverage some.  Visit with your risk manager to develop a plan that is right for you.
Bottom line – The intraday charts suggest meal makes an early high tomorrow.
_____________________________________________________________

Hogs – Wow, what a day today was, I can't say I saw that coming.  The 50% retracement level back to the $78.20 low is $81.675 and we should see some good support there for the time being.  I do have a buy signal in the Aug '10 hog contract at $82.20 STOP.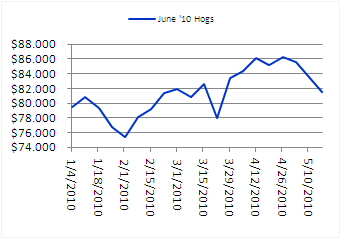 The risk management sell stop would be $.50 below the current low at the time the order fills.  This is one of those signals that produces a swift move when they are good.  The market needs to close above $82.075 tomorrow in order for the signal to remain in play, if it doesn't then it is no good.
I am expecting an early low tomorrow for Aug '10 hogs and assume that should be the case considering the cutout was only down $.27 today but on light volume.  The cash market was over $3.00 lower during the noon report but closed the day only down around $.17 in the Iowa/Minnesota region.
I would be in talks with my risk manager to develop a sales plan if you don't already have one to take advantage of any market rallies we may encounter.  Keep making business decisions and protect profits where you can.
Bottom line – The intraday charts suggest hogs make an early low tomorrow.
_____________________________________________________________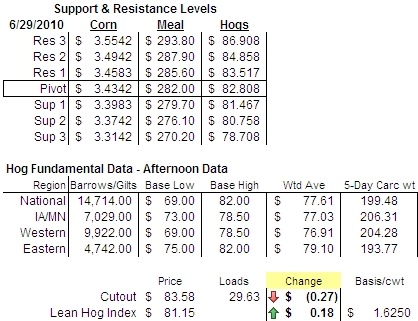 Hurley & Associates believes positions are unique to each person's risk bearing ability; marketing strategy; and crop conditions, therefore we give no blanket recommendations. The risk of loss in trading commodities can be substantial, therefore, carefully consider whether such trading is suitable for you in light of your financial condition. NFA Rules require us to advise you that past performance is not indicative of future results, and there is no guarantee that your trading experience will be similar to the past performance.