If you have trouble viewing this page please visit the market commentary section of www.leanhog.net
___________________________________________________

Corn – the Sep '10 contract has rallied $.42 1/2 from low to high in the last two days.  We are near resistance of $3.76 1/2 which I believe we will hit tomorrow and stall against for the time being.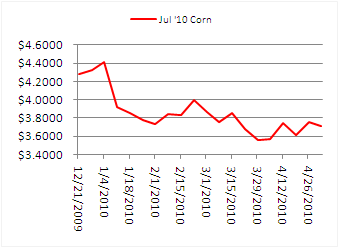 In my opinion the market should test $3.76 1/2 and then pause to re-gain some order and then make another push higher.  We have a three day weekend coming up so who knows what tomorrow will bring.
I think we have enough change in fundamental news to continue this rally into the 12th of July or so before we take a serious breather from the higher price movement.  I've been saying for sometime to buy calls in corn and purchase physical product hand to mouth until the fundamentals change, well they've changed.  I have a big weekly buy signal at $3.45 (see my comments from 06/28/10) and if the Sep '10 corn closes above this level NEXT Friday then I'm willing to say I think we have made the low for the year.  It is too premature to say that at this point but the setup is there.
Talk with your risk manager about ways to protect yourself from higher prices in corn!  I'm including my comments from June 28th below
Bottom line – The intraday charts suggest corn makes an early high tomorrow.  Now is a good time to work with your risk manager to help develop a coverage strategy that fits your operation.
___________________________________________________

Meal – Aug '10 meal had an interesting day yesterday as it traded higher early in the session and then fell like Tipper Gore's jaw when she found out about hubby Al's real unconceivable truth.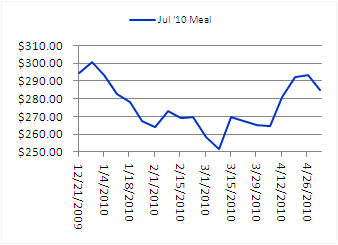 The weekly charts for soybean meal are beginning to give logic to a semi bearish attitude for the Aug '10 contract.  I still need to see the market close tomorrow before I make any final judgment calls here but for now I want to keep a close eye on it.  The Dollar Index fell hard today as stocks rallied off of an early selloff so the weak dollar could help support the meal market longer than the chart would suggest.
Now is a good time to look at protecting any profits you have in your crush margin.  I still prefer a known risk strategy with some purchases to mix up the coverage some.  Visit with your risk manager to develop a plan that is right for you.
Bottom line – The intraday charts suggest meal makes an early low tomorrow.
_____________________________________________________________

Hogs – Aug '10 hogs were all over the place today.  Starting the session out on a lower note the market dropped to basically match the low price from the last two trading sessions and then bounced.  That looked positive to me as we made a high of $82.60 but then sold off at the close to be up $.20 on the day at $81.85.  Huh.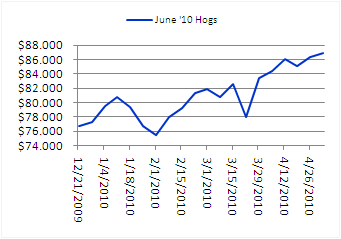 The good news here is the market has tested the 62% retracement level the last three sessions but has failed to close below it.  We also closed back above the 50% retracement level which leads me to believe we are poised to make another test of $85.15 in the future.  I would still like to see another close above $81.675 before I get too excited about the $81.675 though. 
The buy signal at $82.20 the other day failed to materialize so now it is back to watching price action against support points to get a feel for direction.  So far we are holding on to the "critical" support areas in the Aug '10 contract and I'm of the opinion that we should begin to move higher in the coming week to two weeks which should give us some good opportunities to make some sales against higher prices. 
I would be in talks with my risk manager to develop a sales plan if you don't already have one to take advantage of any market rallies we may encounter.  Keep making business decisions and protect profits where you can.
Bottom line – The intraday charts suggest hogs make an early low tomorrow.
---
Check out www.leanhog.net to find numerous USDA reports all in one convenient location.  Become a registered user and have access to pork cutout charts and the USDA 14 day hog slaughter schedule as a percentage of approximate daily kill capacity.
Below are some of the reports that are available as quick links on our home page.  If you would like to become a registered user to access more custom information please click here.
_____________________________________________________________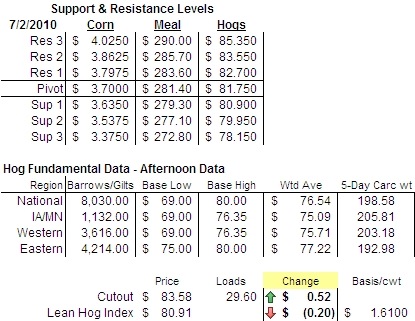 Hurley & Associates believes positions are unique to each person's risk bearing ability; marketing strategy; and crop conditions, therefore we give no blanket recommendations. The risk of loss in trading commodities can be substantial, therefore, carefully consider whether such trading is suitable for you in light of your financial condition. NFA Rules require us to advise you that past performance is not indicative of future results, and there is no guarantee that your trading experience will be similar to the past performance.