If you have trouble viewing this page please visit the market commentary section of www.leanhog.net
___________________________________________________

Corn – Not much has changed from yesterday other than we closed above the $3.76 1/2 resistance level I've been talking about.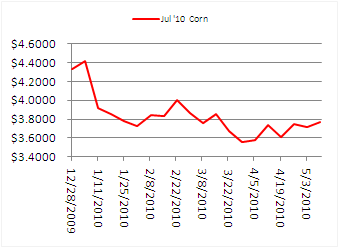 I will need to see the market close above $3.76 1/2 again tomorrow before I'm comfortable saying that we will continue higher without a small setback.  Assuming a close above $3.76 1/2 again tomorrow our next price target objectives should be $3.831/4, $3.91 and $4.09.  Based on the weekly chart setup I believe that these numbers are attainable at some point in the near future.
Overall the charts look price positive (higher) and with the wet weather around the market may have some weather issues to resolve.  Overall I don't get too excited about crop disasters from weather because the varieties of corn are getting seemingly better as each year passes.  This doesn't mean we can't have some weather related price movement but I usually take it with a grain of salt.
Talk with your risk manager about ways to protect yourself from higher prices in corn! 
Bottom line – The intraday charts suggest corn makes an early low tomorrow.  Now is a good time to work with your risk manager to help develop a coverage strategy that fits your operation.
___________________________________________________

Meal – Aug '10 meal traded up to and above the $293.90 area  I spoke of yesterday.  If we close above $293.90 this Friday the 9th then I may have to change my tune about my sideways to lower view of the meal market for the month of July.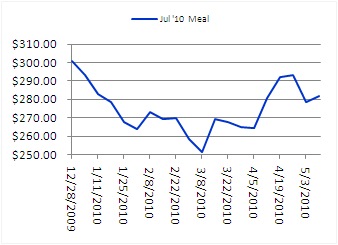 I still need some confirmation as there is a sell signal setup for tomorrow's trade.  I have a sell signal at $290.00 stop for the Aug '10 meal contract but this a conditional sell signal meaning it is not to be trade with any other order other than a stop order.  If the market doesn't get to the $290.00 area then the signal is no good.  I'm not recommending a trade, I just want you to be aware of the setup.
Now is a good time to visit with your risk manager to develop a meal coverage plan that is right for you.
Bottom line – The intraday charts suggest meal makes an early high tomorrow.
_____________________________________________________________

Hogs – Aug '10 hogs traded both sides of unchanged today but managed to rally and settle higher on the day.  Today is one of those conspiracy days for me.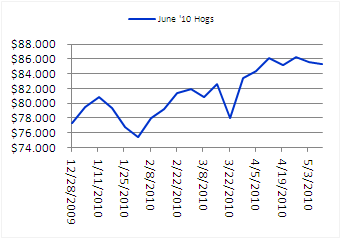 We had a higher cash market but cutout came in $1.05 lower but the market shows larger bid orders than ask orders.  Hmmmm.  It almost feels like someone is trying to buy more time so they can either reduce their short position or get long the market by spooking it lower to create liquidity for themselves.  It has been quite noticeable over the past couple days that packers are trying to keep the noon cash reports on the defensive but the hogs purchased immediately make you question the validity of the report. 
The dollar remains weak and still has the ability and the likely probability to touch 81.45 and we are currently trading at 83.88.  The weaker dollar should keep some subtle support under the market and keep it from completely falling out of bed should some negative news rear its ugly head.  I'm of the opinion that the market is searching for a reason to bottom, especially with feed prices doing what they are doing and the dollar being weak.
Corn and meal have rallied but hogs have failed to rally along with the feed therefore cutting into some of the nice margins that were available just over a week ago.  Keep making the business decisions!
I would be in talks with my risk manager to develop a sales plan if you don't already have one to take advantage of any market rallies we may encounter.  Keep making business decisions and protect profits where you can.
Bottom line – The intraday charts suggest hogs make an early high tomorrow.
---
Check out www.leanhog.net to find numerous USDA reports all in one convenient location.  Become a registered user and have access to pork cutout charts and the USDA 14 day hog slaughter schedule as a percentage of approximate daily kill capacity.
Below are some of the reports that are available as quick links on our home page.  If you would like to become a registered user to access more custom information please click here.
_____________________________________________________________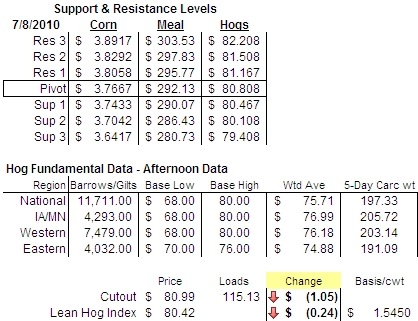 Hurley & Associates believes positions are unique to each person's risk bearing ability; marketing strategy; and crop conditions, therefore we give no blanket recommendations. The risk of loss in trading commodities can be substantial, therefore, carefully consider whether such trading is suitable for you in light of your financial condition. NFA Rules require us to advise you that past performance is not indicative of future results, and there is no guarantee that your trading experience will be similar to the past performance.