If you have trouble viewing this page please visit the market commentary section of www.leanhog.net
___________________________________________________

Corn – Thus far we've failed to reach the $3.91 resistance area in the Sep contract but it looks like we are poised to make run at it over the next couple of days.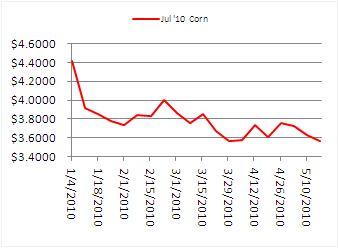 If corn wants to continue to move higher over the short-term the market will need to rally some into Friday.  The rise is the market today gives more credibility to the rally that we have experience thus far as we had a couple of negative days and then come right back in one swift move and wipe away three days of modest trade.
I would strongly suggest having a game plan in place to manage any risk you may have in feed corn.  Will the market go straight up?  I don't know the answer to that but the fundamental change that we needed to turn the market around came in the month of June so now we have to be on the offensive.  We are getting near some areas of resistance that could propel the market much higher should we break through them.  We could be looking at another .50 cents higher in the Sept '10 contract should we close above $3.93 for a couple of days in a row. 
As always make business decisions and develop a risk management plan that will protect the equity that you have in your livestock production.  Find someone that you trust and work with them to develop a plan! 
Bottom line – The intraday charts suggest corn makes an early high tomorrow.  Now is a good time to work with your risk manager to help develop a coverage strategy that fits your operation.
___________________________________________________

Meal – Well the meal market got the close above $293.90 last Friday and I said I may have to change my tune about meal.  The daily chart looks toppy and I believe we will see a setback in price in which coverage is warranted.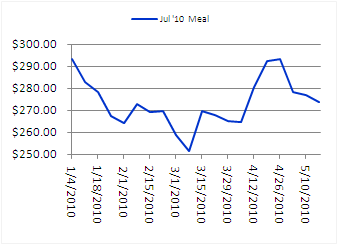 If you don't have a plan to buy meal at lower prices you should do so now ESPECIALLY if the hogs you will be feeding the meal to are sold.  $285.00 is a nice area to target for support.
Now is a good time to visit with your risk manager to develop a meal coverage plan that is right for you.
Bottom line – The intraday charts suggest meal makes an early low tomorrow.
_____________________________________________________________

Hogs – A tremendous day in Aug '10 hogs to say the least!  Wow, this was a rip your face off type rally with excellent volume.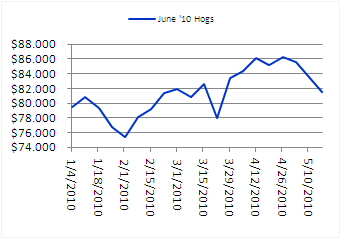 If we can get Aug '10 hogs to close above $82.05 for two consecutive days then we have a legitimate shot at obtaining an $85.00 target area.  The Dollar index remains weak but is showing some signs of slowing its decline based on the daily chart but the longer-term weekly chart still looks ugly (negative) to me.  It is interesting to see the market rally like it has in the face of the cutout being down around $2.50 over the last two business days.
I mentioned last week that it seemed like there were games being played by the packers or whom ever and I still get that feeling like something is going on but we aren't aware of it just yet.  The huge volume in the Aug '10 contract today and the market only broke around $.50 after the cutout was released showing at $.97 lower price from yesterday.  If you don't have a plan to make some sales in hogs now would be a great time to look at targets above the market to try and catch on any further rallies we may have.
Keep making business decisions and protect profits where you can.
Bottom line – The intraday charts suggest hogs make an early high tomorrow.
---
Check out www.leanhog.net to find numerous USDA reports all in one convenient location.  Become a registered user and have access to pork cutout charts and the USDA 14 day hog slaughter schedule as a percentage of approximate daily kill capacity.
Below are some of the reports that are available as quick links on our home page.  If you would like to become a registered user to access more custom information please click here.
_____________________________________________________________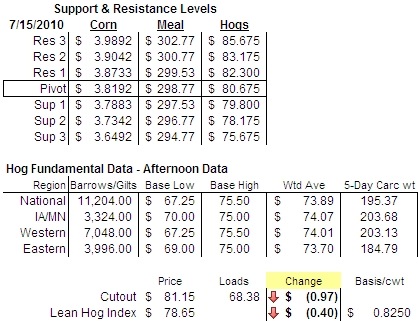 Hurley & Associates believes positions are unique to each person's risk bearing ability; marketing strategy; and crop conditions, therefore we give no blanket recommendations. The risk of loss in trading commodities can be substantial, therefore, carefully consider whether such trading is suitable for you in light of your financial condition. NFA Rules require us to advise you that past performance is not indicative of future results, and there is no guarantee that your trading experience will be similar to the past performance.