If you have trouble viewing this page please visit the market commentary section of www.leanhog.net
___________________________________________________

Corn – The $3.91 area that I spoke of last week was tested but the market failed to stay above this level of resistance for more than two days.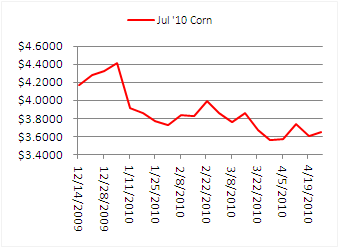 We have probably begun a small correction here in an effort for the market to catch its breath after the wild ride we've have over the past couple of weeks.  The Sept '10 corn market has the ability to test the 50% retracement level of $3.65 1/4 over the coming couple of weeks.  I see a small relaxation in price prior to the beginning of August and then we could make another trek higher.
I said last week that we could look for another possible $.50 rally in the Sept '10 contract if we got two consecutive closes above $3.93.  We only got one close above $3.93 last week and failed to hold.  This isn't surprising as most of the time the market will fade the first attempt at resistance, scare people into shorting the market and then BAM, ram it down your throat!  The market will use the people who got short as fuel to propel the market through the resistance area via the triggering of buy stops from those that got scared and took a short position in the market.
I would visit with a risk manager at this time to evaluate your feed needs and price coverage.  This is a great opportunity to develop an execution plan in the event of a market dip from here.  I look for the Sept '10 contract to have an early low tomorrow and then firm as the day progresses.  I am of the opinion that we've had our lowest close for the week in the Sept '10 contract. 
As always make business decisions and develop a risk management plan that will protect the equity that you have in your livestock production.  Find someone that you trust and work with them to develop a plan! 
Bottom line – The intraday charts suggest corn makes an early low tomorrow.  Now is a good time to work with your risk manager to help develop a coverage strategy that fits your operation.
___________________________________________________

Meal – My opinion of the meal market hasn't changed much from last week.  The daily charts portray a short-term top as I see it and has the potential to drop back toward the $286.70 level.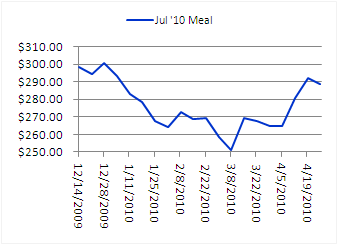 I said last week $285 would be a target but the market has since made a higher high, therefore changing the support point.  Aug '10 meal needs to get above $311.50 and close above this level for two consecutive days and then we could have a shot at $316.50 and then into new contract highs from there.  I am of the opinion that we should see a small setback in the Aug '10 contract over the next week or two and then begin to move higher again.
Now is a good time to visit with your risk manager to develop a meal coverage plan that is right for you.
Bottom line – The intraday charts suggest meal makes an early low tomorrow.
_____________________________________________________________

Hogs – Hogs nearly fell out of bed today as sell pressure took over.  The Dow Jones was weak early this morning but mounted a comeback later in the trade session adding additional support to tonight's higher cutout number.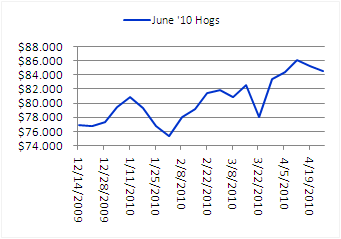 Last week's close provided the Aug '10 contract with a weekly key reversal on the charts but the follow through to the upside has been lacking this week.  The cutout was $1.30 higher tonight which has the market around $.625 higher as I write this.  It looks as if we have done enough to the downside for now and should see better prices tomorrow and Thursday. 
I'm still expecting better prices between now and around Aug 3rd or so.  The long-term hog charts still look good, we haven't done any long-term damage and it looks like the market is poised to make another move higher as we move forward through the late summer and early fall time period.
Keep making business decisions and protect profits where you can.
Bottom line – The intraday charts suggest hogs make an early low tomorrow.
---
Check out www.leanhog.net to find numerous USDA reports all in one convenient location.  Become a registered user and have access to pork cutout charts and the USDA 14 day hog slaughter schedule as a percentage of approximate daily kill capacity.
Below are some of the reports that are available as quick links on our home page.  If you would like to become a registered user to access more custom information please click here.
_____________________________________________________________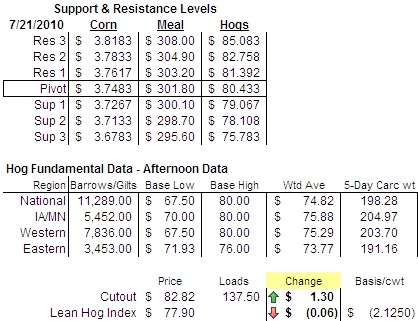 Hurley & Associates believes positions are unique to each person's risk bearing ability; marketing strategy; and crop conditions, therefore we give no blanket recommendations. The risk of loss in trading commodities can be substantial, therefore, carefully consider whether such trading is suitable for you in light of your financial condition. NFA Rules require us to advise you that past performance is not indicative of future results, and there is no guarantee that your trading experience will be similar to the past performance.