Published on:
17:17PM May 04, 2009
If you have questions, comments or suggestions, contact me at 1-877-212-2564 or email me at

[email protected]

. 
To read what I was thinking at the highs and lows of the market go to  www.leanhog.net to view my archived posts.

CORN - July '09 Electronic
Open - $4.07 3/4, High - $4.13 3/4, Low - $4.00 1/2, Close - $4.05 1/2 Down $.08 1/4.
Thoughts - Long Term (Into September '09) - Bullish/Higher
Wednesday I said: "Is it just me or do you want to say WOW too!  I have no fundamental reason for why the market rallied today other than all of the moisture that has been coming down in the Midwest preventing producer from gaining progress in planting corn.  I don't think this is any big deal because of the types of technology we have now and the amount of ground that can be covered in such a short amount of time.  As we closed above $3.83 1/2 yesterday I said another close above $3.82 1/2 and it would open the door to $3.95 and today the July corn wanted to get that pesky task out of the way and fast!  The funds bought approximately 12,000 contracts of corn which is the most they have purchased on a given day since the end of March, 2009.
I have some positions to manage as I said last week and yesterday I have a feed needs covered with a long $3.80 June '09 call option and I am short a $3.40 put in July '09.  The reason for buying the June '09 call and selling the July '09 call is the June is priced off of July futures but it cheaper to purchase than a July because of the time associated with its life cycle.  I sold the $3.40 July put for $.11 and today they settled at $.05 7/8 which is getting near a level of exit because I don't want to hold short options at minimal value if I don't need to.  It has served its purpose thus far.
The double bottom we have in corn at $3.70 July '09 has since held as I suspected and as of right now the market is poised to test the most recent high of $4.17 1/2 BUT we need to get another close above $3.93 3/4 and preferably $3.99 1/4.  Again, if you don't have coverage in corn I would suggest looking into a strategy to do so.  I don't think I would chase the market at this point but I would have a plan ready for any price break we get.  TALK WITH YOUR BROKER to make sure your position works within your operation and as always, do what is best for YOUR operation and not what some yahoo on the internet writes about!"
July '09 corn: I haven't posted comments for a few days but as you can see by what I said Wednesday (above) that we are still in the line with those thoughts.  We tried to test $4.17 1/2 today but failed to get there as we only made it to $4.13 3/4 and $4.15 3/4 on Friday.  The July '09 contract struggled today came off of its low price as the market was closing but still not enough to make me think we will get upside momentum going for tomorrow.  It is my opinion that we will see the market open slightly higher tonight and then find some early resistance and weaken into tomorrow's day session.  I am expecting the market to have an early high and a late low tomorrow.

Bottom line: I am looking for the market to experience an early high and a late low tomorrow with the possibility of touching $3.96 1/2.

July '09 Corn - Support/Resistance for 05-05-09
(R3) Resistance 3: $4.13 3/4
(R2) Resistance 2: $4.08 3/4
(R1) Resistance 1: $4.07
Today's close: $4.05 1/2
(S1) Support 1: $4.03 3/4
(S2) Support 2: $4.00 1/2
(S3) Support 3: $3.96 1/2
_________________________________________________________________________

MEAL - July '09 Electronic
Open - $303.50, High - $320.30, Low - $302.50, Close - $320.30 Up $16.30
Thoughts - Long Term (Into September '09) - Bullish/Higher
Wednesday I said: "As mentioned above I was looking for early selling today, which we got as we made our day session low in the first hour of trade and then from there it was all higher.  I am expecting follow through buying tomorrow but I need a close above $318.90 to think we will have any shot at touching $337.20 again.  I am looking for an early to mid-day high tomorrow and then have the market retreat going into the close.  As I said the other day I was long $320.00 call options that were exercised on Friday in the May '09 contract and I rolled them to July '09 futures yesterday to avoid the delivery process in May.  I will be looking for an area to protect equity in these positions tomorrow if given a chance because I am not sold on a higher meal market just yet as I think we will need to get through most of May before we get going to the upside again. I want ownership of meal but I don't think I would come into the market right now if I didn't already have purchases on the books.  If anything I would use a limited risk strategy via options if you are just entering the market."
July '09 meal: I have been out of meal since last Thursday's open around $323.10 but like I said I didn't want to press ownership at these levels.  The close today was nothing to write home about as we had a nice range and but actually managed to close in the top half of the range.  I am still not a big fan of owning meal at these levels and I will wait for a pull back in the market if I can before re-establishing aggressive ownership.  I have $330.00 June '09 puts in place as of today to buy against in the event the market dips to near these levels in the July '09.  I spoke of $337.20 as resistance last week and now it becomes support, the market needs to hold this level if it wants to keep moving higher.

Bottom line: I'm looking for the market to experience an early high tomorrow and a late sell off tomorrow.

May '09 Meal - Support/Resistance for 05-05-09
(R3) Resistance 3: $350.70
(R2) Resistance 2: $347.80
(R1) Resistance 1: $345.70
Today's close: $344.80
(S1) Support 1: $340.90
(S2) Support 2: $337.60
(S3) Support 3: $332.30
_________________________________________________________________________

HOGS - June '09 GLOBEX
Open - $64.85, High - $65.075, Low - $63.475, Close - $63.775 Down $1.80
Thoughts - Long Term (Into August) - Friendly
Wednesday I said: "Well, the market finally took a breath from its recent retreat from the fears the public has associated with the H1N1 flu.  The Department of Homeland Security and USDA have done a good job of trying to accommodate U.S. Hog producers by referring to the flu virus outbreak as the H1N1 flu or the 2009 H1N1 flu.  I talked on Saturday in my comments (click here to read) what I thought would happen with the market and so far most has come to pass; I said we should see a sell off on Monday and Tuesday before settling down as well as talk about how many hogs may be killed in an effort to prevent the spread of this flu.  Today we heard our first story the Egypt is killing off 300,000 head of hogs to prevent the spread of the H1N1 flu virus which they don't yet have.  There was also a couple of reports that China was killing hogs as well to prevent the spread of the H1N1 flu virus which hasn't been found their either but I COULD NOT VALIDATE THE REPORTS ON CHINA so they are just that rumors at this time.
It is interesting to see the cutout down $1.54 today and the June '09 futures sell off by .425/cwt since the release of the cutout number only to move back to near unchanged as I write this.  It feels like those that were going to puke positions have done so in the deferred months but as far as May '09 is concerned it is toast in my opinion.  I am looking for the $65.35 area in June hogs to hold for now as we search for more "news" to trade.  As I have said for a nearly a week new I have a cycle low projected for the end of this week."
June '09 hogs: I spoke with my local meat packer yesterday as I BOUGHT PORK for a cook out and I asked him if he has seen a setback in pork sales ever since the H1N1 flu story broke and he shook his head and said not at all.  They actually featured some pork products last week and resulted in what he labeled as a success.  This made me think as I got into the office this morning so I pulled all of the loads that the USDA reports on the cutout report and made a weekly tally for each week going back to January 1st 2008.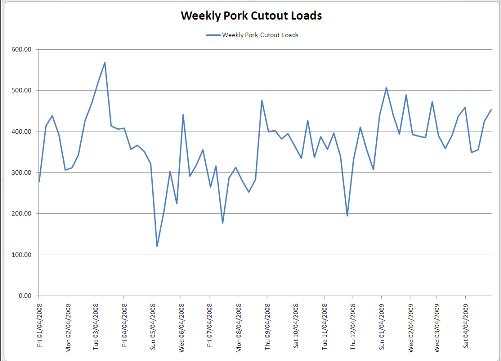 As you can tell by the chart we haven't experienced a major drop off in the loads of product that the USDA reports on a daily basis.  So what does all of this mean you ask?  I don't know but it makes me question the severity of the ACTUAL situation not the propaganda version that we read and hear about.  I think this is a nice vehicle for packers to use in driving down the cost of hogs and it has been working quite nicely thus far.  We closed just below our contract low of $63.80 and if we don't get back above this level tomorrow for a close then it would suggest another leg lower from here.

Bottom line: I'm looking for the market to be lower again tonight and then make an early low tomorrow and then find some support but I am not looking for fireworks to the upside by any stretch.  I think the market will continue to struggle until we find some positive news.

June '09 Hogs - Support/Resistance for 05-05-09
(R3) Resistance 3: $65.32
(R2) Resistance 2: $64.975
(R1) Resistance 1: $64.225
Today's close: $63.775
(S1) Support 1: $63.47
(S2) Support 2: NEW CONTRACT LOW
(S3) Support 3: $
Click here to view cash and cutout reports

Hurley & Associates believes positions are unique to each person's risk bearing ability; marketing strategy; and crop conditions, therefore we give no blanket recommendations. The risk of loss in trading commodities can be substantial, therefore, carefully consider whether such trading is suitable for you in light of your financial condition. NFA Rules require us to advise you that past performance is not indicative of future results, and there is no guarantee that your trading experience will be similar to the past performance.