Published on:
17:15PM May 14, 2009
If you have questions, comments or suggestions, contact me at 1-877-212-2564 or email me at

[email protected]

. 
To read what I was thinking at the highs and lows of the market go to  www.leanhog.net to view my archived posts.
CORN - July '09 Electronic
Open - $4.25, High - $4.29 1/4, Low - $4.19 3/4, Close - $4.28 1/4 Up $.01 3/4.Thoughts - Long Term
(Into September '09)
- Bullish/HigherMonday I said:
"
I said last week if we close the July '09 futures above $4.17 1/2 that we would have a shot at testing the $4.49 high that we made in December 2008; I am still on track with that thought.
The market had early strength considering that the overnight was as low as it was and I think the strength that we gained during today's day session will follow through to tomorrow's trade.  We do have a monthly USDA crop production report out tomorrow morning which should provide some direction but I don't feel as if it is going to have much influence on the market.  Weather remains to be an issue and as each day passes the likely-hood of a bumper crop go with it as far as the trade is concerned.  One thing I have learned over the years is never count a crop out until harvest is complete!  I am looking for an early low tomorrow and then follow through higher as the day progresses and holding $4.17 1/2 as support.
The daily chart did show a sign of warning if you are long, it IS NOT a sell signal it is just a warning to be cautious and look for signs but I think it will be a false warning in my opinion."
July '09 corn: The market place is still concerned with the weather that has moved through the Midwest particularly the Eastern Corn Belt which still has some rain in its forecast.  As I said on Monday, I have learned not to give up on a crop until it is harvested and in the bin  but we are getting later in the planting season and it is only now beginning to grab my attention.  From an objective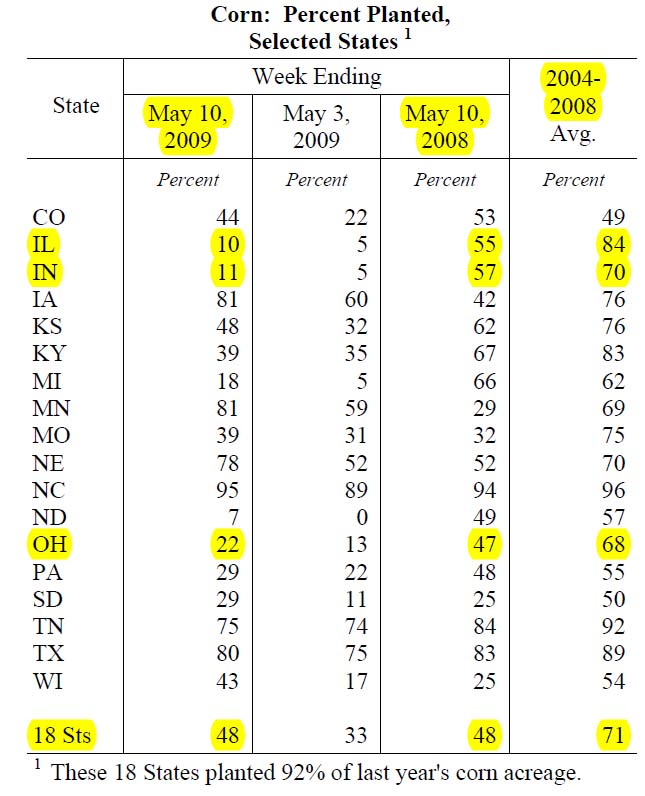 perspective we have to remember the equipment that is used in today's world, it is huge and efficient so it doesn't take as big of a window to get the crop planted like it used to.  If you look at the chart insert you can see that Illinois is only 10% planted as of the 10th compared to 55% last year and 84% on a 5 year average, Indiana is 11% vs. 57% and 70% respectively as well as Ohio is 22% vs. 47% last year and 68% on the 5 year average.  The nation as a whole is on pace with last year but still behind the 5 year average.
We have managed to close above $4.17 1/2 which is a key area of support for me and I will continue to place value on this level until otherwise stated.  I am still looking for a test of  $4.49 which I MAY sell into on the first test of this level but I will decide based on the way we get there.  I have had orders in to sell futures at $4.48 for the last few days in case we get a quick spike higher from these levels which would be a sizable daily move but we have failed to get there.  I have this order to sell on a large one day advance because of the cycle high projection of May 17th.  If we happen to get to $4.49 in a slower steady climb then I may just trail my long position with a stop or buy puts to protect equity.  I am still long $3.80 June '09 call options that I am working to manage equity in because they are deep in the money and also expire next Friday so they are just like long futures at this point but I still know what my risk is but I want to keep as much equity as I can in what we have made thus far.
As I mention earlier I am still looking for a test of the $4.49 area in the near future and if we can't break through that level after a few days of trying then we could retrace back down toward $4.01.  If we do break through and close a couple day's above $4.49 to solidify it as solid support then my next objective will be $4.95 and then $5.35.  At this point based on the weekly charts I wouldn't count out these higher prices but I believe we will need the Eastern Cornbelt to continue to have trouble getting into the field.

Bottom line: I am looking for the market to experience an early low and a late high tomorrow.

July '09 Corn - Support/Resistance for 05-15-09
(R3) Resistance 3: $4.38
(R2) Resistance 2: $4.34
(R1) Resistance 1: $4.29 1/4
Today's close: $4.28 1/4
(S1) Support 1: $4.26 3/4
(S2) Support 2: $4.23 1/4
(S3) Support 3: $4.19 3/4
_________________________________________________________________________

MEAL - July '09 Electronic
Open - $352.30, High - $362.30, Low - $348.90, Close - $362.30 Up $9.80
Thoughts - Long Term (Into September '09) - Bullish/Higher
Monday I said: "As I look at the July '09 meal chart it almost looks like the market is waiting for some news to take off again.  Last week's action was un-impressive at best from a bullish perspective closing $.40 below where it opened on the week; this type of action warrants selling below last week's low of $337.50 which we have already breached.  Even though the $337.50 has been breached it did come in the overnight session where volume isn't great as it is during the day session.  It looks to me like tomorrow is going to be more of the same sideways to higher with an early low and a late high.  We have the USDA monthly crop production report out in the morning and the trade has been leaning toward more soybean acres being planted due to wet weather for corn plantings which would be negative to the soybean complex and its prices."
July '09 meal: I ended up placing an order to buy meal on Tuesday morning at $346.00 in the July '09 contract and filled there or better that day because of the bullish corn report we had from the USDA.  I had been saying for awhile I thought meal could back off but it was stubborn and prices were staying inflated.  Sometimes you have to admit that you were wrong and get back in the market which I did.  I have a cycle high projected for today therefore I was trailing my long positions with a sell stop that was triggered today to protect equity on the July '09 long meal futures I had; I was stopped out around $359.80.
The close we had in the market today is a setup for tomorrow's trade which leads me to believe we are going to see a gap higher and when that comes at what could be the end of a move it COULD signify a short-term top.  If we gap higher than $362.30 tonight then it would signal a sell STOP at $361.50.  If the sell stop is actually hit then a protective risk management buy stop should be placed $.50 above the market high when the sell stop triggers.  Again, this is a conditional signal meaning it is only valid IF the market opens higher than $362.30 tonight.  I will also say this, if you need to own meal make sure you have a plan to participate on something if the market moves higher.  It has been interesting to hear Wall Street analyst talk about owning commodities and the Ag sector is usually mentioned and soybeans are typically a favorite.  If the U.S. Dollar index continues to weaken and more "investment" money comes into the market your operation could get pretty ugly with no plan, talk to your broker or advisor!

Bottom line: I'm looking for the market to experience an early high and a late low tomorrow.  I am still skeptical of the market at these levels because of my cycle high projection.

May '09 Meal - Support/Resistance for 05-15-09
(R3) Resistance 3: $374.30
(R2) Resistance 2: $369.60 (gap area from 08-29-08)
(R1) Resistance 1: $367.50
Today's close: $362.30
(S1) Support 1: $358.40
(S2) Support 2: $354.50
(S3) Support 3: $352.60
_________________________________________________________________________

HOGS - June '09 GLOBEX
Open - $67.80, High - $68.25, Low - $66.90, Close - $67.00 Down $.95
Thoughts - Long Term (Into August) - Friendly
Monday I said: "I mentioned a sell signal at $67.35 on a stop in my last posting but the market never made it to that level therefore the signal was false and even if the order was placed it wouldn't have been filled anyway.  The cutout number took rest today as it was down $.32 for the day after a nice run higher last week.  The intra-day charts show the June '09 contract trading lower early tomorrow and then catching some support probably around the $67.42 to $67.15 area.  I still have a cycle high projection around May 22nd and with the positive weekly close we had on the charts Friday I don't want to press the market lower at this point.  We are still recovering from the H1N1 garbage that sank the market two weeks ago and we are still due for some recovery in my book.
I will continue to look for a move back toward $71.50 to fill the gap we left prior to the H1N1 flu media blitz before I get too crazy about the idea of selling futures.  I have $68.00 and $69.00 call options in place to sell against in the event the market looks sick and decides to turn but for now I will refrain and look for a better opportunity to hedge."
June '09 hogs: The June '09 contract followed through on downside momentum from yesterday on the trader thoughts of the pork cutout not having much life left in it as we move forward.  The cutout or carcass value settled at $60.96 and May '09 futures are trading at $61.97 which implies the CME cash index will move higher from the current level of $58.92.  The index is lower than the futures because it is a lagging indicator of cash hog prices.  What has the trade in a tizzy (to my understanding) is the cutout value is $60.96 but June '09 futures, our next front month futures contract, closed at $67.00 today which provides the market with a spread of $6.04 and the cutout has made a nice recovery effort after the publicity has subsided on the H1N1 flu so they are thinking how much more can it go.  I wish I knew the answer to that question but I would be lying if I said I did.
The June '09 contract has made a good run over the last week but is still $4.65 cwt lower than the close on Friday April 24th, the last trading day prior to the media blitz on H1N1.  Cutout has moved from $59.28 on April 24th to $60.96 as of the market close on May 13th with some of the heaviest product movement in the last 16 months.  May '09 futures closed at $69.00 on April 24th and settled at $61.57 yesterday and the IA/MN afternoon weighted average cash price was $61.82 compared to $64.76 as of market close on May 13th.  Huh, interesting how demand has slowed (insert sarcasm).  I look at this and say the packers did one hell of a job getting cheap meat purchased during an H1N1 window of opportunity and of course the retailers did too.  Kudos to them as they executed quite well with the given opportunity (no sarcasm).
In summary comparing the market closes on 04/24/09 and 05/13/09:
DEMAND SIDE - Cutout - up $1.68 cwt, IA/MN afternoon wtd average price - up $2.94
FUTURES SIDE - May '09 - Down $7.43 cwt and June '09 down $3.70 cwt.
Objectively speaking what is real and what is propaganda?  If someone has a better answer or perspective please send me an email.

Okay, I get frustrated with the "information" out there because some of it is just propaganda; I am also looking at this market from a longer term perspective then say a day trader.  If you are a day trader or trader period all of the aforementioned "information" is important but from a longer-term positioning perspective I want to keep an eye on what is really happening not what I am told is happening.  There is a huge difference!  I wrote this commentary prior to the afternoon USDA reports and cutout was up $.89 again today but cash was near steady.

Bottom line: I'm looking for the market to make an early low and a late high in tomorrow's trade.

June '09 Hogs - Support/Resistance for 05-15-09
(R3) Resistance 3: $68.25
(R2) Resistance 2: $67.725
(R1) Resistance 1: $67.575
Today's close: $67.00
(S1) Support 1: $66.90
(S2) Support 2: $66.42
(S3) Support 3: $65.72

Click here to view cash and cutout reports

Hurley & Associates believes positions are unique to each person's risk bearing ability; marketing strategy; and crop conditions, therefore we give no blanket recommendations. The risk of loss in trading commodities can be substantial, therefore, carefully consider whether such trading is suitable for you in light of your financial condition. NFA Rules require us to advise you that past performance is not indicative of future results, and there is no guarantee that your trading experience will be similar to the past performance.