Published on:
22:33PM Apr 05, 2010
If you have trouble viewing this page please visit the market commentary section of
www.leanhog.net

Corn – May corn had a quiet day today but in doing so has shown signs of the market running out of steam to the downside.  My cycle indicator suggests that May corn should be making a low on April 6th and then moving higher into the end of April. 
The hog industry is providing some of the best profitability opportunities in recent history, therefore, buying calls to cap upside in corn is something that should STRONGLY considered.  There isn't nothing at this time that suggests corn should rally hard but after the last couple of years of negative returns lets make sure we keep profits this year.
Bottom line – The intraday charts suggest corn makes an early high tomorrow.  Now is a good time to buy call options on corn and buy cash hand to mouth until fundamentals change.

Meal – May meal had a poor showing today as we closed the lowest level since the middle of March.  The May '10 contract closed below $263.30 and if we close below that again tomorrow then we could look for a test of $251.00 which was our low from March 15th, 2010. 
Like corn, the meal market is providing good opportunities to lock in some of the best hog margins we've seen in years.  Now would be an excellent time to purchase some call options to protect against higher prices assuming a change in fundamentals down the road.   
Bottom line – The intraday charts suggest meal makes an early low tomorrow.

Hogs – June '10 hogs closed at the highest level ever for the June 2010 contract.  The next level of good resistance is the high from the week of April 21st, 1997 at $86.60.  The June 1997 contract settled at $80.725 at its expiration.   
As I mentioned earlier in corn, the industry is showing some of the best profit opportunities in recent history.  A twelve month average per head profit (using a 5 year average basis for hogs) is around $18-$22 per head, these numbers of course vary according to individual input costs.  It is time to make some business decisions and protect what the market has already given you.  If you are comfortable with the profits within your operation then sell some production and put a cap on feed costs.  At MINIMUM put options or a known risk strategy should be used to protect profits as well as protect against any events that have the possibility of popping up like H1N1 proved to us last year.
Bottom line – The intraday charts suggest hogs make an early high tomorrow.  Coming off of the last couple of years of negative returns now isn't the time to get caught up in a euphoric state and think the margins will improve forever!  TAKE SOME!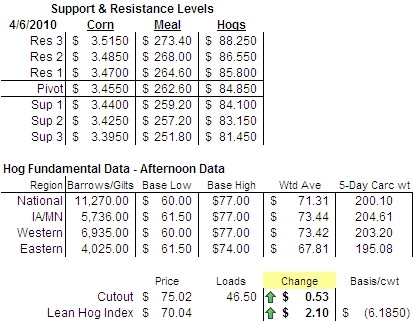 Hurley & Associates believes positions are unique to each person's risk bearing ability; marketing strategy; and crop conditions, therefore we give no blanket recommendations. The risk of loss in trading commodities can be substantial, therefore, carefully consider whether such trading is suitable for you in light of your financial condition. NFA Rules require us to advise you that past performance is not indicative of future results, and there is no guarantee that your trading experience will be similar to the past performance.