If you have trouble viewing this page please visit the market commentary section of www.leanhog.net
___________________________________________________

Corn – If today wasn't a classic topping pattern than I don't know what is.  I hate to say this to all of the crop producers out there and I enjoy telling the end user that my opinion of $4.54 Dec '10 has changed after today's trade activity.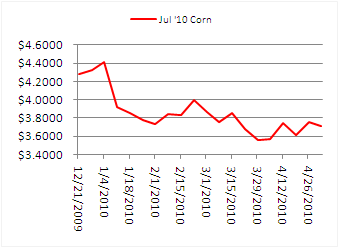 I am not of the strong opinion that we will reach the $4.54 area in the Dec '10 contract.  I think there is a great chance that today may have been the top in the Dec '10 contract for near future.  I won't go as far to say this is the top between now and harvest but I do give it an 80% chance of this being the case.
I have a cycle high in place for Dec '10 corn and expect sideways to lower movement between now and Aug 23rd or so.  To give full disclosure on my opinion we did sell corn and soybeans very early in the day session today.  If you haven't started selling crop production yet, now is an excellent time to start and if you have feed corn locked in at much lower prices you may want to look at buying a put strategy to protect the equity you have gained in either your cash or futures position.  Talk with a risk manager about this prior to any execution to make sure it is right for your operation.
Hog margins still work (obviously this varies by individual and pricing structures)  with corn at these levels so if you are selling hogs MAKE SURE YOU LOCK IN YOUR CORN!  It doesn't matter where the price goes if you lock in all of the variables that make up your profit margin. 
As always make business decisions and develop a risk management plan that will protect the equity that you have in your livestock production.  Find someone that you trust and work with them to develop a plan! 
Bottom line – The intraday charts suggest corn makes an early high tomorrow.  Now is a good time to work with your risk manager to help develop a coverage strategy that fits your operation if you are making hog sales.
___________________________________________________

Meal – Sep '10 meal has a sell signal on the weekly chart at $300.00 and this same sell signal is showing up in Minneapolis wheat and also in soybeans.  If this signal is good we could be in for a big washout in commodity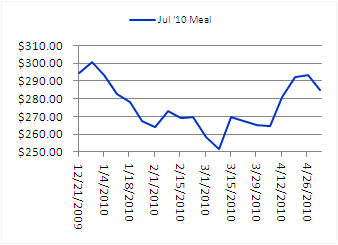 prices for the time being.  If this is the case make SURE you have a plan to purchase your feed needs on a price decline should we get one.  Again, like I said in the Corn comments, if you are selling hogs you better be locking in your meal needs as well.  Make a decision based on your profit margin and not where you, me or anyone thinks the market is going.  At times it is okay to take a calculated risk but make sure the calculated part is always in the strategy.
Now is a good time to visit with your risk manager to develop a meal coverage plan that is right for you.
Bottom line – The intraday charts suggest meal makes an early high tomorrow.
 _____________________________________________________________

Hogs – well, in my last post from July 20th I said I was expecting higher prices into Aug 3rd or so and that just so happens to be a day after the Oct '10 high.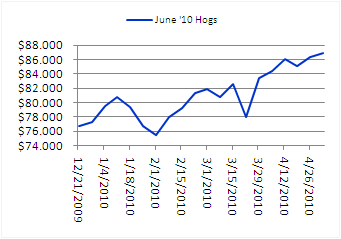 The market has been sending out warning signals over the last couple of days as well as as of Friday's close.  Today pretty much confirms to me that this market is done moving higher for the time being and it is entirely possible and likely that we could test the $73.725 low in the Oct '10 contract before we say enough to the downside.  The same sell signal that I spoke of in the meal comments has showed up on the weekly Oct '10 hog chart and it almost feels like the stars are aligning and not in a good way as far as commodities in general are concerned. 
I know I've said the funds should start throwing money at commodities if and when the Dollar index broke the 81.45 support level.  The Dollar index is currently at 80.76 and commodities have responded some but not as much as I expected.  With all of the sell signal showing up at once in the various commodities it concerns me that we could be in for a big bang to the downside that could be quick and fierce.  Now the icing on the cake… the dollar index has the same buy signal as the commodities have sell signal.
I think we all better put our horns away for the time being and make SOUND business decisions.  As I've said many times in the past, IT'S OKAY TO BE BULLISH, JUST DON'T BE STUPID!  Yes, I will take the advice myself.  : ) 
Keep making business decisions and protect profits where you can.  
Bottom line – The intraday charts suggest hogs make an early low tomorrow.
---
Check out www.leanhog.net to find numerous USDA reports all in one convenient location.  Become a registered user and have access to pork cutout charts and the USDA 14 day hog slaughter schedule as a percentage of approximate daily kill capacity.
Below are some of the reports that are available as quick links on our home page.  If you would like to become a registered user to access more custom information please click here.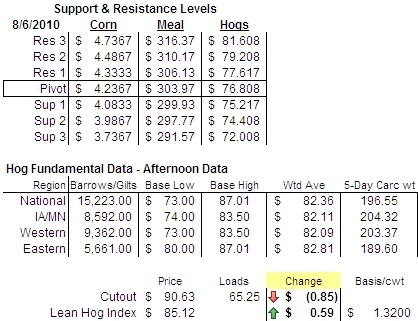 _____________________________________________________________
Hurley & Associates believes positions are unique to each person's risk bearing ability; marketing strategy; and crop conditions, therefore we give no blanket recommendations. The risk of loss in trading commodities can be substantial, therefore, carefully consider whether such trading is suitable for you in light of your financial condition. NFA Rules require us to advise you that past performance is not indicative of future results, and there is no guarantee that your trading experience will be similar to the past performance.