If you have trouble viewing this page please visit the market commentary section of www.leanhog.net
___________________________________________________

Corn – There report this morning was labeled as friendly to bullish corn but I don't see that to be the case for an extended period of time.  I was flat out wrong today, I was expecting today's move yesterday but we didn't get it so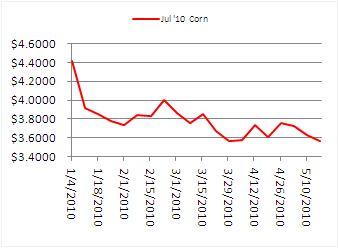 I was looking for sell the open type trade today.  Ahhhh, no, not the case.  There has been good resistance around the $4.20 area in the Dec '10 contract but we blew through that today and challenged Monday's high of $4.26 by making a new high of $4.29 1/2.  Going into the close we saw some profit taking of those that were day trading the market or even those who decided this was enough in a longer-term position. 
There was a lot of volume today in the Dec '10 contract, over 219,000 contracts traded for the day and that was just on the screen.  The close today wasn't too telling other than there is some slight indecisiveness in the market place.  It wasn't a great close and it wasn't a terrible close but we did close above $4.20 which is the highest close we've had during our recent rally.   My opinion hasn't changed in which I think the high has been set in the Dec '10 corn contract but today was a bit puzzling to me.  We need two consecutive closes above $4.38 1/2 before I change my mind and get friendly to the market again.  Right now I think rallies should be sold by producers and feed should only be locked in as part of a crush profit margin not as a leg into type strategy.
I guess I keep looking at the U.S. Dollar index and its continued climb along with the fall of the Dow Jones and the ongoing decline in Crude Oil.  Higher corn prices do not make sense to me over the longer-term especially when the USDA left ethanol demand consistent with the July estimates.  Crude oil looks like it has made its tope for 2010 and should challenge the low of $64.24 by years end in my opinion.  The opposite goes for the Dollar, I think it has bottomed for 2010 and is on its way back toward the 88.70, granted we have to close above 84.40 and 85.40 before I have major confidence in reaching 88.70.  It also seems to me that the Dow Jones could be looking for a test of 9,630 as well prior to the end of the 2010 calendar year.  BE CAREFUL, MAKE WISE BUSINESS DECISIONS.  DON'T GET CAUGHT UP IN HYPE!!!!
Hog margins still work (obviously this varies by individual and pricing structures)  with corn at these levels so if you are selling hogs MAKE SURE YOU LOCK IN YOUR CORN!  It doesn't matter where the price goes if you lock in all of the variables that make up your profit margin. 
As always make business decisions and develop a risk management plan that will protect the equity that you have in your livestock production.  Find someone that you trust and work with them to develop a plan! 
Bottom line – The intraday charts suggest corn makes an early high tomorrow.  Now is a good time to work with your risk manager to help develop a coverage strategy that fits your operation if you are making hog sales.
___________________________________________________

Meal – Today's trade activity doesn't make me change my mind on meal, I still think we have some downside through the rest of August.  Today provided good trade on the chart but still hasn't erased the damage that had been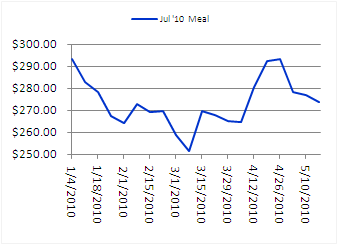 done over the past week or so.  I am leaving my comments from yesterday as my commentary for today because it hasn't changed.
"I'm still looking for a target price to be touched around the $283.00 area in the Sep '10 contract.   The meal chart is seemingly setting up for a negative soybean report just like corn so I'm of the opinion of giving meal time to work lower before locking in prices.  If you have sold hogs based on a profitable margin then don't wait for lower prices, just lock the meal in and walk away.  If you have flexibility the $283.00 area is a place I would pay attention to.  Thus far the $300.00 sell signal I spoke of is still in play in the Sep '10 contract.
If you own call options in place of cash purchases now would be a great time to set downside targets to lock in your meal assuming we get a move lower in the coming weeks.  $283.00 Sep '10 meal is a target that I think the market could shoot for as it looks for fresh information and direction.  Now is a good time to visit with your risk manager to develop a meal coverage plan that is right for you."
Bottom line – The intraday charts suggest meal makes an early high tomorrow.
_____________________________________________________________

Hogs – The $73.75 trade is still in play and sell stop should now be moved to $73.30 instead of $72.75.  Nothing to really write home about today other than futures prices were better but I think today should be it for the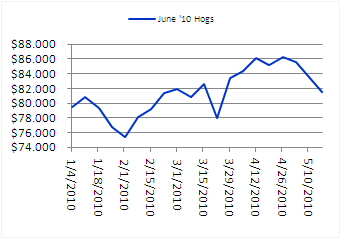 upside this week as I expect the market to open firmer tomorrow and then drift.  I'm still looking for the Oct '10 contract to move higher toward $75.95 but I think it will be mid to late next week before it happens.  Don't get me wrong, I'm not bearish Oct '10 hogs at this point but I'm not a bull either.  I think we can see some price appreciation for a short period of time and I think the proposed rally should be sold. 
The Dow Jones is too weak and the Dollar is too strong and the prospects of the Dow getting weaker and the Dollar getting stronger are getting better by the day.  Make sure you know what your profit margin is and historically what percent of the time it gets getter than what it is now.  You may be surprised.  Researching your crush history is a lot of work but it can pay dividends when trying to figure out how much is enough for profit margin as well as the confidence to lock it up.  We have tools in our office to know what our clients crush data is on a daily basis as well as run individualized historical crush data to help us make marketing decisions based on profits for that producers specific situation.
It is so easy to get caught up in what hogs, corn or meal are going to do individually but in my opinion lock in the profit and then look for ways to capitalize on market movement by protecting equity in your positions and try to increase your profit margin with know risk strategies when you know you are in the black.  It is a little different mindset from the traditional way of marketing but I have seen many successful individuals use profit margin as a marking tool instead of advice from numerous commentators (such as myself) who more than likely have differing opinions based on what we are currently looking at as well as what time-frame we are talking about. 
Here is some information from yesterday's post that still applies today.
"On this next bounce in hogs SHOULD be a prime opportunity to lock in profits based on my read of the corn, meal and hog markets.  It looks and feels like the hog margins have a pretty good chance of increasing over the coming weeks as a result of higher hog futures and lower corn and meal futures prices.  Again this is my opinion and you should always visit with someone you trust about your situation to make sure you make decisions that are appropriate for your operation.  IT'S OKAY TO BE BULLISH, JUST DON'T BE STUPID! 
I also mentioned last Thursday that I thought the U.S. Dollar index had bottomed and thus far that has been the case.  It was up hard today as the Dow Jones fell quite handily.  This is another reason why I want to sell rallies in the hog market because depending on how high the Dollar goes will have definite influence on how high hog futures go and how long they stay there.  I'm expecting a test of 84.40 to 85.40 over the next few weeks in the Dollar index, we're at 82.47 as I write this.  IT'S OKAY TO BE BULLISH, JUST DON'T BE STUPID!
I think we have enough enthusiasm to fill the gap that we left at $75.95 but I think that could be it for now.  If you don't have margins locked in for a relatively substantial amount of time I would suggest talking with your risk manager about a plan to make some "catch up" sales on the next bounce.  I'm of the opinion that the U.S. Dollar index has bottomed for now and should try to make its way higher through the end of this month.  I expected a much larger sell off in the dollar once it broke the 81.45 support level but it failed to do so.  A rally in the dollar will not help commodity prices at these comparatively inflated prices."
Bottom line – The intraday charts suggest hogs make an early high tomorrow.
I'm posting my comments earlier than normal so please visit www.leanhog.net for this afternoons USDA information that is normally listed below.  Thank you.
---
Check out www.leanhog.net to find numerous USDA reports all in one convenient location.  Become a registered user and have access to pork cutout charts and the USDA 14 day hog slaughter schedule as a percentage of approximate daily kill capacity.
Below are some of the reports that are available as quick links on our home page.  If you would like to become a registered user to access more custom information please click here.
_____________________________________________________________
Hurley & Associates believes positions are unique to each person's risk bearing ability; marketing strategy; and crop conditions, therefore we give no blanket recommendations. The risk of loss in trading commodities can be substantial, therefore, carefully consider whether such trading is suitable for you in light of your financial condition. NFA Rules require us to advise you that past performance is not indicative of future results, and there is no guarantee that your trading experience will be similar to the past performance.