If you have trouble viewing this page please visit the market commentary section of www.leanhog.net
___________________________________________________

Corn – seems to be debating on whether or not it wants to make another leg up in price.  I have to say that I was flat out wrong when I thought the high for the Dec '10 corn was in at $4.38 3/4, the funds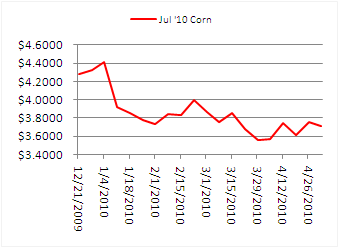 decided to shove that opinion down my throat.  I'm still of the opinion that corn can't sustain these prices for an extended period of time and that we should indeed see a draw back in price.  Illinois and Missouri are the two states with the most corn harvested which is where we are hearing less than expected yields. 
I've had various reports of worse and better than last year yields in Iowa as well as better than last year yields in Minnesota.  The sampling that I'm talking about is too small to be scientific or even have an effect on what one should think about crop size.  All I know is that the trade seems to be favoring the 155-158.5 national average yield and the funds are pumped up to around 500,000 contracts long in the corn market.  Crude oil is at $74.60, which is nearly half of what it was in 2008 when corn rose to nearly $8.00 futures.
There seems to be a lot of people leaning toward higher prices based on what we think the crop yields are going to be.  Hmmm.  Also, those that produce corn and take no action to lock in profitable sales are being rewarded with higher prices.  The problem is that the game plan of do nothing because its going higher in all likely-hood could remain in affect for them.  My point is do wait for alarms to go off and tell you the high is in.  There are a lot of people long this market and if/when it decides to crash it could be ugly.
Some ethanol plants in SE South Dakota have just recently widened their basis levels on corn by .30 cents.  Is this signaling the fact that ethanol plants are beginning to feel the hurt as it relates to profit margin?  This is a great thing for those that need to buy cash corn for feed.  Try to take advantage of the weak basis levels the best you can and manage your futures pricing with a put option if you are not ready to flat price corn.  Corn has reached a technical objective of $5.23 3/4 which is almost exactly 50% of the way back to the contract high of $7.05 that was set in June 2008 for the Dec '10 contract.  The next target above $5.23 3/4 is $5.66 3/4 if we can close three consecutive days above $5.23 3/4.  I'm not holding my breath but I wouldn't be surprised either. 
I'm coming to the conclusion that when you have Wall Street money in the commodity markets we should expect for moves to be extended and exaggerated.  The stock market and commodities do not trade in the same time cycles in my opinion.  The stock market is more methodical and slow where as the commodities are here today and gone tomorrow.  I think with the "outside" money that we have in the market we are taking on those very characteristics of the stock market.  This is all my opinion but the observation is there and I think there is something to it.   
The dollar index is on the verge of collapse.  The support level of 79.28 needs to hold if there is any shot of the dollar moving higher otherwise the next target becomes 74.17.  I didn't think we would get back to these lower levels before the end of the year but that isn't the case.  The dollar will have some influence on commodity prices if it falls out of bed here.  As Roscoe would say on the Dukes of Hazzard, "keep your eye's peeled Flash"!
Bottom line – The intraday charts suggest corn makes an early high tomorrow.  Now is a good time to work with your risk manager to help develop a feed coverage strategy that fits your operation if you are making hog sales.  Don't let your opinion of the market stand in the way of making business decisions!
___________________________________________________

Meal – Oct '10 meal hasn't done much over the past few weeks.  I don't see meal getting out of hand to the upside based on fundamentals but the futures can do what ever they want and the fundamental folks will have to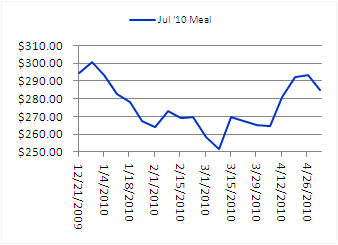 adjust the basis levels if futures get out of control.  The market is showing signs of exhaustion this week but it wouldn't be the first time either.  I refer back to my comments in corn about the markets taking on a new style of trade for the time being, slow and methodical. 
Keep looking at your profitability and if the profits are there that you can live with and are happy with then it really shouldn't be a question if you lock in meal, the question should be what strategy to use in order to protect yourself. 
Bottom line – The intraday charts suggest meal makes an early low tomorrow.
_____________________________________________________________

Hogs – A steady trend higher toward the cash index has taken place over the last few weeks.   The top end of the Oct '10 futures market in my estimation is around $80.50 or so but it will depend heavily on the cash market as we move forward into Oct '10 expiration.  The cutout has been holding strong therefore holding cash up along with it.  I don't see major downside in the market at this time but I'm not a bull in the deferred months.  I think the Feb '11 and beyond contracts are top heavy and need to correct before making a possible run at new highs.
We have the quarterly hog and pig report due out this Friday afternoon which should give the market something to chomp on.  The cold storage report was out today and continues to reaffirm the shortage of bellies with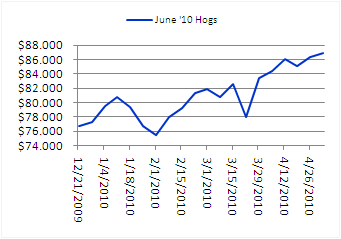 supplies being down around 86% from last year at this time.  In the current environment with corn high priced and hogs at lofty levels, now is a great time to review your profitability opportunities for the future.
Bottom line – The intraday charts suggest hogs make an early low tomorrow. 
---
Check out www.leanhog.net to find numerous USDA reports all in one convenient location.  Become a registered user and have access to pork cutout charts and the USDA 14 day hog slaughter schedule as a percentage of approximate daily kill capacity.
Below are some of the reports that are available as quick links on our home page.  If you would like to become a registered user to access more custom information please click here.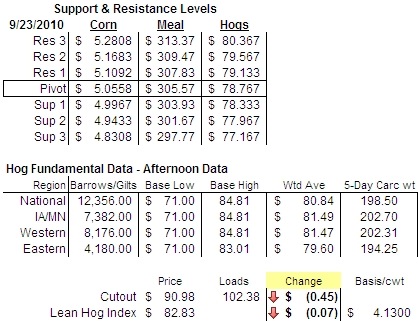 _____________________________________________________________
Hurley & Associates believes positions are unique to each person's risk bearing ability; marketing strategy; and crop conditions, therefore we give no blanket recommendations. The risk of loss in trading commodities can be substantial, therefore, carefully consider whether such trading is suitable for you in light of your financial condition. NFA Rules require us to advise you that past performance is not indicative of future results, and there is no guarantee that your trading experience will be similar to the past performance.