If you have trouble viewing this page please visit the market commentary section of www.leanhog.net
___________________________________________________

Corn – I wrote last week that it seemed like Corn was debating on whether or not it should make another leg up in price.  Today is the same story.  The Dec '10 corn was around $.22 higher on Friday of last week which provided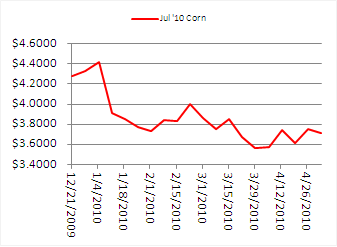 yet again another warning signal on the weekly chart.  To clarify, the warning signal is just that a warning, it isn't a sell or buy signal it just means there could be a price reversal around the corner.  We've had two other weeks during the corn run up that warning signals appeared but they meant nothing. 
This warning comes at the 50% retracement level back to the $7.05 contract high which leads me to believe we should pay attention to it.  I also had a sell signal today at $5.22 1/2 that was triggered with a risk management buy stop at $5.30 basis the Dec '10 contract.  I strongly suggest using call options in lieu of long futures or purchased cash corn for feed needs.  If you've already purchased corn I would recommend you talk to your risk advisor about buying put options against the cash purchases to open up the downside again. 
I recommend having downside open because of the sell signal today (to be fair we've had several on the way up that have been false signals) and the warning signal from last week along with a second failed attempt to close above the $50% retracement level in the Dec '10 contract.  Remember the funds are long over 500,000 contracts of corn and we are less than a 1/3 harvested as a country.  If the funds decide to puke their position who will buy?  Don't get me wrong, the funds seem to have plenty of money to defend their long positions in the market and keep the futures above key support levels.  $4.95 1/4 is a key support level for me that needs to hold if corn has another shot to close at new high's in the short-term. 
One thing to watch for this week is a close below $4.95 1/4.  If this happens it will have been a key reversal on the weekly chart for corn and that would be negative to price especially on top of 50% retracement, last week's warning signal and today's sell signal.  This is a big IF but I wanted to through it out there for you to keep an eye on.  I said last week that 79.28 support needed to hold in the Dollar Index if there was any chance of moving higher, Friday and today challenged the 79.28 level but has failed to close below it which is encouraging for strength to come back into the Dollar Index assuming support holds.  
Bottom line – The intraday charts suggest corn makes an early high tomorrow.  $5.12 was an area of support on the intra-day chart that held today so this number along with $5.08 should be key for tomorrow's trade.  If $5.08 is violated then $4.95 1/4 should be the next number to the downside but I don't see this happening tomorrow.
___________________________________________________

Meal – Oct '10 meal is also at the 50% retracement level on the weekly chart but the difference is we didn't get a warning signal from last week's trade like we did in corn.  I am still baffled by the strength in soybeans compared to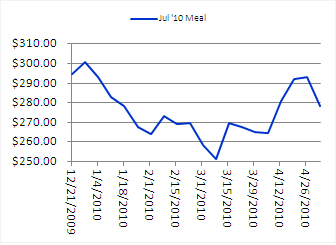 what I've been hearing for yields out in the country.  It seems to me based on yield estimates only that soybeans are overpriced and are long over due for a downside correction.  Soybeans were the only thing holding corn and wheat from falling out of bed during today's trade.
The 50% retracement level for Nov '10 soybeans is at $11.83 and there is also a gap on the weekly chart at $11.77 that was made the week of Sept 29th 2008.  Technically the soybean market could gravitate toward the $11.83 area but I have cycle high's in place already for the Nov '10 bean contract basis the weekly chart. 
Keep looking at your profitability and if the profits are there that you can live with and are happy with then it really shouldn't be a question if you lock in meal, the question should be what strategy to use in order to protect yourself. 
Bottom line – The intraday charts suggest meal makes an early high tomorrow.
_____________________________________________________________

Hogs – Hogs were relatively quiet today in having a $.72 trade range in the Oct '10 contract.  We continue to march closer to the Oct '10 contract expiration and the cash index remains above $83.00 at $83.67 so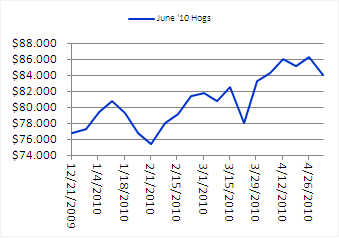 with Oct '10 futures at $79.15 you would think Oct '10 futures are undervalued.  It is getting too close to expiration for me to rely on what the chart suggest because cash is king for this contract going into expiration.  I believe that we could see some higher prices early tomorrow through mid-day but that could be it until Thursday or Friday of this week.
The cash market was lower today with the National wtd average price at $78.68 which would give the thought that unless cash recovers the index could be overpriced.  My feeling is that we see one more good day of futures trade in the Oct '10 contract and then we tail off.  The cash market isn't giving us any signs of taking off to the upside and the cutout will not let the cash implode either so I expect the market to be range bound with negative lean toward the futures market in coming weeks. 
Bottom line – The intraday charts suggest hogs make an early low tomorrow. 
---
Check out www.leanhog.net to find numerous USDA reports all in one convenient location.  Become a registered user and have access to pork cutout charts and the USDA 14 day hog slaughter schedule as a percentage of approximate daily kill capacity.
Below are some of the reports that are available as quick links on our home page.  If you would like to become a registered user to access more custom information please click here.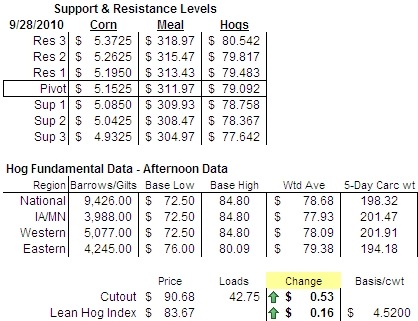 _____________________________________________________________
Hurley & Associates believes positions are unique to each person's risk bearing ability; marketing strategy; and crop conditions, therefore we give no blanket recommendations. The risk of loss in trading commodities can be substantial, therefore, carefully consider whether such trading is suitable for you in light of your financial condition. NFA Rules require us to advise you that past performance is not indicative of future results, and there is no guarantee that your trading experience will be similar to the past performance.