If you have trouble viewing this page please visit the market commentary section of www.leanhog.net.  I know I don't post as much as I used to due to time constraints but if you have a question please feel free to email it to me at[email protected] and I will do my best to get back to you as soon as I can.
___________________________________________________

Corn – It would be nice to have information that was reliable.  First the USDA adds stocks to the 2009 crop and then they take an historic slashing of yield estimates the following week.  The USDA surprised the market as it low balled the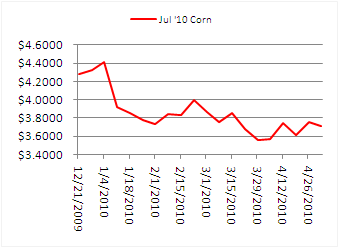 national corn yield by around 4 bushels to the acre less than trade guesses.  Needless to say Friday was limit up.  We touched limit up in the overnight session last night but failed to hold it.  We gapped higher on the open this week which to me means we should go back and fill this gap at 5.28 3/4 at some point in the Dec '10 contract.
It seems to me that dips will be bought until we get information that will either give us more supply or less demand.  USDA reports are always a wild card, you never know what they are going to put out so who is to say with that.  I'm hearing a lot of talk that the market wants to test the $6.25 area in the Dec '10 contract which I think is very likely at some point in the near future.  The historic drop in yield truly is a game changer as it does put our carryout at less than a billion bushels for next year. 
The dollar started a rally today as it is making an effort to bottom and if that is the case it could stifle some of the aggressive commodity buying but for now it seems to be gang busters.  Corn gapped higher than the 62% retracement level back to the contract high and failed to hold its gains today.  It will be interesting to see if we can hold some gains by the end of the week.  Today's open on the weekly chart is the same opening that we get when some markets make there tops.  I'm not sold on this being a top because I've have many failed signals along the way up but I'm going to be paying attention to the Friday close of this week.
I would not take any chances with straight cash or futures positions in the market at this point as it seems to be too risky from a margin call potential stand point.  I think know risk strategies aren't as responsive but they are much safer to work with.  The rally in the corn isn't good for the livestock sector unless hog prices follow the market up like they did on Friday.
Bottom line – The intraday charts suggest corn makes an early low tomorrow.  Once we make our low for the day I think we are set to make a run toward or most recent high of $5.73 1/4 at some point this week.
___________________________________________________

Meal – Confused is an understatement when I look at the USDA DROPPING the yield forecast for soybeans.  From the yield reports I'm hearing across the country some of these yields are smashing the old record yields by as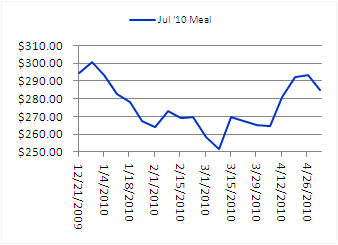 much as 5 bushel to the acre.  Needless to say that send soybeans along with Dec '10 meal up limit on Friday as well.  Today's trade activity looks negative in regards to follow through to the upside but we aren't in a "normal" market anymore so I'm looking for some buying to surface on corrections more as a money management play versus any fundamental play. 
As I mentioned in corn I would suggest known risk strategies to protect meal that is needed for feed.  Straight futures or cash is pretty risky at this level in my opinion so if you use either futures or cash make sure you visit with your risk manager about opening the downside on your positions.  I'm looking for Dec '10 meal to test $316.20 at some point this week or next but I'm not sure tomorrow is the day.  I don't think there is a lot of downside optimism for Dec '10 meal beyond $316.20 for the time being.  I'm fully expecting USDA yield numbers to be revised higher in coming reports.
I mentioned in my last post on Sept 27th that Nov '10 soybeans could gravitate toward $11.83 to fill a gap at $11.77 from Sept 29th 2008.  This all happened overnight as we topped out at $11.88 3/4 thus far in the Nov '10 contract so we could be looking for a small retracement until we get more information on US crop size.
Bottom line – The intraday charts suggest meal makes an early low tomorrow.
_____________________________________________________________

Hogs – Hogs did the hog producer a favor on Friday by moving limit higher in most months to help offset the major gains in the corn and meal markets.  We weren't so lucky today.  The Dec '10 contract was lower right out of the gates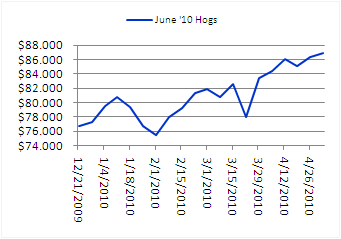 and just drifted as the day progressed.  There wasn't any chart damage to the Dec '10 contract today as we made a 50% retracement back to Friday's low and this isn't uncommon.  I'm of the opinion that the Dec '10 and beyond contracts have bottomed for now and will look to make a run at testing old contract highs (at least in the Feb '11 and beyond).  The cutout market seems as if it has done enough for the time being as we start gearing up for the holiday season.  Bellies have dropped significantly off of their posted high which was a lot of the reason for the cutout's struggles last week. 
Now is a time to be on top of your operation.  Know what your margins are and if you can lock in profits look to do so but try to leave some flexibility in your positions with the use of options.  Let the crush margins guide you through this time of uncertainty.  If you haven't used the crush previously you will be amazed at how it brings your marketing decisions into perspective.  If you need help or have questions send us an email at [email protected] and we will do our best to help you get started.
Bottom line – The intraday charts suggest hogs make an early low tomorrow. 
---
Check out www.leanhog.net to find numerous USDA reports all in one convenient location.  Become a registered user and have access to pork cutout charts and the USDA 14 day hog slaughter schedule as a percentage of approximate daily kill capacity.
Below are some of the reports that are available as quick links on our home page.  If you would like to become a registered user to access more custom information please click here.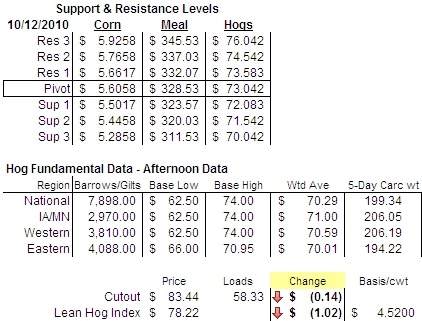 _____________________________________________________________
Hurley & Associates believes positions are unique to each person's risk bearing ability; marketing strategy; and crop conditions, therefore we give no blanket recommendations. The risk of loss in trading commodities can be substantial, therefore, carefully consider whether such trading is suitable for you in light of your financial condition. NFA Rules require us to advise you that past performance is not indicative of future results, and there is no guarantee that your trading experience will be similar to the past performance.