Published on:
13:43PM Nov 05, 2012
Today as part of the IFAJ/Agriterra 2012 Exposure 4 Development Kenya tour, we left early in the morning for the town of Kiserian, south of Nairobi. It is by sheer determination and engine power that we made it to Kiserian. Kenya is in the short rainy season, and the red dirt roads were mud and gullies.
We pressed on for about an hour to reach Kiserian.
Livestock comes from all Kenyan Maasai-people, and the Kiserian livestock market and slaughter house are a traditional place for pastoral (grazing farmers) Maasai to sell their goats, cattle and chickens to brokers. The slaughterhouse itself doesn't buy animals or sell meat. It delivers a service - small butchers and restaurants buy living cattle on the market and can then make use of the slaugtherhouse.
Often the farmers get to the market by 3 a.m. to beat the brokers and make deals outside the market. All business is finished by noon, because Kenyans like to eat fresh meat and there is little refrigeration. The butcheries want their meat by early afternoon for meals.
The facility has grown from processing 30 cattle per day in 2005 to 160 cattle per day, and offers pastoralist farmers a 30% better price on their livestock against competing markets. This is because the market is pastoralist owned and managed. The exchange between brokers and sellers is often collegiate, with much hugging and cajoling to get the buyer to "see" the farmer's best cattle or goats. Buyers walk around the muddy feed yard and eye the animals until a negotiation is made. The whole event looks like chaos, but is highly managed and is a transparent business structure.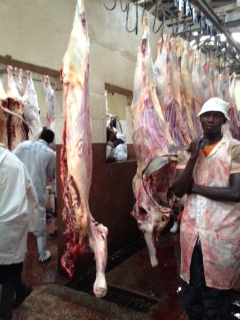 Nearly 500,000 pastoral people depend on this market and slaughterhouse. It is the only slaughter facility in the region, and it delivers 30% of the meat that's eaten in Nairobi. Goats are more expensive than sheep because Kenyans like the taste better.
The slaughterhouse is also the site of a pilot biogas plant project, where waste is turned into gas for power for cooking and piped to the seven hotels in town.
After the slaughterhouse, we visited a Keekoyonie pastoralist field school. Pastoralists are dealing with record droughts and climate change that is drying up pasture ground. During the last drought in 2009, millions of cattle died. The school, which is located in the middle of field that we walked about a half mile to reach, is teaching rangeland conservation and grazing practices to help conserve feed for cattle.
A 25-acre demo plot is teaching pastoralists how to grow grass. The grass is sowed and one cut a year is harvested and baled. The yield is 3,000 bales of 15-20 kg, and the hay lasts for up to 10 years. So far, they have baled 7500 bales of grass hay and stored it for droughty times.
Local farmers are also learning how to conserve water with tanks that capture rainwater from roofs; a small dam is built to save water.
Lastly, we visited a contract pig farmer who works with Farmers Choice (one of the biggest pig meat companies of Africa) in the area Lower Kabete. This farmer raises 40 pigs, and land in the area where he farms sells for about $3,000 per 1/4 acre because of its nearness to Nairobi. Land prices have inflated substantially in recent years due to outside investment from buyers in other countries.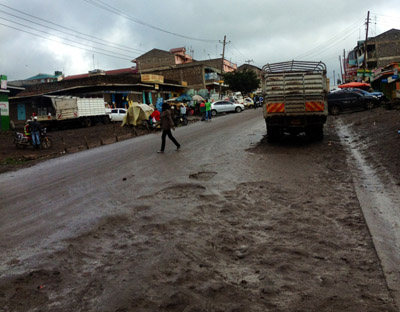 ---