Published on:
09:28AM Nov 06, 2012
Today was a dairy day. We visited the KCC dairy coop in the Nairobi industrial area and a member farm afterwards. In Kiambu we will visit the Ndumberi Dairy Coop.
This dairy processing facility outside Nairobi, pays farms $30 per liter of milk
To build demand and provide new markets for Kenyan dairy co-op members, the coops have started making yogurt. The product is more fluid and milky than US yogurt, but Kenyans love it. To them, it is a bit like ice cream. At the Ndumberi coop, one quarter of milk processed now goes into yogurt.
The new product has allowed the processor to pay farmers a better price for their milk, about $30 per liter. Most farmers in the area have up to 3 cows and practice "zero grazing" where they are penned and fed grass forage.

After lunch with the chair lady of Kiambaa Dairy coop we visited her farm, the most progressive we have seen. She even has a milker! Then we left for Meru, up north, near Mt. Kenya.
This is a smallholder farmer's dairy barn. One cow produces 20 kg of milk.
 
---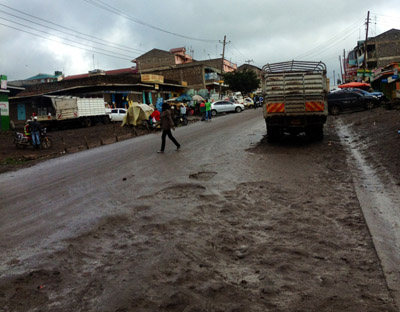 ---