Published on:
16:08PM Apr 14, 2010
This tractor was featured for the month of April in the 2010 Classic Farm Tractor Calendar.
Before retiring in 2002, owner Kee Groshong lived a double life. During the week, he was a hard-driving University vice-Chancellor dressed in a business suit, white shirt and tie. But behind his large walnut desk on the credenza was a 1/16 model of a John Deere tractor–that was the tipoff that on weekends he quickly changed into blue bib overalls to concentrate wholly on his antique tractors and steam engines. He grew up with John Deeres, so he and son Reese have restored several, but this World War II vintage Minneapolis-Moline caught his eye in a Minnesota salvage yard, and you can see the fantastic results. This Z model had flat top fenders and this standard (the S in ZTS) probably spent its life on a wheat farm in Minnesota's Red RiverValley. Its 4 cyl. MM engine produced 25 drawbar and 31 belt hp.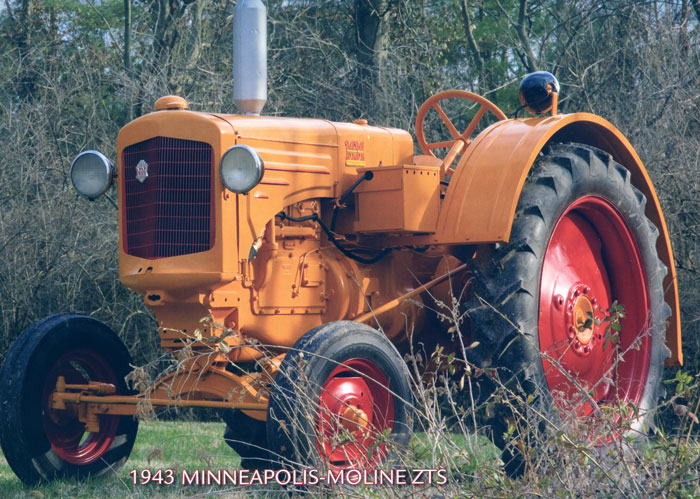 Owner: Kee W. Groshong
Columbia, Missouri
He especially likes the steel steering wheel, which is original. The MM ZTS is housed in a new barn-like building on his Columbia acreage. He's an active member of the Missouri RiverValley Steam Engine Club. This is the group out of Boonville, Mo., that hosted two Classic Farm Tractor Calendar reunions.
The world-famous Classic Farm Tractor Calendar from Classic Tractor Fever is in its 21st year of publication with the 2010 calendar available now. They have calendars, videos, books, and much, much, more. Click here to visit their online shop.