Published on:
13:45PM Dec 15, 2009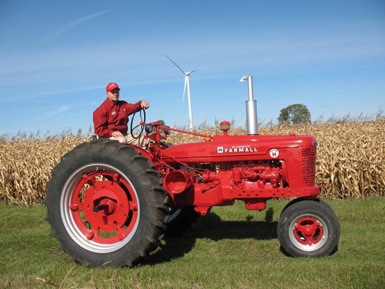 This is my 1953 Farmall Super-H Tractor. My wife and I have been engaged in dairy farming from 1966 until November of 2008 when we dispersed our dairy herd. It was originally purchased new by my Dad, and we bought it when we took over the farm; thus it has been on the same farm all its life.
Our Super-H through these years had been used mainly to haul feeder wagons for the dairy cows and heifers, or pulling forage wagons. It was handy for moving machinery in and out of tight spots in the pole shed.
It was repainted recently, and has all new tires. Also changed over to twelve volt starting and electronic ignition system. It now looks and runs better than when it was a new tractor.
Without the dairy herd, this tractor doesn't get used much anymore. I participated in my first ever tractor drive with it at nearby Oakfield in the Annual Kintzler Tractor Drive Oct. 9, 2009. We went on a 10-mile route through scenic terrain taking a short break for refreshments and continuing back to Oakfield where we were part of the Oakfield High School Homecoming Parade. 
-- Rudy Jaeger, Brownsville, WI
..........................................................................
Show us photos or video of your favorite tractor. E-mail photos or video to
[email protected]
.
---