Published on:
16:07PM May 13, 2013
The value of good southeastern farmland rose 6.2% for calendar year 2012, according to the quarterly survey of agricultural bankers served by the Federal Reserve Bank of Richmond. The bank says the market value of good farmland averaged $3,421 an acre by the end of the fourth quarter of 2012 -- 1.5% higher than than third quarter of 2012. The Fed bank says bankers responding to the survey anticipate the growth of farmland prices will change little in early 2013. Farmland values in that region have remained relatively flat since the all-time that was posted in the third quarter of 2006.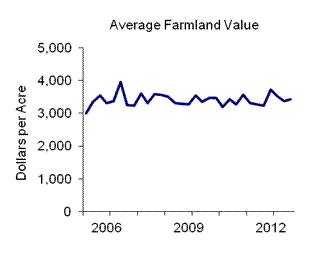 If interested in seeing a copy of LandOwner, just drop me an email at [email protected] or call 800-772-0023.