Published on:
19:02PM Mar 15, 2011
It is no secret historically that a career in agriculture has been male dominant. Oh, yeah I am going there but before my male counterparts hit the "X" to close the computer screen I challenge you to think just a minute of what you would say to your daughter in choosing a career in agriculture.
In honor of Women History Month and National Agriculture Day, I salute all pioneer women:
Who found themselves in a employee position that never been held by a women before
Who traded household chores with her brother to help her dad on the farm
Who would rather shovel manure than clean the house
Who runs the combine, fixes the tractors
Who operates her own farming or ranching operation
Who found themselves in meeting room full of males and did not hide in the corner
Who passionately told the story of agriculture
I started the first Friday of Women History Month, with an Illinois Agri-Women career exploration event, "Women Changing the Face of Agriculture", for the next generation of women ag professionals. Keynote Speaker, Colleen Callahan-USDA Rural Development Director for Illinois-started her inspirational speech by pointing out that on March 4 Illinois Agri Women were making History by providing a career event for current female high school and college students that was never available to Women employed in agriculture presently.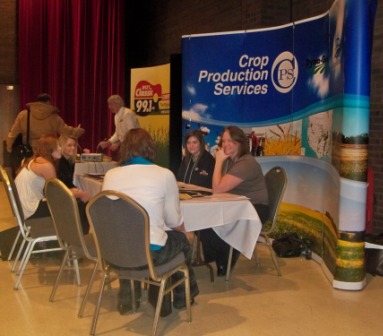 I was one of the lucky Ag Professionals that interacted with the next generation in this speed networking event sharing my personal career path, the world of agriculture, and words of wisdom. Mainly the event was designed to give the attendees to see the variety career tracks of agriculture and the confidence to pursue her dreams.
So what is my advice to the next generation of Women Agriculture Professionals? Click on the video to find out.
Here is the bottom line. Women are just asking for equal opportunity.  We are asking our male colleagues to see us as an individuals with God-Given talents working together to provide food, fuel and fiber for the World.
Reference: