Published on:
16:43PM Jun 22, 2015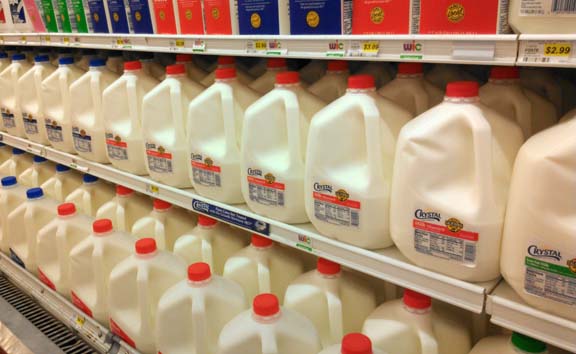 Increasing cow numbers and milk production in the country is offsetting lower milk production in California and other Western states.
Despite substantially lower milk prices than a year ago, the nation's dairy herd is growing and milk production is increasing. We certainly can count it a blessing that milk prices have not fallen lower than they have so far this year. I certainly do not want milk prices to decline further in order to pave the way for high milk prices. The result of lower prices would be farmers going out of business. However, history had shown that dairy farms going out of business due to choice or financial reasons does not necessarily mean lower cow numbers and higher milk prices. This year is somewhat of a testament to that. There have been reports of both small and large dairy farms going out of business, but this has not had much impact on milk production or prices. Dairy cattle slaughter for the first 4 months of this year was 38,000 head more than the same period a year ago. But U.S cow numbers in April were 67,000 head more than in 2014. USDA indicated on the May milk production report that cow numbers were 58,000 head more than a year ago. This indicates there are sufficient replacements to take the place of those culled and many cows from those dairies that go out of business are finding their way to another operation. This is keeping overall milk production strong.
There has been much discussion over the impact of the severe drought in California and how it is affecting milk production and eventually milk prices. The drought certainly has been devastating in many ways and this is a critical year for the state. If rainfall and snow pack does not improve this year, it will be a disaster. Now I am not a weather forecaster, but I have heard some reports indicating increased rainfall will reach the state earlier than usual this year with substantial amounts possible. This will result in increased snowfall in the mountains. While this certainly would be a blessing, I, for one, do not put much stock in weather predictions this far in advance. However, it certainly would be good if this were to materialize.
So what has been the current impact on the overall market? Some have suggested milk prices have not decline further due to the decrease of milk production in California. But looking at the numbers so far this year, this does not seem to be the case. U.S. milk production this year has surpassed last year. January production was up 2.2%; February ( 1.7%); March ( 1.4%); April ( 1.8%); and May ( 1.4%) for an average of 1.7%. This compares to 2014 when January milk production was ( 1.1%); February ( 1.1%); March ( 0.9%); April ( 1.0%); and May ( 1.4%) for an average increase of 1.1%. 
California milk production has shown a decline each month so far this year with January down 2.6%; February (-3.8%); March (-2.9%); April (-2.1%); and May (-2.9%). This compares to last year when January milk production increased 4.7%; February ( 5.3%); March ( 3.7%); April ( 1.5%); and May ( 1.0%).
This clearly indicates the amount of milk production that has been lost in California is being made up in other states rendering the impact on milk prices inconsequential. The impact is due in large by the slowing of export business in some categories. The higher U.S. Dollar and lower world prices make it more difficult to compete. Domestic demand has been great as inventories were replenished and consumers continued to purchase. This has been a large part of what has supported dairy prices so far this year. However, there is growing concern the second half of the year may feel the greater effects of low world prices which may translate into lower U.S prices. Rabobank anticipates the second half of the year to be challenging for U.S. dairy prices. A surplus of milk on the international market will squeeze current U.S. dairy prices that have been somewhat immune to declining international prices. Tim Hunt, Rabobank's Global Dairy Strategist, reports, "While we are well off the record level achieved in late 2014, producer milk prices in the U.S. are still 15% and 57% higher than those presently being paid to dairy farmers in the Netherlands and New Zealand and sustaining these kinds of premiums is going to get tougher in coming months, as the impacts of an oversupplied international market filter back home."
My current recommendations are to purchase at-the-money put options and sell call options $1.25 higher for August through December for a cost of about 45-50 cents if you have not already done this. This will provide the opportunity to capture some upside potential if it would develop.
Upcoming reports:
-May Cold Storage report on June 22
-May Livestock Slaughter report on June 25
-May Agricultural Prices report on June 29
-Planted Acreage and Grain stocks report on June 30
-June Federal Order class prices on July 1
-May Dairy Products report on July 2
Robin Schmahl is a commodity broker and owner of AgDairy LLC, a full-service commodity brokerage firm located in Elkhart Lake, Wisconsin. He can be reached at 877-256-3253 or through their website at www.agdairy.com.
The thoughts expressed and the data from which they are drawn are believed to be reliable but cannot be guaranteed. Any opinions expressed are subject to change without notice. There is risk of loss in trading and my not be suitable for everyone. Those acting on this information are responsible for their own actions
This material has been prepared by an employee or agent of AgDairy LLC and is in the nature of a solicitation. By accepting this communication, you acknowledge and agree that you are not, and will not rely solely on this communication for making trading decisions.
The thoughts expressed and the basic data from which they are drawn are believed to be reliable but cannot be guaranteed.  Any opinions expressed herein are subject to change without notice.  Hypothetical or simulated performance results have certain inherent limitations.  Simulated results do not represent actual trading.  Simulated trading programs are subject to the benefit of hindsight.  No representation is being made that any account will or is likely to achieve profits or losses similar to those shown.  There is risk of loss in commodity trading may not be suitable for recipients of this communication.