Published on:
16:57PM Jul 20, 2015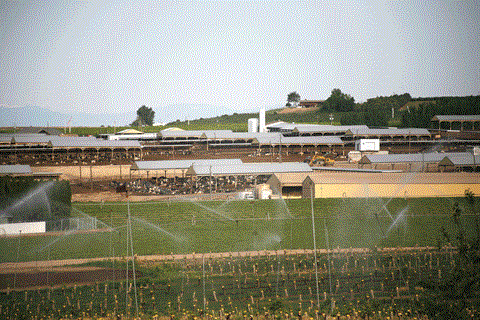 There is no doubt about it. World dairy prices are looking ugly and so are U.S. prices. We can be thankful cheese, butter, and milk prices have been able to remain as strong as they have for the first half of the year with an average Class I price of  $16.31; Class II of $14.95; Class III of $15.99; and Class IV of $13.70. Yes, these prices as substantially lower than last year, but have held well despite continued weakness in world prices.
However, that may be hitting the proverbial wall as lower world prices, slower dairy exports, a high U.S. Dollar, and strong milk production paints a picture of lower prices.
For some time earlier this year, slowing exports did not gain much news coverage as the industry welcomed greater volumes of dairy products being available for demand as well as for replenishing inventory. There was concern inventory would not be able to build sufficiently during the first half of the year potentially resulting in a tighter market in the second half of the year. Buyers were aggressive in obtaining available product and increase holdings while product was available. Manufacturers were filling warehouses as cushion for expected demand. Having extra product available was welcome.
However, the psychology of the market has changed with buyers and manufacturers comfortable with current supply. Buyers are less aggressive with purchases. Less expensive world prices is bringing more imports of dairy products to our shores. This is not only confined to near-term purchases, but potentially long-term contracts. There are some indications of some interest by U.S. manufacturers looking to contract some dairy products or ingredients from other countries into 2016.
Milk futures contracts in 2016 have come under substantial pressure over the past two weeks as the realization of price potential has fallen. U.S. cow numbers continues to grow and milk production continues to increase. Retail and food service demand has been good, but supply has now become readily available with supply on the verge of outpacing demand. Seasonally, prices dairy prices should be increasing as buyers step up to the plate. But this year looks to show contra seasonal movement.
I am not attempting to be negative and depressing, but am informing of reality in order to encourage action. Hoping milk prices will go higher is certainly not protecting milk prices or equity. No one is able to predict when is the best time to hedge or hedge at the top of the market, but decisions need to be made when fundamentals merit action even if at lower prices.
There are two strategies that work best for this kind of market and if you have not already done price protection or if you need to increase protection. The fence strategy consisting of purchasing puts and sells calls provides unlimited downside protection while allowing for upside potential to the level of the sold call. Unfortunately, the cost for these has risen with the price decline unless a lower put option is purchased rather than the closest one to the underlying futures price. My general desire is to sell a call option $2.00 above the put option. This strategy in 2016 will cost around 60 cents at current prices. Another strategy is to purchase a put near the underlying futures and sell a put $2.00 below the market and sell a call option $2.00 above the market. This strategy provides limited downside price protection to the level of sold put option and allows upside price potential to the level of the sold call option. It brackets the market. This strategy can be done for a cost of about 40 cents or so. Contracts in 2015 are a bit different due to time value and changes in strike prices and distance between options evaluated and adjusted. These are my preferred strategies. Of course, a change in market fundaments pointing to higher prices may require the purchase of call options to increase upside price potential, but that bridge would be crossed when or if it comes. The thing to keep in mind with these strategies is to sell call options at or above your cost of production in order to avoid hedging a loss. Yes, some price opportunity has been lost, but opportunity is still available.
Upcoming reports:
-June Milk Production report on July 21
-June Cold Storage report on July 22
-June Livestock Slaughter report on July 23
-June Agricultural Prices report on July 30
Robin Schmahl is a commodity broker and owner of AgDairy LLC, a full-service commodity brokerage firm located in Elkhart Lake, Wisconsin. He can be reached at 877-256-3253 or through their website at www.agdairy.com.
The thoughts expressed and the data from which they are drawn are believed to be reliable but cannot be guaranteed. Any opinions expressed are subject to change without notice. There is risk of loss in trading and my not be suitable for everyone. Those acting on this information are responsible for their own actions
This material has been prepared by an employee or agent of AgDairy LLC and is in the nature of a solicitation. By accepting this communication, you acknowledge and agree that you are not, and will not rely solely on this communication for making trading decisions.
The thoughts expressed and the basic data from which they are drawn are believed to be reliable but cannot be guaranteed.  Any opinions expressed herein are subject to change without notice.  Hypothetical or simulated performance results have certain inherent limitations.  Simulated results do not represent actual trading.  Simulated trading programs are subject to the benefit of hindsight.  No representation is being made that any account will or is likely to achieve profits or losses similar to those shown.  There is risk of loss in commodity trading may not be suitable for recipients of this communication.