Published on:
18:56PM Jun 20, 2016
There is life to the dairy market. After an extended period of time of limited price fluctuation on a daily basis likened to watching paint dry, Class III futures have exploded exhibiting substantial volatility. Price swings during the course of a day have moved as much as $1.00.  So what has recently caused this volatility? More price movement generally results in greater market participation. Price swings offer more opportunity for hedgers to protect prices and more opportunities for speculators to attempt to make a profit from the price swings. This is the result of market volatility in and of itself. There are other factors that have contributed to this volatility.
Grain futures have moved into a weather market with price increasing substantially over the past two months. Demand has improved providing some support, but the greater influence has been weather. The market has moved into the mode during which each weather forecast released during the course of the day has an impact on market movement and activity. Milk futures seem to have caught some of this excitement, not only from higher grain prices, but the potential impact on milk production based on weather. There has been much discussion over La Nina and the hot and dry July and August this could produce. If this were to materialize and remain during pollination with insufficient moisture, it would reduce yields. Higher grain prices generally translate into higher milk prices. There is a very similar relationship of corn futures to milk futures as can be seen by the accompanying chart overlay. Pricing is different, but movement is similar and this year is no exception. This is an outside influence likely responsible for movement and volatility in Class III futures contracts. Along with that, hot weather can significantly impact cow comfort and milk output which would tighten available milk supply.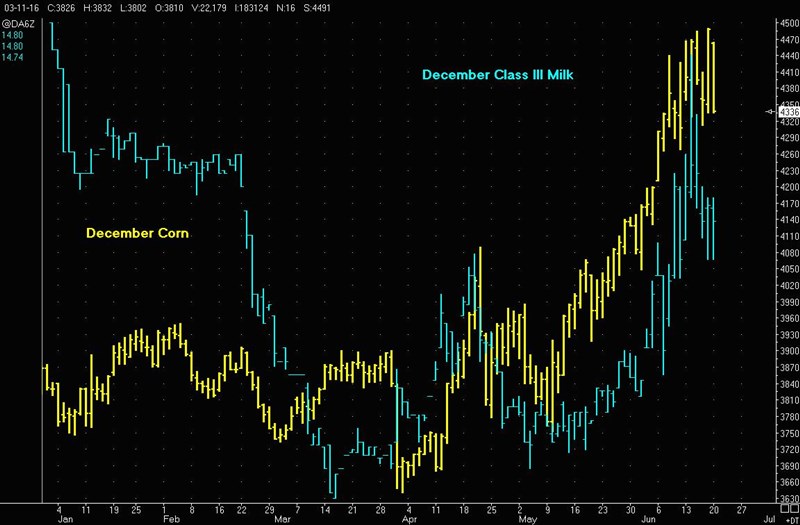 Seasonal purchasing is having an influence on price volatility. May and June have seasonally been the time during which buyers look to increase ownership of supply at generally attractive prices. The desire to obtain cheese and butter at a seasonal low resulted in more aggressive buying in the spot market. Cheese and butter inventories are large, but that is not considered in the though process when looking forward to upcoming demand during this time of year. It can have a greater impact at other times as buyers and sellers assess the market environment. Buyers were cautious and sat on the sidelines earlier in the year as cheese prices were weakening, but that is now behind. High inventories may be assessed once sufficient supply is acquired for anticipated demand and demand is filled. 
There is the aspect of world prices and the idea that those prices may be on the rise soon. European prices have been increasing for about a month as milk production slows due to low milk prices. After milk output for the first quarter being up 7.2%, milk production for the rest of the year is forecast to be down 0.4%. Australian milk output is expected to be down 2% this marketing year. New Zealand is also expected to be lower. However, even with this outlook indicating lower prices have done the job of slowing production, analysts are not expected much recovery until sometime in 2017.
All of these factors combined have had a part in and will continue to have a part in the volatility that we are experiencing in dairy markets.
Upcoming reports:
-May Milk Production report on June 21
-May Livestock Slaughter report on June 23
-May Cold Storage report on June 24
-May Agricultural Prices report on June 29
-USDA Planted Acreage report on June 30
-USDA Quarterly Grain Stocks report on June 30
Robin Schmahl is a commodity broker and owner of AgDairy LLC, a full-service commodity brokerage firm located in Elkhart Lake, Wisconsin. He can be reached at 877-256-3253 or through their website at www.agdairy.com.
The thoughts expressed and the data from which they are drawn are believed to be reliable but cannot be guaranteed. Any opinions expressed are subject to change without notice. There is risk of loss in trading and my not be suitable for everyone. Those acting on this information are responsible for their own actions
This material has been prepared by an employee or agent of AgDairy LLC and is in the nature of a solicitation. By accepting this communication, you acknowledge and agree that you are not, and will not rely solely on this communication for making trading decisions.
The thoughts expressed and the basic data from which they are drawn are believed to be reliable but cannot be guaranteed.  Any opinions expressed herein are subject to change without notice.  Hypothetical or simulated performance results have certain inherent limitations.  Simulated results do not represent actual trading.  Simulated trading programs are subject to the benefit of hindsight.  No representation is being made that any account will or is likely to achieve profits or losses similar to those shown.  There is risk of loss in commodity trading may not be suitable for recipients of this communication.