Published on:
19:41PM Nov 10, 2014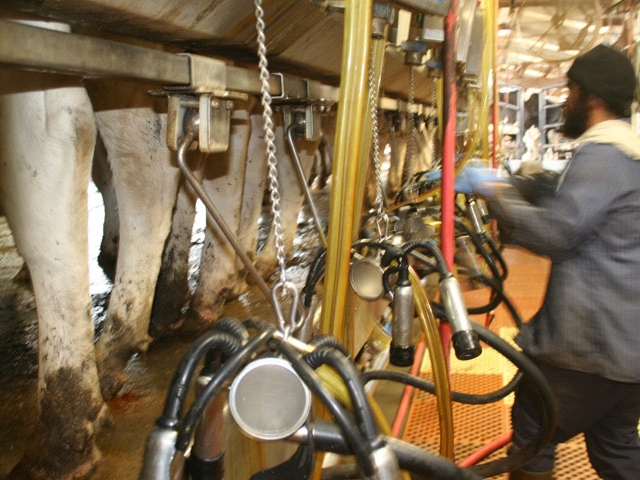 All signs are signaling that the ride may soon be over, with lower prices to keep balance and competitiveness in the marketplace.
We are in the eleventh month of 2014, and what a year it has been! Record Class III milk prices have been achieved and not only once or twice, but 10 times a record price has been set for each individual month so far.
The average Class III milk price through October is $22.80 per cwt., which beats the previous record for the first 10 months of a year set in 2011 by $4.55 per cwt. History generally repeats itself, and it is expected that it will be a few years before we will see these record prices exceeded. In the meantime, lower milk prices are likely to prevail for a time as the market adjusts to world demand and world prices.
World demand is good and expected to increase in the coming years. The industry will attempt to increase production in order to meet that demand. This year, production has risen in many countries compared to last year, which has resulted in lower prices in other countries and has increased competition. U.S prices have seemingly been immune to steadily declining prices in much of the rest of the world. Lower inventory than last year and good demand that has been built over the past few years have provided the catalyst for strong milk and product prices.
I fear the ride may soon be over. I do not want to sound pessimistic here, but the fundamentals are lining up that will require lower prices to keep balance and competitiveness in the market place. Prices have been able to remain strong longer than anticipated, due not only to lower inventory than last year but also the desire of many cheese and butter plants to keep production in line with demand. Very few were willing to build plant inventory due to consistent high prices and the unwillingness to be caught with high-priced inventory if prices fell.
So, instead of the seasonal inventory building that is usually done at a lower priced time of the year, it just did not happen. The desire to keep production of dairy products close to demand was the order of the day through much of the year. When demand began picking up seasonally, there was not an overabundance of product. This resulted in a certain level of concern or panic as to availability of dairy products during the holiday demand period of the year. This kept prices strong as orders needed to be filled and buyers had to come to the market to get it. However, continued higher prices usually come with a cost.
Domestic demand continues to remain strong, but the area of concern is the ability to compete in the world market. Exports began the year very strong, with cheese exports up 46.3% in January. However, that strong pace has slowly deteriorated, with September exports up 8.1%. This is still good, but a trend can clearly be seen.
Butter exports began the year very strong, running 135.8% above the previous year while in September exports were down 78.6% from the previous year. That certainly is not good news. Record butter price has prompted a substantial increase of butter imports. This may swing the pendulum quickly once holiday demand is complete and there is a potential for inventory to increase rapidly.
Nonfat dry milk and whey have followed the same pattern, but has been impacted less that cheese and butter. Whey exports began the year up 0.2% and have dropped to a minus 19.0% from last year while nonfat dry milk began the year up 22.4% while September exports were down 31.1%.
The unknown is what will happen once holiday demand is finished. Milk production will remain strong, but will supply increase more quickly than usual, resulting in lower prices? Milk futures contracts indicate prices will be significantly lower. World prices indicate U.S. prices will need to decline to remain competitive. This is reality and one that needs to be prepared for.
Upcoming reports:
Federal Order December Advanced Class I price on Nov. 19
October Milk Production report on Nov. 19
October Livestock Slaughter report on Nov. 20
October Cold Storage report on Nov. 21
Agricultural Prices report on Nov. 26
Robin Schmahl is a commodity broker and owner of AgDairy LLC, a full-service commodity brokerage firm located in Elkhart Lake, Wisconsin. He can be reached at 877-256-3253 or through their website at www.agdairy.com.
The thoughts expressed and the data from which they are drawn are believed to be reliable but cannot be guaranteed. Any opinions expressed are subject to change without notice. There is risk of loss in trading and my not be suitable for everyone. Those acting on this information are responsible for their own actions
This material has been prepared by an employee or agent of AgDairy LLC and is in the nature of a solicitation. By accepting this communication, you acknowledge and agree that you are not, and will not rely solely on this communication for making trading decisions.
The thoughts expressed and the basic data from which they are drawn are believed to be reliable but cannot be guaranteed.  Any opinions expressed herein are subject to change without notice.  Hypothetical or simulated performance results have certain inherent limitations.  Simulated results do not represent actual trading.  Simulated trading programs are subject to the benefit of hindsight.  No representation is being made that any account will or is likely to achieve profits or losses similar to those shown.  There is risk of loss in commodity trading may not be suitable for recipients of this communication.