Published on:
18:34PM Oct 27, 2014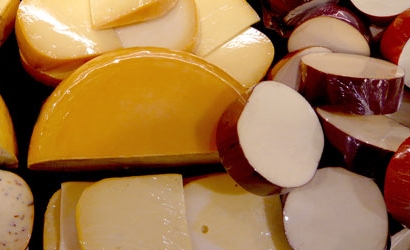 It seems once prices reach their peak, the decline seems always more rapid than the increase--and this time was no exception.

What was anticipated and destined to happen, happened--and in a big way. We knew cheese and butter prices could not continue as strong as they had been even in the face of declining world prices. Steadily declining Global Dairy Trade auction prices and rising U. S. prices were eventually going to impact export demand and eventually domestic demand.
However, prices were supported through buying interest for the upcoming high demand period of the year as well as lower inventories than last year. Slowing exports were not considered a bad thing as this would alleviate some of the tightness of supply. As is most often the case, however, prices remained higher for a longer time than they should have, resulting in exports declining more rapidly than anticipated.
Now, this cannot all be blamed on price alone, but also on the effects of Russia's ban on the import of dairy products on selected countries as well as increasing world production. The result has been more dairy products being available to the market, lower GDT auction prices, and greater competition for dairy product sales.
There is always the tendency to believe good demand will be able to keep prices from declining rapidly and that the decline would be more gradual as demand does not generally fall off a cliff. However, it seems once prices reach their peak, the decline seems always more rapid than the increase--and this time was no exception.
In the case of butter, it was not a matter of inventory growing and resulting in burdensome supply, but it was a matter of greater availability and the potential for inventory to grow more rapidly than usual. Imports have been coming in, and exports have declined substantially. Butter exports in August totaled 3,642.8 metric tons (8.0 million pounds) and were 59.8% lower than August 2013.
This is in contrast with exports in August 2013, being up 211.6% over the same month in 2012. This year began with exports in January, up 135.8% above a year earlier. As butter price continued to rise throughout the year, exports began declining. The impact was not immediate as forward contracts made at lower prices late last year were being filled throughout the first half of the year. But as these contracts were filled, international buyer interest was severely reduced due to the disparity in price.
Cheese has not been in quite the same posture as butter, but there are some similarities. Inventory has been lower than desired, resulting in higher prices being maintained throughout much of the year. Exports have been higher than last year, but are slowing as extended high prices have slowly impacted international demand. August exports were 11.4% higher than last year.
Similar to butter, exports began this year well, with exports 46.3% higher than a year earlier. Even though the price decline of cheese pales in comparison to butter since Sept. 25, (cheese down 9%, butter down 41%), block cheese price on Oct. 23 showed the largest one-day decline of 21.25 cents since Dec. 13, 2004 when price fell 28 cents. This nearly matches another price decline of 21.50 cents on Oct. 18, 1996, when spot cheese trading only took place once a week.  
Even though inventories of cheese and butter remain less than last year, which was partly responsible for record cheese and butter prices, the market is attempting to quickly compensate for the impact that high prices have had on demand. The pendulum has swung the other way and, unfortunately, it takes time to swing it back again, resulting in the over compensation of prices to the downside.
Even though Class III milk futures prices retain a substantial discount, there risk of prices falling below those levels. My recommendation is to utilize put option spreads consisting of purchasing at-the-money puts and selling puts $1.25 below to provide protection to the sold option price. To reduce the cost of this spread, sell call options $1.50 above. The current market direction and sentiment makes the selling of the calls an attractive addition to this strategy. This allows an upside advantage to the price of the sold call option and the downside protection to the sold put option.
Upcoming reports:
Milk Disposition and Final Estimates from 2008-2012 on Oct. 29
October Agricultural Prices report on Oct. 31
Stocks of grain, oilseeds, and hay final estimates 2008-2013 on Nov. 3
September Dairy Products report on Nov. 4
World Agricultural Supply and Demand report on Nov. 10.

Robin Schmahl is a commodity broker and owner of AgDairy LLC, a full-service commodity brokerage firm located in Elkhart Lake, Wisconsin. He can be reached at 877-256-3253 or through their website at www.agdairy.com.
The thoughts expressed and the data from which they are drawn are believed to be reliable but cannot be guaranteed. Any opinions expressed are subject to change without notice. There is risk of loss in trading and my not be suitable for everyone. Those acting on this information are responsible for their own actions. This material has been prepared by an employee or agent of AgDairy LLC and is in the nature of a solicitation. By accepting this communication, you acknowledge and agree that you are not, and will not rely solely on this communication for making trading decisions. Hypothetical or simulated performance results have certain inherent limitations.  Simulated results do not represent actual trading.  Simulated trading programs are subject to the benefit of hindsight.  No representation is being made that any account will or is likely to achieve profits or losses similar to those shown.  There is risk of loss in commodity trading may not be suitable for recipients of this communication.