Published on:
18:41PM Sep 29, 2014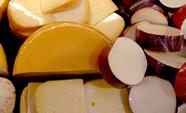 Dairy farmers can give some thanks to processors for high milk prices this year. Yes, exports have played a large role in supporting prices as world demand built to a crescendo late last year and early this year. International buyers came to the U.S. market to satisfy demand and contract supply for much of this year. More emphasis was placed on satisfying international demand than on building inventory. The result has been very high prices for much of the year with new records being set. The downside of these high prices was that some manufacturers during part of the first half of the year were trying to limit production to the orders being placed. They were unwilling to build inventory to avoid the possibility of prices to decline. The combination of good domestic demand, strong international demand, and strong dairy product prices throughout the year did not provide the market with lower prices during which strong cheese and butter production is put into inventory without reservation. After all, seasonal price swings offered the opportunity to purchase extra milk most often at prices under class. Heavy manufacturing schedules during these times and the moving of extra manufactured products into storage was rewarded by seasonally higher demand and higher prices. The reward was a good return on stored product as well as the ability to readily meet seasonal fall and winter demand. However, such was not the case this year. The lowest spot cheese price was $1.9475 and butter price was $1.54. Butter set the lowest price for the year on the first trading day of January and never looked back nearly doubling in price. Cheese traded in the range of about 50 cents spending limited time below $2.00.
So, it appears that some of the tightness in supply and lower inventory has been the result of continued high prices limiting the desire of manufacturers to produce cheese and butter unless there were orders for the product. In some way you could say it was a self-induced tightness.
Prices have been such that this idea continues with some manufacturers limiting production to demand. It seems as if the only way to alleviate this tightness and promote the building if inventory is for prices to decline. Lower prices will generally increase the desire to store while high prices generally increase the desire to quickly move what is produced rather than risk holding inventory that might loose value if prices decline. .
Interestingly enough is the fact that the past two cold storage reports have shown a slight increase in American cheese stocks. An increase from June to July is not unusual with increases seen about half of the time. It is unusual for American cheese stocks to increase from July to August. That is what took place this year and was the first time since 1985.
What is taking place is that previously contracted orders from cheese and butter have been filled in the international market and product that was destined for the export market has been and is being turned back and absorbed into the domestic market. In the case of butter, not only has international demand slowed, but imports are coming in at a greater pace than usual. This is currently being absorbed, but is beginning to swing the supply pendulum in the other direction.
Upcoming reports:
- Agricultural Price report on September 29
- Quarterly Grain Stocks report on September 30
- Dairy Products report on October 3
- World Agricultural Supply and Demand report on October 10

Robin Schmahl is a commodity broker and owner of AgDairy LLC, a full-service commodity brokerage firm located in Elkhart Lake, Wisconsin. He can be reached at 877-256-3253 or through their website at www.agdairy.com.
The thoughts expressed and the data from which they are drawn are believed to be reliable but cannot be guaranteed. Any opinions expressed are subject to change without notice. There is risk of loss in trading and my not be suitable for everyone. Those acting on this information are responsible for their own actions

This material has been prepared by an employee or agent of AgDairy LLC and is in the nature of a solicitation. By accepting this communication, you acknowledge and agree that you are not, and will not rely solely on this communication for making trading decisions.
The thoughts expressed and the basic data from which they are drawn are believed to be reliable but cannot be guaranteed. Any opinions expressed herein are subject to change without notice. Hypothetical or simulated performance results have certain inherent limitations. Simulated results do not represent actual trading. Simulated trading programs are subject to the benefit of hindsight. No representation is being made that any account will or is likely to achieve profits or losses similar to those shown. There is risk of loss in commodity trading may not be suitable for recipients of this communication.