Published on:
19:43PM Nov 24, 2014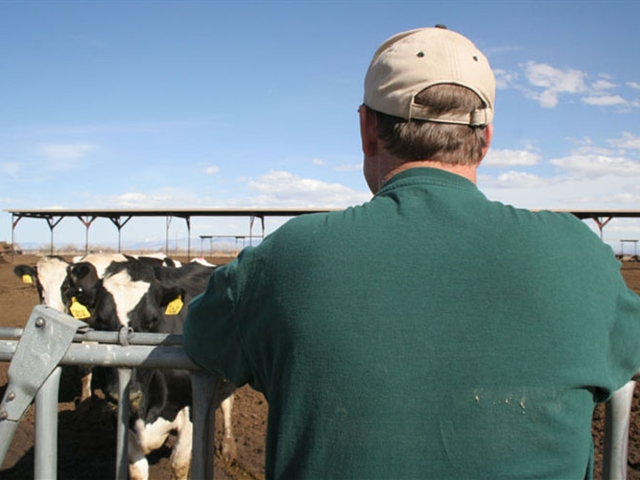 What commodity trader Robin Schmahl recommends dairy producers do before Dec. 5.
There is not too much time left for you to make a decision regarding what you want to do as far as the Margin Protection Program (MPP) is concerned.
Originally, the final day to sign up was Nov. 28, but, due to that day being Black Friday, it was extended to Dec. 5. I am sure many of you have attended informational meetings about MPP and the levels that can be chosen, how it works, and how it compares to LGM-dairy. Even with these meetings I still received calls wanting an explanation and clarification of the program.
I am sure there are some who will choose to ignore the program altogether just because it is a government program or because they have been too busy to think about it. After all, we have just come through a year of record milk prices and record income over feed costs, so how bad can it get this next year? There is logic to this reasoning, but we need not look very far to see the change that can happen during the course of a year. We just need to look at the corn price and how much that has dropped over the past year when many believed it could not happen.
I am not making any prediction that milk prices will be cut in half in 2015, but we can see how the futures market expects milk prices could become. Steep price discounts have been maintained in later months for quite some time. This resulted in front months having to increase in order to converge with strong underlying cash.
However, that pattern has changed over the past week or so. Last week, block cheese price fell 21.50 cents and barrel price fell 17.50 cents without having any impact on Class III milk futures. Declining cash prices are moving closer to the already discounted futures, eliminating the need for much price adjustment. The weakness in dairy product prices is not likely to change anytime soon. U.S. milk production as well as world milk production is increasing, and product availability is keeping world prices low. U.S. products are having difficulty competing on the world market due to high prices. This will be marketing challenges in the year ahead.
This brings us back to what to do with the MPP program. Because LGM-Dairy is based on futures prices (rather than the national average price calculation in MPP), allowing producers to vary feed inputs, it is anticipated quite a number of dairy producers will opt to implement an LGM-Dairy policy or policies this year with the ability to capture a higher income over feed cost. The issue here is that it is anticipated the appropriated money for the LGM-Dairy program could be used up quickly, which then would require producers to pay the full amount of the insurance premium for the program. After the latest LGM sign-up last weekend, there is slightly less than $3.5 million remaining to subsidize the program, with this expected to be used up during the December offering unless there is some redistribution of funds.   
My recommendation is to sign up for the MPP program if you do not use LGM-Dairy and, if nothing else, just pay the $100 to have the $4.00 level coverage. Then use futures, options and forward contracts to protect your milk and feed margin this next year. This allows you to take advantage of the first production bump in 2015. It also gives you the ability to protect a greater than $8.00 level income over feed cost by using futures or options for milk and feed.
If you choose to pay higher premiums to increase your income over feed cost using MPP, then that decision needs to be made. For larger farms that have milk production greater than 4 million pounds, I would recommend only purchasing higher margin protection on 4 million pounds and utilize the futures markets to protect your margins above that level, due to the substantial increase in premiums on milk production over that level.  
Remember, MPP or LGM-Dairy should not be used as a stand-alone marketing program. These programs protect milk and feed margins. They do not protect against lower milk prices in themselves or higher feed prices in themselves. A marketing program should be designed using a combination of the tools available.
Upcoming reports:
Agricultural Price report on November 26
October Dairy Products report on December 3
November Federal Order class prices on December 3
Robin Schmahl is a commodity broker and owner of AgDairy LLC, a full-service commodity brokerage firm located in Elkhart Lake, Wisconsin. He can be reached at 877-256-3253 or through their website at www.agdairy.com.
The thoughts expressed and the data from which they are drawn are believed to be reliable but cannot be guaranteed. Any opinions expressed are subject to change without notice. There is risk of loss in trading and my not be suitable for everyone. Those acting on this information are responsible for their own actions.  This material has been prepared by an employee or agent of AgDairy LLC and is in the nature of a solicitation. By accepting this communication, you acknowledge and agree that you are not, and will not rely solely on this communication for making trading decisions. Hypothetical or simulated performance results have certain inherent limitations. Simulated results do not represent actual trading.  Simulated trading programs are subject to the benefit of hindsight. No representation is being made that any account will or is likely to achieve profits or losses similar to those shown. There is risk of loss in commodity trading may not be suitable for recipients of this communication.