Published on:
10:00AM Aug 10, 2020
There is a phrase that has been used in countless, books, movies, and probably more than a few marriage counseling sessions; Falling in love all over again. By no means do I intend to venture into any of the above realms this morning, but that line did come to mind when I was looking through the most recent CFTC Commitment of Traders Report. Particularly as it pertained to the corn market.  It is not that the Large Speculator really fell out of love with the short side of the corn market, but it did seem last month the relationship had grown less affectionate, shall we say. Evidently though, the fires have been rekindled and last week they re-embraced the short side, selling over 39,000 contracts and expanding their short holdings to over 200,000 contracts once again. Managed money remains the most amorous of this group as they hold 86% of the relationships or positions.  Looking at the current weather outlook, it is difficult to predict when these two will break up, but it seems that each year as we approach harvest, they do appear to become less interested in this relationship.  Is that what a May to September romance is really referring to?
While none for corn, we do have more export sales to report this morning.  China continues on with their recent buying spree with 588,000 MT of beans and an additional 111,000 MT reported sold to unknown destinations.
As many of you are likely aware, Canada and China have not been on the best of terms during the past year.  This would appear to be reflected in the trade in Canola, one of Canada's key exports, between the two nations, and during the eleven months through June, exports to China are down 45%.  Evidently China has been intent on picking up this commodity elsewhere and has been buying from Europe, Russia, and Australia.  Be that as it is may, total exports from Canada during that period have increased 9% for the year as France and other destinations have picked up the slack and then some. Canola prices in Canada have reached the highest point since October of 2018.  The same factors that have been pushing our bean oil prices higher, namely problems with palm oil production due to COVID19, have been boosting demand for Canola. I imagine much to the chagrin of the Chinese government.  Turns out you cannot muscle your way through relationships when mother nature is really in control.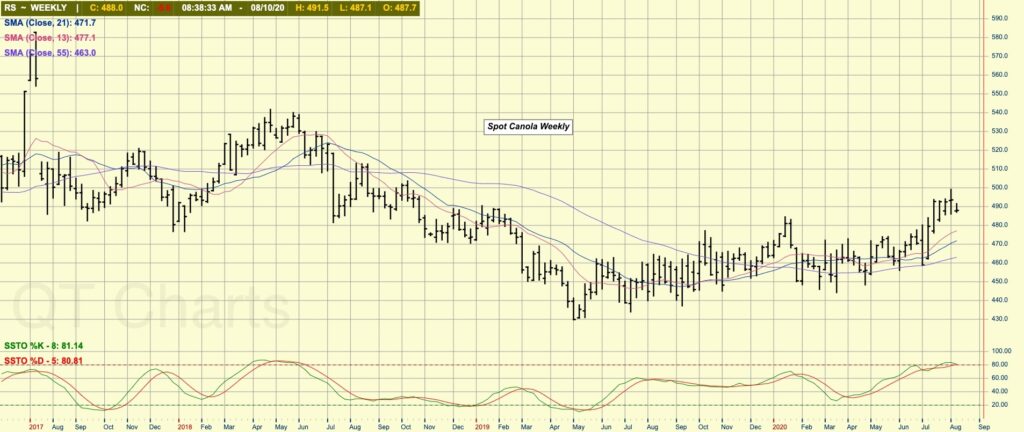 It is still two more days until the August "word of gov." is released but here again are trade survey estimates.  The corn yield is expected to come in at 180.4, which would be up nearly 2 bushels from the last number and would result in total production of 15.17 billion, 170 million higher than last month.  The 2019/20 corn ending stocks are expected to increase 17 million to 2.265 billion, and the 2020/21 number is projected to grow 152 million to 2.8 billion.  The national bean yield is expected to come through at 51.3, which would be up 1.5 from last month.  This would result in production of 4.258 billion, up from 4.135.  The 2019/20 ending stocks are expected to slip 4 million to 616 million, but the 2020/21 ending stocks are pegged at 525 million, which is an increase of 100 million from the July estimate. All wheat production is estimated to total 1.833 billion, up 9 million from last month, and ending stocks are expected to climb 5 million to 942 million.