Published on:
09:56AM Dec 04, 2019
And they said it couldn't happen.  No, I am not reminiscing about the Chicago Cubs clinching the world series back in 2016, which only took 108 years from their previous world series championship, or even the fond memories of the last Chicago Bears Super Bowl domination in 1986. No, I am referring to something much timelier, and that is the possibility of stringing together two higher closes in a row for the soybean market.  Break out the party hats. Granted, I say this at the risk of jinxing the action, but we have already seen nearby futures post the first higher high in the past twelve sessions, and this after seven weeks of declining prices ($.92 or 9.6%) and a test of the lows were recorded back in the August/September.  Throw in the fact that indicators are as oversold as they have been since spring, and I am pretty comfortable saying that enough is enough to the downside. Now we just need to find a reason to move away from here.  Do you think the managed funds will find it in their hearts to offer us a Christmas gift of a short-covering recovery?  May require a visit from a couple of ghosts of oversold markets past.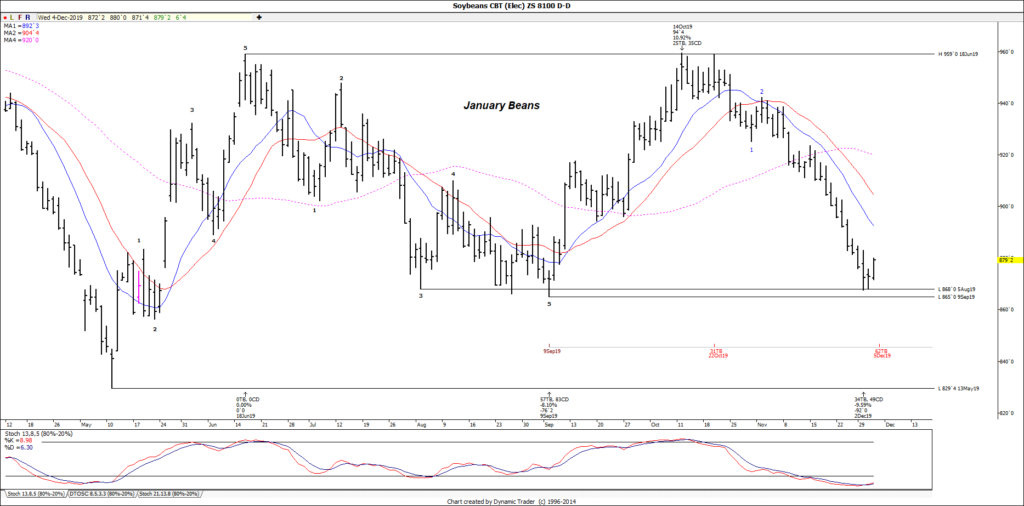 As we discussed last week, the USDA is currently in the process of gathering data from producer and grain companies to compile, grain stocks and "final" production numbers for future release.  Granted, we will not see these until January, but I was reminded of this, as well as another issue concerning the accuracy of the figures when a client stopped by the office this week.  He had been delivering corn and noted just how many fewer bushels he was getting on each truckload compared with the previous years due to the lower test weight. He was delivering 54-pound test weight corn this year, which is good compared to a lot of corn we have seen this year, which has struggled to even be in the 51 to the 54-pound range after drying.  If you have grown accustomed to 58-pound corn as this client had, this would account for a 7% reduction in what you assumed the yield might have been.  He told me that as he was combining, gauging from the volume moving through, he was expecting similar yields to last year but now knows better.  I recognize that yield monitors in combines use various sensors and in some load cells that try and estimate yield, but I suspect that in a year such as this, the error factor will undoubtedly be higher.  For those that only gauge their yields by volume and have not crossed a scale, there may be some unpleasant surprises when it comes time to empty the bin this year.  If you have a tank that usually holds 100,000 bushels and you only pull out 93,000, you are probably not going to be pleased.  At current prices, that would be somewhere around $26,000 or possibly $50 per acre less revenue.  Now, I recognize that this does not represent every bushel of corn across the nation, nor does all corn go into the bin before being scaled. Still, it is a reminder that even the "final" production report in January will be a far cry from the final word on yields this year.  I would make one final note on this though.  If you are experiencing lighter test weights and have been drying higher moisture corn this year, recognize that there is going to be significantly more breakage and fines, so the need to core bins and keep a watchful eye out on the conditions once in the bin is all the more critical this year.  Do not fill it and walk away.
In other news, more information has been released from the Reuters survey of Brazilian consultants, and they estimate that the total corn planting will increase in that nation 3.5% this year to a record 18 million hectares.  One might have suspected with the late start to planting this year, that would not have been the case, but there is the economic incentive to do so.  The survey also projected a total crop of 101 MMT, which would be up slightly from last year, but interestingly enough, that is the same number that the USDA is already using in world estimates. Take note, though, that even if all this comes to fruition, Brazil may still need to import corn this year.
The USDA will update supply/demand and global production estimates next Tuesday, but ahead of this on Friday, Stats Canada will release production estimates for that nation.  Pre-report estimates are looking for total wheat production of 32.5 MMT, 19.6 MMT of canola, 6.1 MMT of soybeans, barley at 9.8 MMT, oats 3.9 MMT, and corn of 13.7 MMT.
Finally, I would be remiss if we could not mention something about China as that almost seem to be a requirement these days.  Even though the government is trying to assure everyone that there is enough pork coming in and in storage to satisfy demand as they move into the New Year celebrations, restaurants in that county may beg to differ.  Wholesale pork prices are up 168% on the year, and many are concerned if they can even secure supplies.  Further complicating life for them is that reportedly, most cannot pass the higher prices on to the consumer.  Some have resorted to featuring other meats such as chicken, but it is up 33% for the year, and pork remains the traditional and favorite dish.