Published on:
10:08AM Jul 17, 2019
It was another day out behind the woodshed receiving additional punishment for the bull children, but they were somewhat bewildered as to why it was really deserved.  Had they become complacent or maybe even a bit cocky, believing they could ignore all the changing factors on the landscape and just needed a reminder that we should never take anything for granted? That is certainly a possibility, but I suspect the market disciplinarian has done a pretty good job of weeding out a few of them and we should soon be able to refocus on the abundance of risk and uncertainly there is concerning crops this year, not to mention the fact that there remains many unanswered questions about acreage. As it stands right now, on average all we have really done is to return the gains posted last week.   
A relatively broad swath of the upper Midwest continues to deal with oppressive heat and at best, scattered showers, but relief appears to be on the way after this week.  Of course, that is what stimulated the selling on Monday and Tuesday this week but considering that both the 6 to 10 and 8 to 14 day outlooks call for below normal temperature and precipitation for the heart of the corn/soy production areas, I am not too sure that should be considered overall beneficial for crops.  We absolutely need to see temperatures, particularly east of the Mississippi, remain consistently warm if we hope to bring corn especially, to maturity before Jack Frost arrives and that could be a difficult task in light of these latest updates.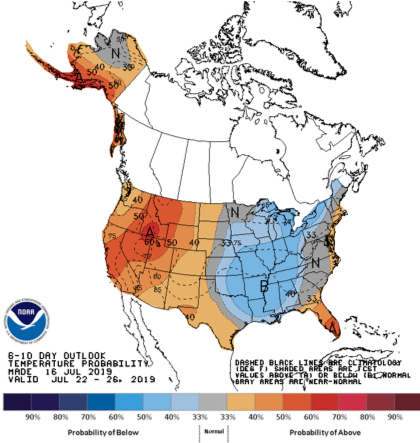 While it may be just setting the stage for the next negotiations, President Trump has made a note of the fact that China has not been buying any more U.S. Ag products which he insists they promised to do after the last conversations. He tossed out the idea (threat) that the administration could place tariffs on an additional $325 billion of Chinese goods.  
Outside of this, the overall news is rather sparse, so we live from weather forecast to weather forecast, which is really pretty typical for a summer market. Export sales will be released in the morning, but of course, have been none too supportive recently.  Macros are relatively lifeless as well with energies firm, metal soft and equities and the U.S. Dollar both weak.