Published on:
20:23PM Aug 01, 2017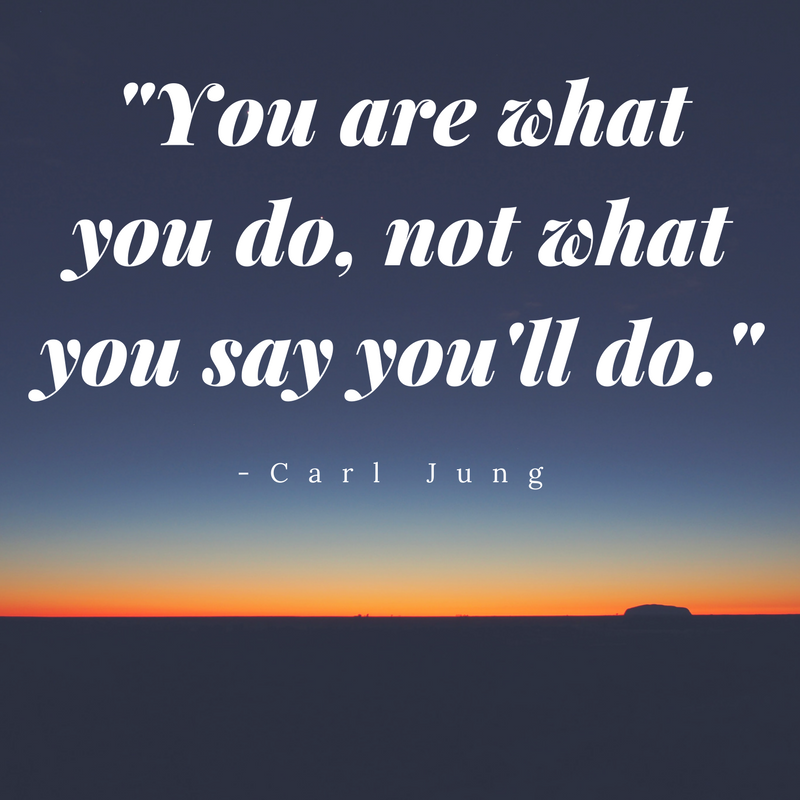 Actions always speak louder than words, don't they? Yes, when someone tells you they are going to do something, you only know for certain when you see that it gets done. Or, when you tell yourself that you are going to do something like start a business, write a book, or lose weight, telling alone is certainly not doing. Nope, to move forward with whatever you want to achieve you simply must ACT. Philosopher, Carl Jung said: "You are what you do, not what you say you'll do." 

Mike Paton, writing for a recent EOS blog, summed it up even better "As clear and simple as that statement is, I've seen hundreds of leaders behave as though it doesn't apply. If you want to quickly kill your culture, consider making that mistake yourself." I agree with Mike and I, too, have seen many executives and key employees paralyzed by inaction. I have to admit, I've let myself get away with this at times, too. 

If you are presently stuck or just want some fresh ideas, I'd like to offer a solution with my brand new e-book, 50 Ways to ACT Like a Pro - it debuts today in this blog! Download your free e-book here!
In this book I share my story of 'turning pro' and moving myself from being stuck working on projects I didn't enjoy to growing my consulting practice in executive coaching and training that I love! I also share 50 unique tips for ACTing like a pro. Here's a short excerpt:
 
How (and Why) I 'Went Pro'
"By 2013, I'd been in business for myself a nice round decade. Much of my early work related to doing strategic planning sessions for cooperatives, boards, and committees as they worked through change or launched a new organization. Its work I still enjoy
today. Along about 2007, I was leading a group and we had just finished a shiny new strategic plan. I was pretty proud of it and the group seemed enthused, too. At the roll out meeting, one of committee members had an idea – he wanted to pursue a grant to fund the next step. He said: 'Sarah, you're a writer, why don't you just fill this thing out?' Well, I had never written a grant and didn't really want to start. Grant writers brought to mind the image of a stodgy librarian with a messy gray bun and a lack of fashion sense – not how I saw myself! However, I was young and ambitious and figured 'how hard could it be?' So, I put the grant together.  
We didn't win it.
The curious and competitive person in me decided to ask why and with a little education, I applied for the group's next grant in 2008 and we won. Surprisingly, more people heard about 'Sarah Aubrey, grant writer and they started calling (how did that happen?). Suddenly, it was a business."
Finally, here are 5 of my favorite tips from the book, but don't forget to download and share the rest of the book! As always, contact me if you'd like to learn more about my training and strategy workshops and for executive coaching. Download my ebook here!

Five of My Favorite Tips
10. Go to events completely outside your network. Skip one boring conference this year and attend something totally different! 
12. Ditch some negative baggage that you don't need, especially negative self-talk! .
27. Limit the time you spend doing mindless things –invest your 'down time' on something that you actually want to do. What a concept! 
37. Have a hard conversation or a bold conversation with your supervisor about where you want to go next. 
48. Update your resume and send it in for an interesting job opportunity – even if you're not exactly looking. Interviewing is excellent for challenging yourself. 
 
ACT like a pro out there!