Published on:
08:53AM Jan 21, 2020
It is a new week, and traders were given an extra day to reflect on all the reports and ceremonies that transpired last week and evidently came to a conclusion; been there – done that.  The one exception would appear to be wheat, which is trying to climb a bit again this morning, but the market action that would seem to demand a few comments after the past couple sessions is without question corn.  For reasons still unbeknownst to most rational thinking people, the corn market flushed to the downside last Thursday and recorded the lowest close since the eleventh of December.  Had bearish funds decided they were back for the pound of flesh, they were denied at the end of the year?   Obviously, if that was the plan, it was not a very good one as prices rallied back sharply on Friday and not only regained the previous day's losses but posted the second-highest weekly close since the first of November.  Please take note that with the pressure this morning, we are back at the same point that we closed at on Wednesday.  It is difficult to describe such action as anything but non-sensical and is the type of trade this I refer to as "market noise." I continue to maintain; the corn market is at a point of value and will require a new or fresh element to carry us away from this range.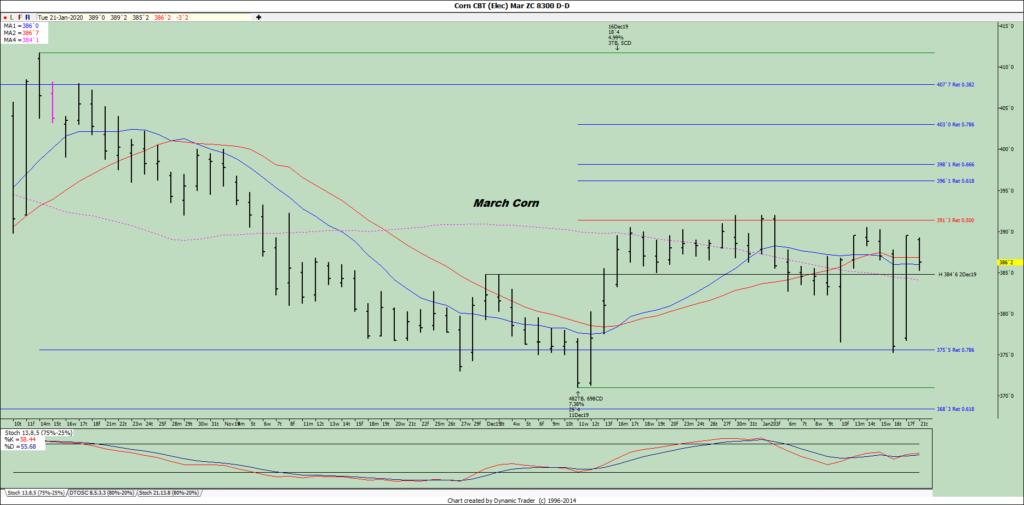 While certainly not unexpected, the U.S./Chinese trade party last week probably did not create and optimism in Brazil, and the news coming from there since, has not been encouraging either.  Soybean harvest is moving forward at a snail's pace as, according to AgRural, just 1.8% have been brought in thus far.  A year ago at this time, they had harvested 6.1%, and while that was an unusually fast pace, it gave them a real jump of planting safrinha corn.  With so few beans harvested, it is difficult to get a pulse on yield, but early reports are as expected.  Dr. Cordonnier left his estimate unchanged this week at 122 MMT.  If the thoughts of losing ag trade to China were not enough of a punch in the solar plexus of Brazilian ag, there was a story this morning that Chinese importers are now trying to renegotiate prices for beef that had been purchased from Brazil.  This is not only for beef that has been contracted but also for the product that has already been delivered, and some importers are now refusing to pay for unless prices are discounted.  As the old idiom warns us, you need to be careful what you wish for as once you have it, there may be unpleasant consequences.
Speaking at the Farm Bureau annual convention yesterday, Ag Secretary Purdue assured the crop that the 3rd tranche of $16 billion in assistance will be forthcoming but that he did not envision the need for additional aid in 2020.  We all hope he is correct.
The next "big" item on the agenda will be the annual USDA Agricultural Outlook Forum, which will be held on the 20th/21st of February.  As always, this will provide us baseline numbers for 2020 acreage and yield and should get the trade forward looking for this upcoming season.