Published on:
09:57AM Nov 20, 2019
Obviously suffering from a case of trade war rumor fatigue, grain and soy markets are offering us a mixed bag of actively this morning. Corn is weak, surrendering most of the meager gains from yesterday, and wheat is under minor pressure after recording two higher closes in a row. Beans have managed to extend strength for a second day, supported by soy oil, but even then, remains below last weeks close.   The oil market received a little extra boost from reports that Indonesia and Malaysia will see little growth in production this coming year.  All in all, though, we have rather lifeless markets that are in need of a jolt to bring them back to life.
With little fresh to focus on in the grains, we might as well take a peek at outside markets.  As you are undoubtedly aware, the traders in equities have evidently been more optimistic concerning a break-through with on a U.S./Chinese trade package than their cousins in grain/soy markets.  Since gapping above the July peak at the end of October, the S&P 500 has recorded new record highs each week and is on a streak of six weeks in a row of higher closes.  If this strikes you as a bit odd in lieu of much of the recent economic data and the stalemate between the U.S. and China, you are by no means alone.  It is good to be the only game in town.  That said, both the equity markets and the U.S. Dollar technically appear very vulnerable to a downward correction.  Will the dollar crack first and drag equities lower, or will it be the other way around?  That sounds like a chicken or egg type question. Still, I continue to maintain that the spread between equities and commodities have reached unsustainable levels, but until we have seen the dollar/equities turn lower, the commodity sector will remain lifeless.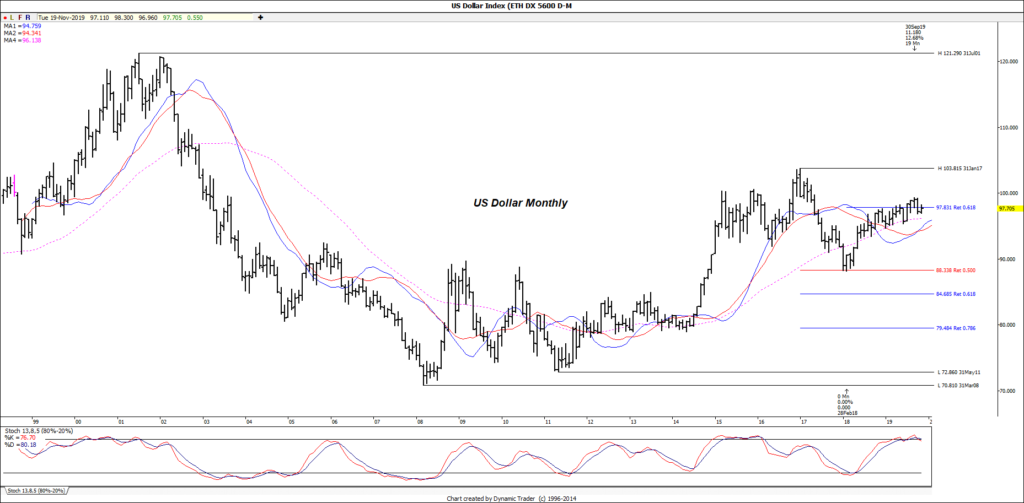 One final note this morning.  It was 34 years ago on this date that a new window for the world was opened, via something called Microsoft Windows version 1.0. Of course, it has gone through a multitude of upgrades and revisions since that time but unquestionably introduced the public to the world of computing, without the need to learn an entirely new lexicon of commands and various keyboard backslashes. It also introduced us to the joys of a frozen screen, the control-alt-delete function, and the need to save your work on a regular interval.