Published on:
14:43PM Mar 03, 2011
A few weeks back we started a series of posts teaching you how to use Twitter.  We fell off the wagon as the Agriculture tradeshow season took over my blog, but this week we are back to "Twitter Thursdays".  Today I'm going to show you how to set up searches on Twitter.  Searches are super beneficial if you have specific interesests in certain topics like beef, farming or markets.
Type your search term in the search bar and hit enter. Your screen should look like this: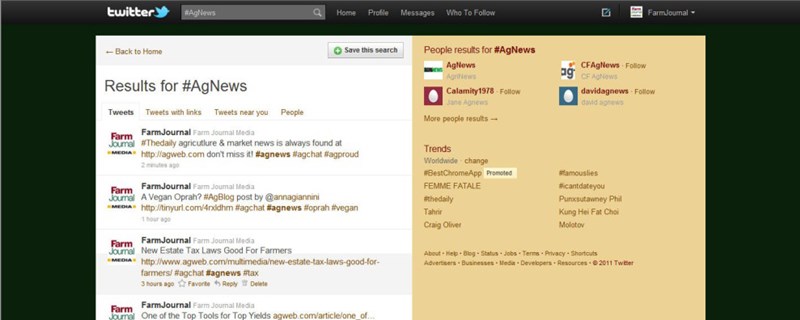 Next click the "Save This Search Button":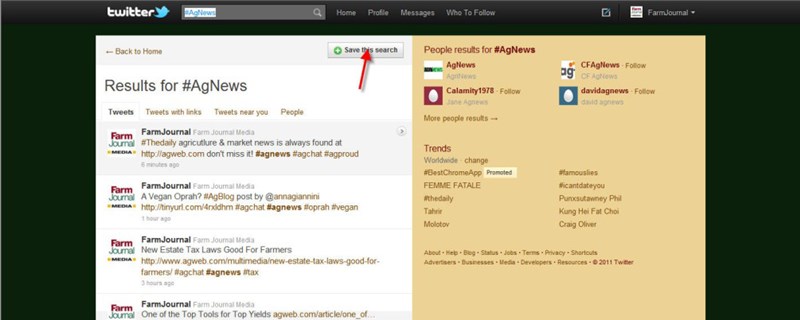 This search will now be saved in your searches so you can use the search drop down, click on it and find any Tweets containing that term. The drop down search screen looks like this:
Simply click on the search you would like to view and this screen will appear:
Now if you're anything like me you will be so interested in such a wide variety of topics that Twitter search lists just won't cut it and you will want to download a program like TweetDeck to manage your search columns.
Happy Tweeting!
Of course you can always contact me for help if you need it. [email protected] or @AnnaGiannini (Twitter) and don't forget to find us on Twitter! @FarmJournal