Published on:
15:00PM Aug 13, 2018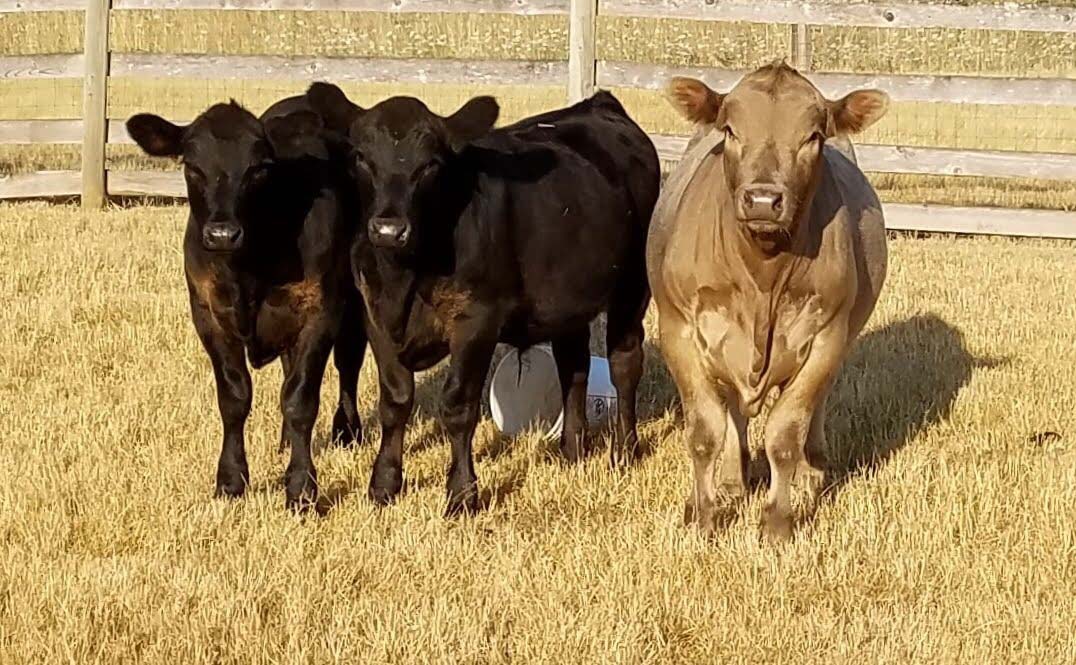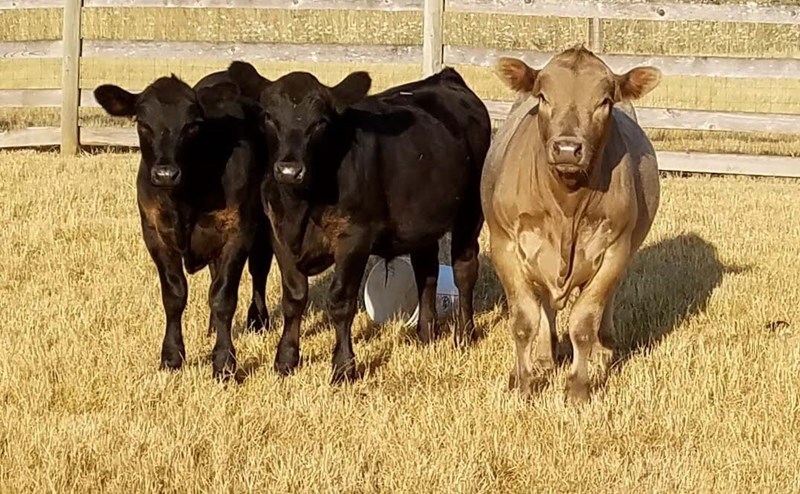 Just as she had the morning we left for the Montana stockdog trials, 12.5 year old Cricket had injured her neck again, leaving her unable to continue with dogbreaking the calves.  We needed this done, because the Australian Shepherd National Specialty is in mid-September, and Rosie had 3 shots to get her Advanced Cattle title.  We needed those boys working together, as a group, and respecting the dog.
So, we made the decision to throw young pup Rosie into the pen, and let her work it out.  Cricket wasn't going to be around forever, and it was time the little sprite learned to take over her jobs.  But, I had the OSU vets on speed dial, just in case.
Kidding.  I ALWAYS have the OSU vets on speed dial.  I even have some of the doc's personal cell numbers on speed dial.  We do love our large animal vets and their students.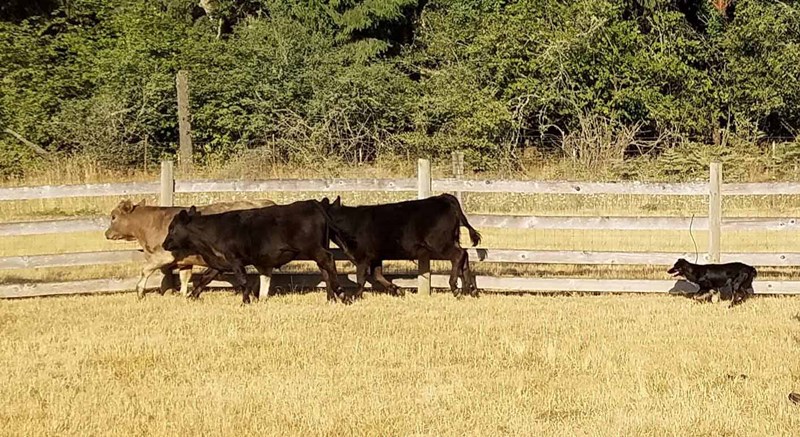 Falcon, Joy's boy, is a bit of a pill.  He'd rather not, thank you.  Finn, Ruffie's son, is a good boy, and he wasn't any problem at all, unlike his mother.  Flash, the dun bull calf, had a few 'no, really, you don't mean that' moments. 
5 minutes into the first session, as you can see in the above picture, this was where things stood. 2 black steers and a dun bull, 1975 pounds combined, being told where to go and how fast to get there by 31 pounds of tiny black tri Aussie.  And, she's obviously loving life right about then.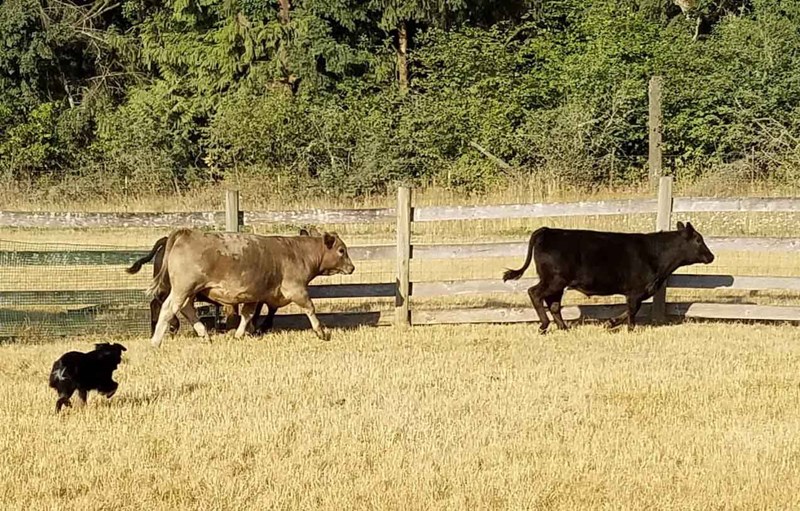 This was one of the times that Flash kind of got a little stubborn.  And, Falcon went right along with that.  Rosie didn't earn the nickname 'Rosie the Riveter' at cattle camp in Montana because she was shy about pushing the limits.
Sadly, I didn't get any clear shots of her outstanding heeling abilities on the balky boys.  Suffice to say, it only took a few of those before she got them where you see them in the picture below.  Tightly grouped, and not willing to challenge the little black dog.
Just to be clear.  In a good working cattle dog, a heel, also called a grip, should NEVER draw blood.  It's a pinch, and when it's done right, it's as low as possible, between dewclaws and heel, momentary and on the leg with the weight on it.  You cannot teach a dog to do this.  It is bred into them, by generations of dedicated cattlemen and women, selecting for the right traits in their dogs that make their jobs easier, and safer.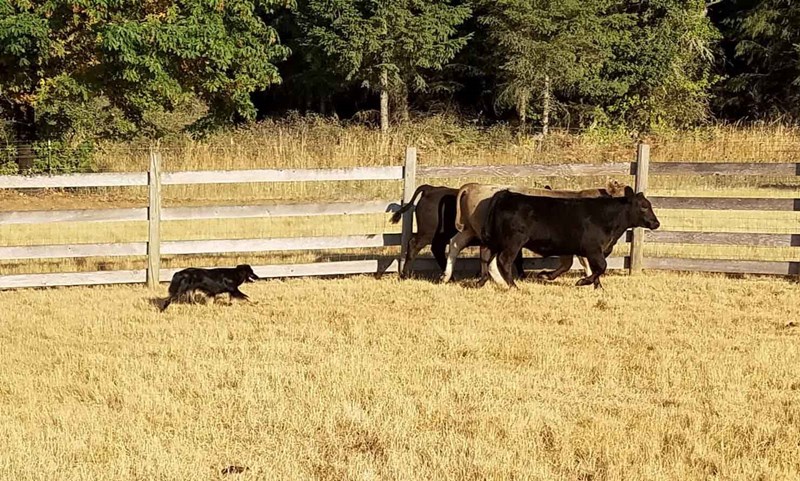 Being a young dog, Rosie pushes a little harder than she needs to.  Cricket would have been quite a bit further back, and walking, and the calves would have been walking as well.  This will come with miles.  As she's not yet 3, she has plenty of time to stretch her talents and learn what works best in any given situation.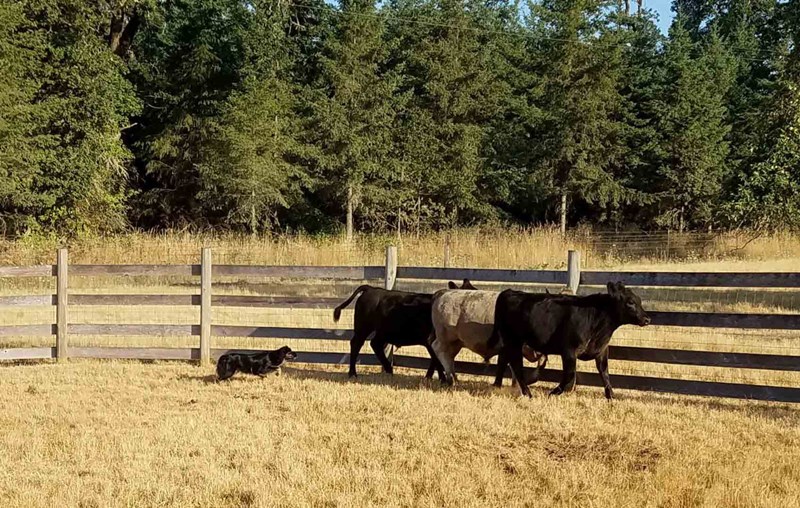 Falcon, again.  He's about to get heeled for his lagging.  And, I missed it, of course.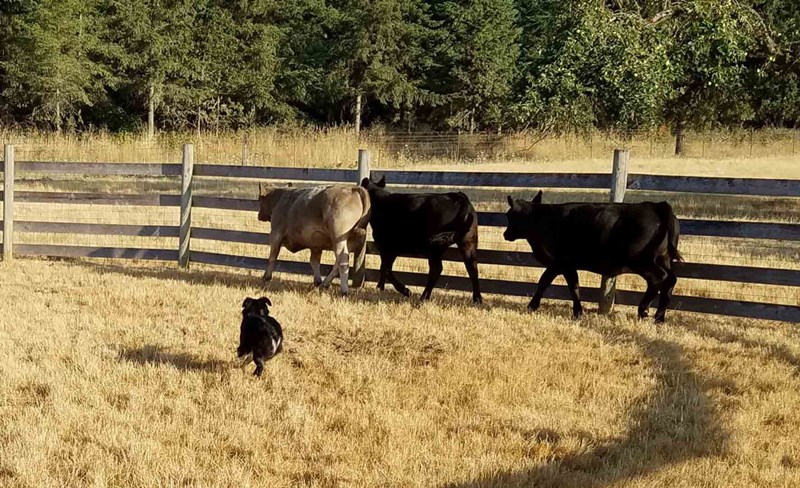 One thing that's hard for a young dog, especially on not really dog broke young cattle, is going to head and turning them.  She has already turned them once, and is being asked to go to head and turn them again, something she's not completely comfortable with.  Her handler will back her up if needed, both to make sure she doesn't get hurt, and to to help build her confidence in doing this touchy maneuver.
Here, she's coming in too hot and too sharp.  She's already cut Finn in the back off from the other 2, and is pushing Flash into the fence.  Her handler will take control of her right here, and bring her back out to where she should be, as you can see in the next picture.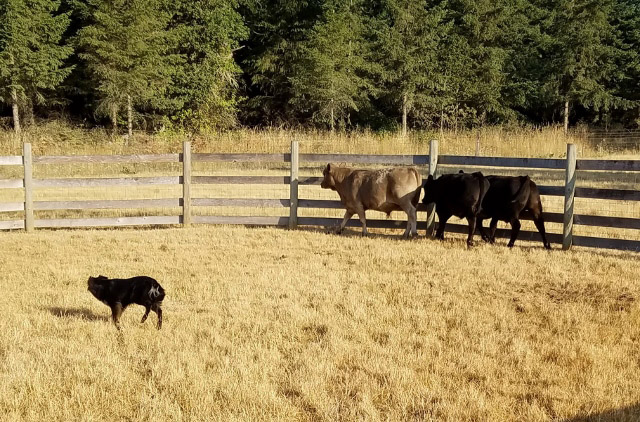 Finn is back with his boys, Flash isn't in the fence, but Rosie still has his eye.  At this point, things have slowed down, the calves are more comfortable, and Rosie is getting the feel for being in the right place, without losing contact.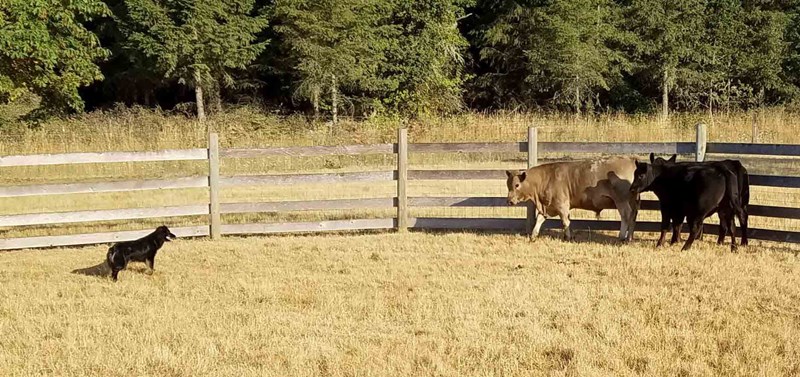 Now, the hard part.  Young dog, lacking some confidence, but standing her ground.  Young bull calf, dropping his head, giving it a think.  2 steers, figuring they'll just do whatever Flash does in the interest of not getting heeled.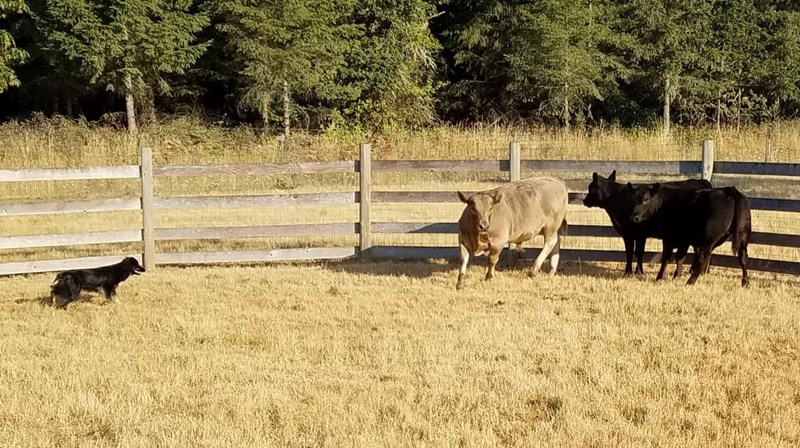 All it took was a few steps, a hard look, and there goes one bull calf, turning his head, reversing course.  The two steers are about to follow suit.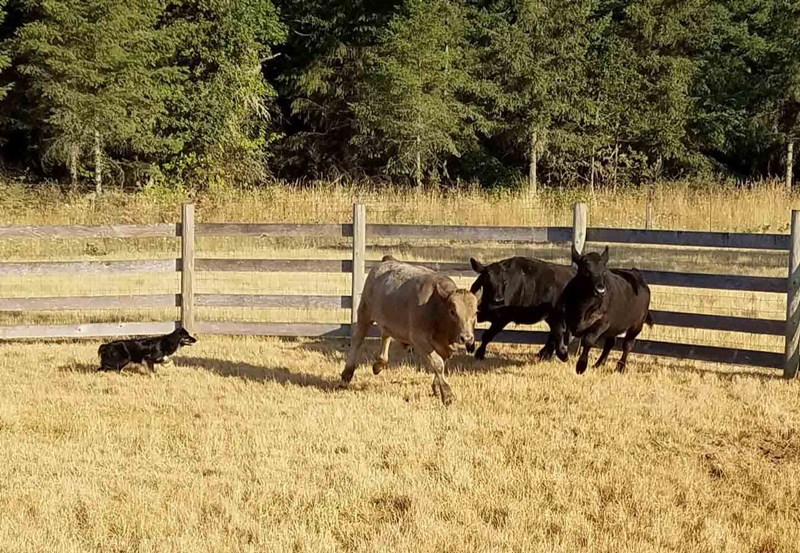 No, it wasn't the prettiest of reverses.  She got a bit hot, once she found her power and they started to turn, but it was a victory.  At this point, she's looking at Finn, the steer in the middle, who started to push by everyone and go the other way, until he found those intense eyes and pearly white teeth staring him down.  At that point, he decided discretion was the best course of action, and there was safety in numbers.  If you can imagine being such a tiny creature, and finding these giants staring at you, and then finding the courage and power to say 'go the other way or else' - and it WORKS - you'd be well on your way to understanding how huge this was for this little spitfire.  Confidence with cattle is paramount for the safety of all involved, and there is no substitute.  A rip and tear dog will just make your cattle mad, and mad cows, if you'll excuse the pun, are no laughing matter.  A rip and tear dog will just get people and animals hurt or worse, and will do nothing but bad things for your shrink at the scales.  A confident dog will work quietly, efficiently, and everyone benefits.
We are so proud of her, and if you want to see her in action this September, she'll be at the ASCA National Specialty at Island Grove Park in Greeley, Colorado.  You can visit www.ASCA2018.com for information.  The first pretrials are the 24th and 25th, and the Nationals trials start the 26th through the 28th.
See you there!