Published on:
19:28PM Apr 14, 2015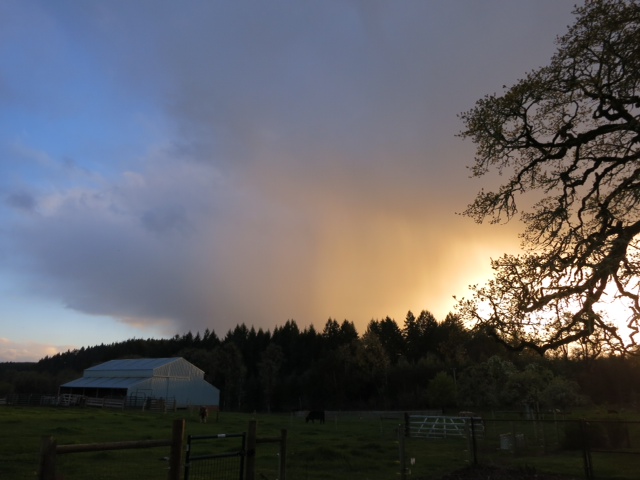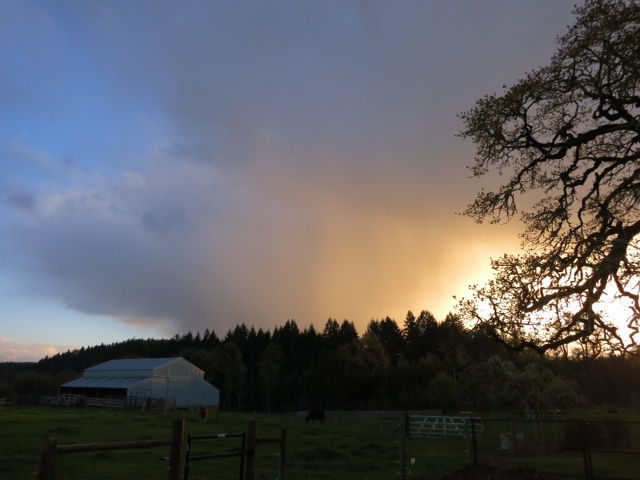 Living where we do, in the foothills of Oregon's Coast Range, we have a front row seat for the awesome spring storms that roll in from the Pacific.  Saturday's show was no exception.
We need the rain.  Don't we always?  Listen to your local ranchers and farmers natter at the feedstore.  There's either too much or too little of (insert weather event here) this year.  Too hot.  Too cold.  Too much sunshine.  Not enough sunshine.  For some farmers, even the moon is wrong at times.
We can't change the weather, but we sure can talk smack about it.  Me, I just grab a camera and enjoy the show while it lasts.  I know summer is coming.  I expect it may be a brutal one, like the summer of 2006 where we set heat records for a week straight.  Living in a home built in 1879, air conditioning is that heavy box we stick in the window of the bedroom and pray it doesn't blow a circuit breaker or set the house on fire.  Otherwise, I do the 'window fairy' dance in the mornings and evenings.  Open the windows at night to catch the brisk sea breeze from the west and blow all the day's heat out.  Shut all the windows and blinds in the morning to try and keep as much heat out as possible.  Repeat daily for 3 months.  It works, pretty much.  Someday, when I get rich ranching cattle, I'll get more insulation in the attic and install solar powered attic fans to help push the hot air out all day long.
Until then, I'll do the window fairy dance and take pictures of scary but beautiful storms.
See the latest storm pictures at http://morganriver.blogspot.com/2015/04/storm-watching.html