Published on:
08:43AM Sep 19, 2011

By Zeb Prawl
At a time when the nation's cow numbers are still falling, increasing the productive life of a cow is worth more than ever. A decrease in calf numbers has raised calf prices, which will continue. Drought has crippled major cow–calf areas, and even those cows may not be there much longer. Now is the time to make sure cows are earning their place in the herd.

The cost to replace a cow in the herd today is substantial. If you keep replacement heifers, two years of feed costs along with their worth as calves mean those heifers are worth $1,400 or more by the time they have their first calf. If you buy young bred cows, be prepared to spend more than ever. While these costs are high, the good news is that calves are selling higher too, so it is possible to recoup your investment within a reasonable amount of time.

How long does it really take to get that money back? If you look at more than just initial cost, the answer is: Longer than you think. The table below illustrates the flow of money from initial purchase of a female through several years of production, taking into account feed and interest costs.

In this example, a cow doesn't actually turn a profit until she is six years old (as shown with the negative number). If that cow was open as a four-year-old, she would be sold with her salvage value and three calves, netting you $248.59, or $82.86 per calf profit. However, if she doesn't come up open until after her seventh calf, her net calf profit is $228.52 per head. Keeping her bred every year is of the utmost importance!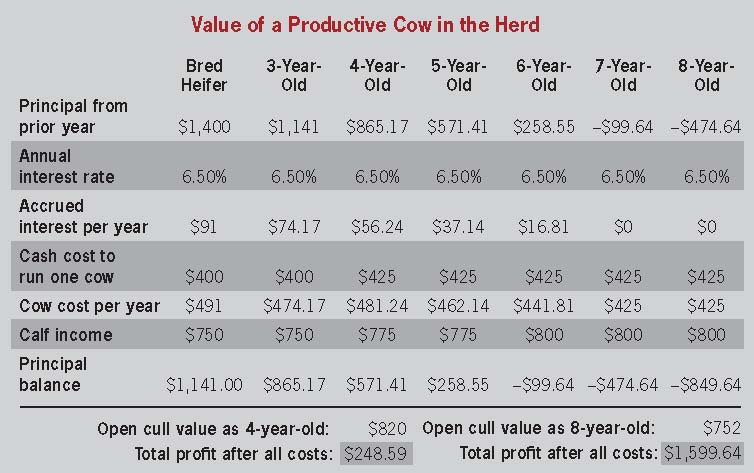 A solid nutrition plan is the key to keeping cows in the herd longer. It is easy to look at high feed costs and be discouraged. But calf prices are extremely high too. The reward is still there.

Cutting back on nutrition will not make you more profitable in the long run. If some cows missed a breeding cycle from lack of nutrition, how much would that cost? If you had 100 cows and 50 of them didn't breed on the first cycle, that would be about 20 days of lost calf growth due to later calving times next spring. If those 50 all bred in the second cycle, you have 50 calves that lost 40 lb. each (2 lb. per day gain for 20 days). At today's calf prices, that would be at least $2,800 in lost revenue due to one missed pregnancy cycle. That could almost pay for a year's worth of mineral for the entire herd!

I could offer more examples, but the bottom line is: You can't starve a profit out of your cows.
ZEB PRAWL is a ruminant nutritionist with Great Plains Livestock Consulting, Inc., located in Eagle, Neb. For more information, visit www.GPLC-Inc.com.