Published on:
05:09AM Dec 09, 2019
I am scheduled for early morning travel to begin this week, so the daily comments will be a bit shorter than usual.
That said, we do not have an abundance of news as we begin this week and have been confronted with steady to slightly soft action in grains while the beans have extended their recovery tour for a fifth day. While it has been nice to see it would seem questionable as to how much longer the bean band can keep the tour going seeing that the music they are playing is certainly not fresh or original, and the critics from managed money magazine continue to provide quite negative reviews.  Last week they continued to pile on the criticism and were reported to have sold another 46,000 tickets in futures alone.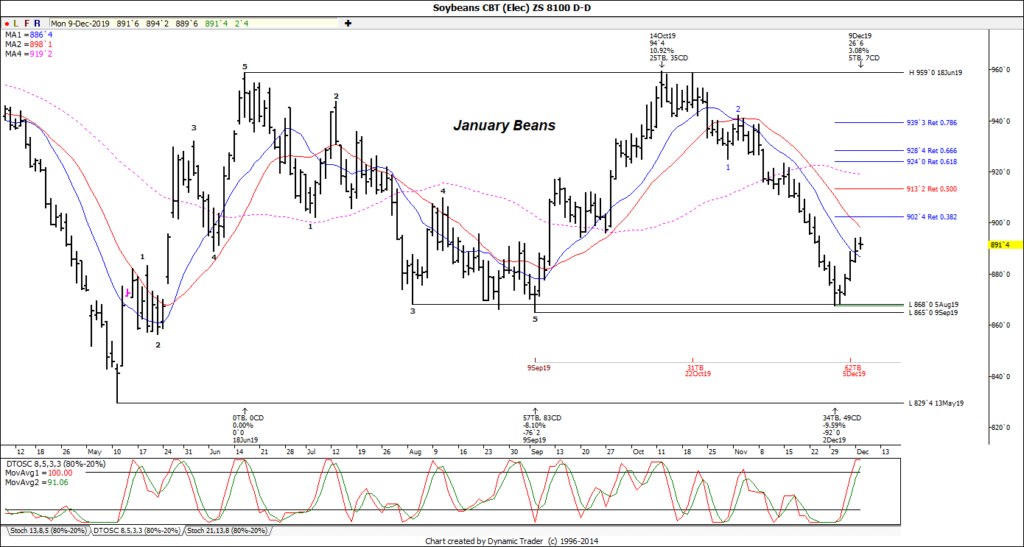 Beans did have a little pseudo positive news from China.  They continue to grasp hold of the story from late last week that as a goodwill gesture, China has offered to suspend tariffs on some U.S. beans and pork from China, and November imports into that country were higher as the beans purchased during the previous truce reached their ports.  All told they imported 8.28 MMT for the month, which is up 54% from a year ago and 34% from October.  For the first eleven months of the year, total bean imports were 4% lower than in 2018.
INTL FCStone has now moved into the top position, or maybe I should say bottom position for holding the lowest estimate for the Australian wheat crop this year.  Their estimate now stands at 14.97 MMT, which is 5.6% below the official government number of 15.85 MMT.  While this would not appear to have provided and price support this morning, it should underpin this market as it works through the current correction.  Down in Australia, wildfires continue to spread and are now even approaching Sydney.
The USDA will release crop updates as scheduled this afternoon, but with the exception of farmers in North Dakota, Wisconsin, and Michigan, who are already well aware of their unfortunate plight, will probably not much of a market mover. Of course, we do have the December NASS reports on tap for tomorrow, and while it should be a non-event, here again, are trade estimates; For domestic corn, the average estimate is 1.861 billion bushels, compared with 1.91 last month.  Beans are expected to come through at 474 million versus 475 and wheat at 1.009 billion compared to 1.014 billion.  For the global ending stocks, the average estimate stands at 296.1 MMT for corn versus 296 last month, beans at 95.9 MMT instead of 95.4, and wheat at 286.9 MMT versus 288.3.