Published on:
20:00PM Nov 23, 2015
A fast and active weather pattern will have temperatures plunging in the Rocky Mountains this week but then surging the other direction next week. Here are the details.
THIS WEEK (23-29 Nov): Temperatures will go on some wild swings from cold to warm and cool again but overall the week is going to trend the warmest in 4 years for the U.S. overall and 1.1F warmer than average. National rainfall is near average, making it the driest late November period in 3 years but all the rain is pretty much in the South Central U.S. where it will be particularly wet with widespread 2-5" amounts. The West Coast also gets in on the stormy weather with more rain for Central California. Snowfall was much above average last year this week but this year it's trending 20% below average for the U.S. overall and 53% less than last year's very snowy end to November. This week last year brought a decent snow storm from the Southern Appalachians into New England with 4-10" amounts, about 6" here at wt360 headquarters (Lehigh Valley PA) last year - not this year!  LARGER MAP VIEW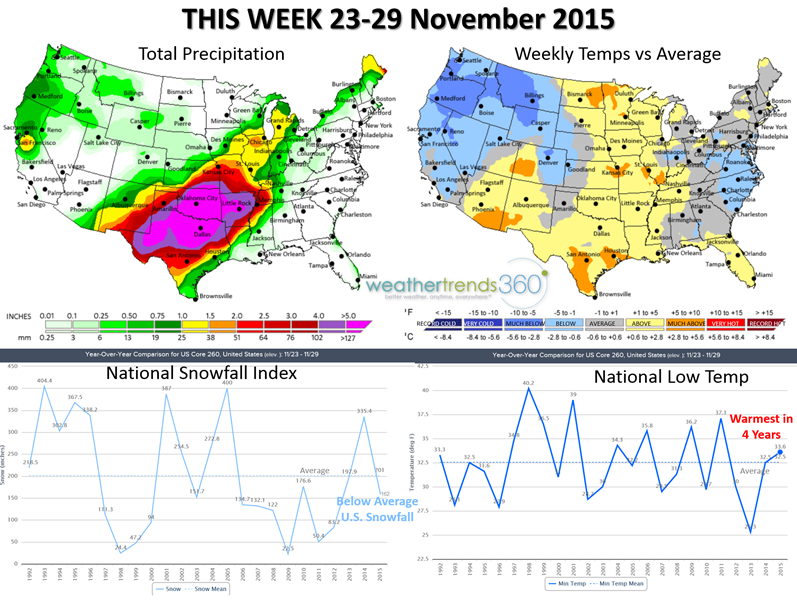 NEXT WEEK (30 Nov - 6 Dec): Temperatures again trend about 1F above average for the U.S. overall which is similar to last year. A bigger warm up for the Western half of the U.S. and Northern Tier of the country while the Southeast is the cool spot. Rainfall is off the charts with heavy rainfall for the West Coast and Southeast. With such and active and fast up and down weather pattern it is possible for some snow but too early to try and pin down exactly where and when. A typical fast and active El Nino weather pattern.  LARGER MAP VIEW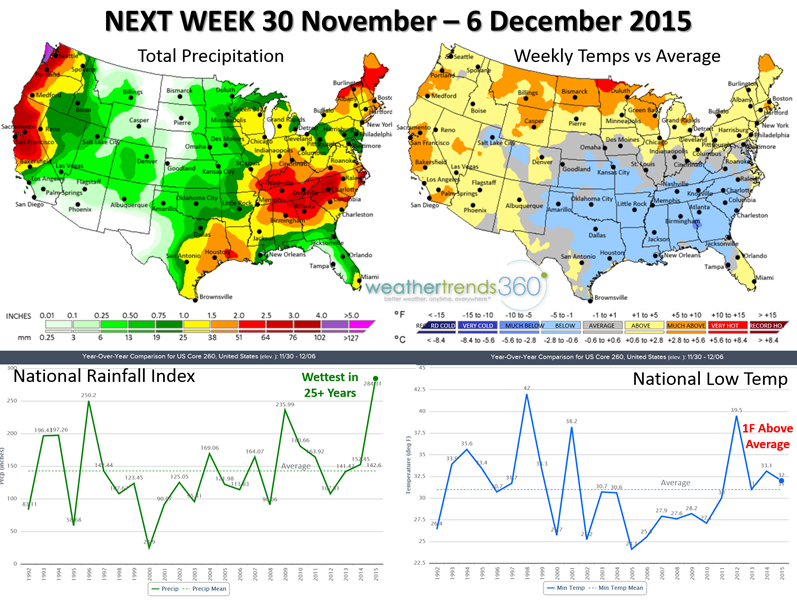 Thanksgiving Holiday Travel Outlook CLICK HERE.  If you're on facebook...you'll love our wt360 fan page. :)
Have a blessed and wonderful Thanksgiving folks! - Capt Kirk out.