Published on:
09:21AM Aug 23, 2019

A couple of baby steps forward, and one big adult step backward would seem to be a reasonably accurate description of the action in the grain and soy markets over the past few days. The combination of yield reports from the ProFarmer tour that did not reflect the same type of potential as did the USDA as well as the fact that we are sitting in a very oversold technical position after this recent smackdown appear to have at least injected a little stability to prices, but this morning it would appear that any bulls that were remaining in the ship have leaped overboard. Of course, news this morning that China has identified another $75 billion of US goods that it will be increasing tariffs on, including ag products, may have provided a little extra nudge.  If we closed at this time, for the week, December corn would be down 14-cents and right at the calendar year lows, November beans down 16-cents and December wheat down 8-cents.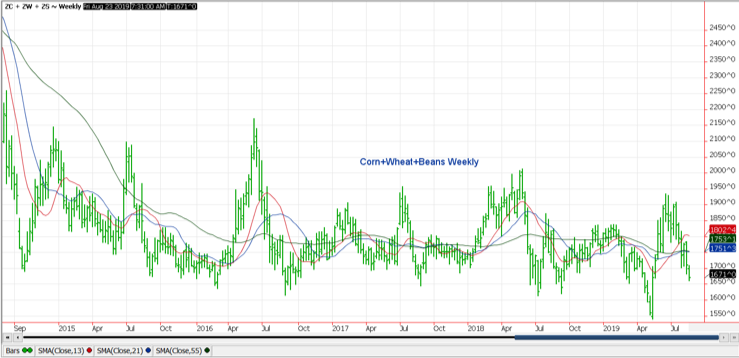 While the final number will not be released until later today, the tour results from Minnesota and Iowa yesterday appear to have verified what the group encountered in the other states; the numbers do not jive with the USDA findings. In the land of 10,000 Lakes, they came up with a corn yield of 170.3 bpa, which would be 4.6% below last year and 1.5% below the USDA estimate.  The bean pod count was 965.3, down 11.5% from a year ago. Just a bit further south in the Hawkeye state, the tour came up with a corn yield of 182.8 bpa, which is 2.8% below last year and 4.3% below the USDA August estimate.  A similar result for beans with a pod count of 1106.9, down 8.5% from last year.  It is worth noting that most who have been traveling this summer regard Iowa as the overall best-looking state in the Midwest. 
While this will come as a shock to no one but could rub salt into the existing hog industry wounds, China released July pork import figures and reported that the nation brought in 182,227 MT in the month, up 107% from the same month last year.  The price of retail pork is 46% higher from a year ago as well.  For the first seven months of the year, overall imports of pork are up 36%, beef up 83% and chicken up 39%, so it would appear obvious that the country is doing all it can to secure meat protein of about any kind.  I do not have the statistics on fish, but there have been concerns from other Far-Eastern nations that China would be increasing efforts to harvest all they can from the Pacific Ocean.  It should be noted that as of the end of June, U.S. exports of pork to China are up 37% and beef exports up 6% but our total pork exports for pork are down 1% and beef down 3%.  When it comes to meat trade, it is debatable if tariffs or a strong dollar are having the most significant impact, but of course, the two factors are interrelated anyway.