Published on:
09:43AM Nov 20, 2012
About the blogger: Michele Payn-Knoper is the founder of Cause Matters Corp., company designed to build connections around the food plate, in 2001. Cause Matters Corp. focuses on agricultural advocacy, social media strategy, community engagement and growing a food movement. In each of these four core areas, Michelle helps organizations clearly identify issues, understand their audience and connect solutions.
Regardless of your religious beliefs, most Americans will give thanks of some sort for their Thanksgiving feast on Thursday. After all, the holiday is supposed to be about thanks giving, not gorging yourself or early Black Friday sales. It is literally a time to pause and appreciate what has come before you, both in history and on your table.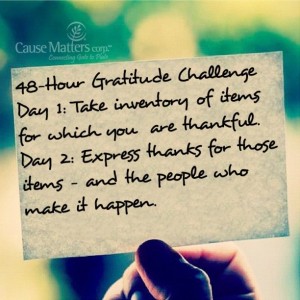 In today's just-in-time, information overloaded, get it done yesterday culture, I suggest we pause more to consider the grace of giving gratitude.  How many times have you stopped to be grateful for the food, shelter and basic necessities you enjoy each day?  And the hands who help provide those? I'm terribly guilty of rushing from one thing to the next, with little time to pause and actually think, much less give thanks. Yet this time of the year always reminds me to do better in have the grace to give gratitude.
Join me in a little challenge. In the next 24 hours, take time to inventory of what you are thankful for. Start with your life and health, then move through each item of your day to measure how much you're taking for granted. I think we'll find a tremendous amount if we are specific. Then in Day 2, spend the next 24 hour expressing thanks for each inventory item – all those who make it happen. Do so in whatever form you wish – a photo to share with friends, passing on thanks to another human, participating in #Foodthanks, your activities on Thanksgiving Day, a simple prayer, a note of thanks, encouraging a child, or surprising a person with kind words.
Gratitude. It is such an overlooked part of society these days – I challenge you to change that, even if you're not in the States. Our family's grace on Thanksgiving will include thanks for our Provider, our health, the people who raised our food, the animals sacrificed, the people who helped bring it to the table (processors, truckers, retailers), the hands that prepared it and the friends with whom we enjoy the celebration.
Before the big Thanksgiving celebration, I'll be investing 48 hours in an gratitude inventory and then communicating my thanks. One of my favorite ways to do that is to look at the food plate and the collective hands around it, talk about those people in #Foodthanks (on Twitter or Pinterest) and the corresponding #Foodchat party. I hope you'll join me in expressing gratitude. After all, if we don't have enough grace to say thanks, what do we have?