Published on:
13:15PM Nov 01, 2017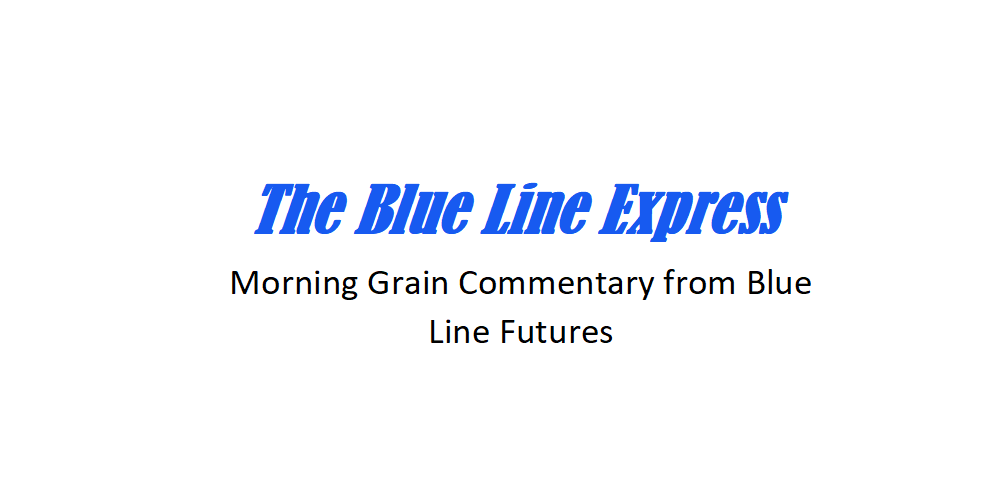 If you are interested in receiving our morning updates and are not yet on the distribution list, please email Oliver@BlueLineFutures.com.
You can also reach us at 312-278-0500
""
CORN (December)
Session Close: December corn futures closed 3 ¼ cents lower yesterday from Mondays last trade, trading in a 3 ¼ cent range.  Funds were estimated to have been sellers of 7,000 contracts on the day.
Fundamentals: There have been a few nuggets of new news offered to the market but has not been able to garner attention as price precedes news (a narrow trading range means no "big" stories).  Weather may be coming more of an (isolated) issue for producers who still have crops in the field.  Reports of high winds in the corn belt have dropped some yields significantly, primarily South Dakota, Nebraska, and Iowa.  Weather watchers will want to start transitioning their attention to South America as they round out planting and enter the crop development stage.  Recent rains in Brazil have been seen as friendly but the next two weeks look to be drying out again.  The weekly EIA ethanol report will be released at 9:30am cst, we will have those numbers in tomorrow's report.
Technicals: The market continues to drift closer to the bottom end of the rang which we have defined as 342 ½-344 ¼.  This pocket represents contract lows and closing lows, both of which have were cemented within the last month.  If the market breaks and closes below this pocket, we could see prices bleed out another 10 cents.  Bulls will have a lot of work to do before shifting the tide in their favor.  They are looking for some sort of capitulation and a close back above the 50-day moving average.  The 50-day moving average comes in at 351 ½ this morning, this is an indicator we have not closed above since July.  The market desperately needs a fundamental catalyst to spark the next directional move (other than sideways), that could be next week's WASDE report which will be out on Thursday.
Bias: Bearish
Resistance: 350-352¼**, 360-362***, 372-375**
Support: 342 ½-344 ¼**, 334-335 ½***
SOYBEANS (January)
Session Close: January soybeans finished yesterday near unchanged after trading in a 6 ½ cent range on the session.  Funds were estimated to have been even on the day.
Fundamentals: The market is starting to resemble that of corn as we trade sideways while looking for a new fundamental catalyst to give us the next directional move.  Weather in the states is still important for some who are not yet done with harvest, but attention needs to be shifting towards South America.  Brazil has received some beneficial rains recently as they continue to roll through planting, but forecasts are projecting that to dry out over the next 1-2 weeks.  Planting in Parana is estimated to be 73% complete, this is up 7% from the previous week.  Export sales are out tomorrow morning, they have been coming in near the top end of the range, the market will need to see this continue as a trend to offer support going forward.  September Crush numbers will be released later this afternoon.  The average estimate is for 145.4 million bushels of processed soybeans.  This compares with the August number of 151.6 million bushels.
Technicals:  The market looks to be spring-loaded for a directional move with the recent consolidation on key technical support.  There are several indicators including the 50,100, and 200 day moving average, from 977-984 ¾ which we are viewing as an opportunity to look to the long side.  The bulls will remain in control until the market start breaking and closing below these levels.  On the resistance side of things, the bulls want to see a close above 999 ¼-1004 ¾ to extend the rally towards 1021 ¼ and continue the trend of higher highs and higher lows.
Bias: Bullish
Resistance: 999 ¼-1004 ¾**, 1014**, 1021 ¼****
Support:981 ¾-984 ¾**,977***, 968 ¼**, 957-963 ¼****
Wheat (December)
Session Close: December wheat futures closed 5 ½ cents lower yesterday after trading in a 10-cent range on the day.  Funds were estimated to have been sellers of 5,500 contracts. 
Fundamentals: The USDA announced a sale of 100,000 metric tons of US wheat to Iraq yesterday morning but that did very little to invite buyers into the market as prices plummeted to new contract lows.  Global ample supply and lagging demand is certainly the key drive on the fundamental side.  Export sales will be out tomorrow morning, these have been dismal at best recently.  One good number will not be enough, the market needs to see a trend of higher demand.  
Technicals: Technical support gave way and new contract lows were put in during yesterday's session. After breaking below support at 422 ½, the market drifted lower towards our next support level which comes in at 415 ¼.  If we start to see some accelerated selling pressure at these prices, we could start to see some sort of capitulation stabilize prices.  With that said we are in no way trying to pick a bottom, it is a process not a point.  The lower we trend the less value to the short side.  The bulls will want to see consecutive closes back above previous support at 422 ½ to at least start reaching for silver linings.  As of right now the bears have complete control. 
Bias: Bearish
Resistance:422 ½***, 438 ¾-441***, 462 ¾**, 478-479****
Support: 415 ¼**, 399-402 ¾****, 390-392 ¼**
As always, we will send out the Blue Line Express Grain Commentary before 8am cst Monday.  If you are interested and are not yet on the distribution list, please email Oliver@BlueLineFutures.com.
You can also reach us at 312-278-0500
Visit our research center for updated market news: www.BlueLineFutures.com
Follow us on Twitter:@BlueLineFutures
Follow us on Facebook:Blue Line Futures Facebook page
Subscribe to our YouTube channel:Blue Line Futures YouTube channel
Futures trading involves substantial risk of loss and may not be suitable for all investors. Trading advice is based on information taken from trade and statistical services and other sources Blue Line Futures, LLC believes are reliable. We do not guarantee that such information is accurate or complete and it should not be relied upon as such. Trading advice reflects our good faith judgment at a specific time and is subject to change without notice. There is no guarantee that the advice we give will result in profitable trades. All trading decisions will be made by the account holder. Past performance is not necessarily indicative of future results.